A Member of My Tribe: A Long Ramble in the Kenyan Bush with My Uncle
Writer David Farley takes a walking safari through the Kenyan bush with an uncle he had never met before.
When we reached the top of the knoll just outside of our makeshift camp, Amanda Perrett, the co-owner of the camel outfitter Babong & Ol Maisor Camels, was waiting to lead us on a short early-evening stroll around the bush in central Kenya. She had good news and bad news. "I've gotten word that our camp is surrounded by at least 10 lions," she said, stopping to survey our shocked, mouth-agape faces before adding: "But they killed and ate four cows that got loose from a farm in the early hours of this morning, so they're probably not too hungry." And then she marched on, expecting us to follow. I was still stuck on the words "probably" and "too" in the last sentence she uttered.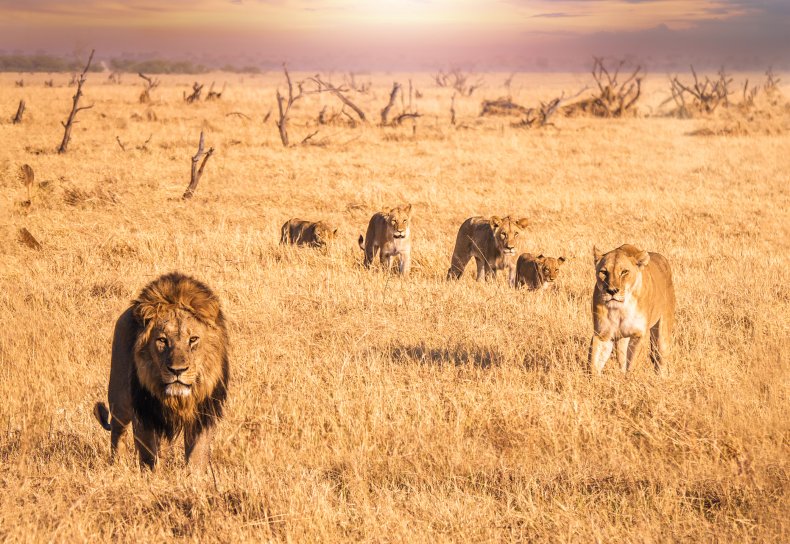 I was in the midst of a five-day hiking and camping trip – sometimes called a "walking safari" – in Soysambu Conservancy in Kenya, a 48,000-acre animal and nature preserve in the Great Rift Valley. Walking among herds of zebras, watching unfazed giraffes munch leaves from tall trees, or trying to avoid getting eaten by a lion was not the only reason we were here. Most of the dozen people in my group – from Eugene, OR, Seattle, WA, southern Maryland, Richmond, VA, and Southern California – were in this East African nation for a more specific purpose: hiking to raise money for the Makindu Children's Program, a 20-year-old Oregon- and Kenya-based NGO that fundraises money (and creates awareness) for a children's center in southeastern Kenya that supports, educates, and feeds around 500 children who have been orphaned by the AIDS pandemic that has ravaged Africa in the last three decades. Everyone (including me) raised at least $2,500 for the Makindu Children's Center in the town of Makindu, where we had spent two days the previous week hanging out with the children as well as making improvements at the center. I planted a kale-like vegetable called sukama wiki in the garden, while others built wooden benches and installed a new stove they brought over from the United States.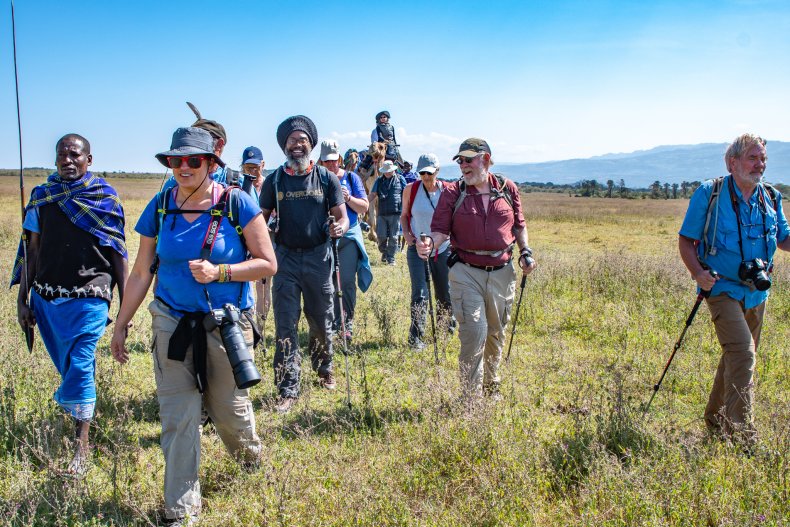 The ringleader of these trips is 64-year-old Michael Farley, the chief fundraiser for the Makindu Children's Program. What started as a two-year stint in the Peace Corp in Kenya in the late 1970s has turned into a lifelong commitment to the country's poor and needy, particularly at the Makindu Children's Center. Since 2002, Michael has organized these excursions consisting of a few (driving) visits to National Parks with some of the Makindu children in addition to a five-day hike. Since the first walk 18 years ago, he has helped raise $850,000 for the Makindu Children's Center, walking a total of 1,500 miles with handfuls of people he has recruited for the trip.
On the second day of the walk, trudging through fields studded with cactus-like candelabra euphorbia trees, resembling upside down brooms, Michael asked me, "So, when did you first learn of my existence?" In most situations, this would not be an unusual question, but Michael Farley also happens to be my uncle. And up until this point we've had almost no relationship. In fact, our rendezvous in Kenya was just the second time we'd met in person.
It all started a few years ago when there was a profile written about me in a Dubuque, Iowa, newspaper – my hometown for the first six years of my life. The day after it was published, there was a message in my inbox from one Michael Farley. He said a relative had sent him the link to the article and that he was my father's half-brother, the product of my paternal grandfather's second family after his first marriage (from which my father came) dissolved. He said he took some time and read my published writing. "We have a lot in common," he wrote. Yet, I'd never heard of the man in my life.
I called my dad and had some questions. I heard a sigh on the other end of the phone when I uttered the name "Michel Farley" to my father. Then he confirmed that he did, in fact, have half-brother that he rarely mentioned.
I began an email correspondence with this new-found uncle. It took a while but we finally met. Six months before this Kenya trek, and a few months after our father passed away, my oldest sister Cathy Kelly and I drove to Michael Farley's Virginia farm and spent two days on a fast-track get-to-know-each-other excursion. That was when he convinced us to come to Kenya.
And so here I was walking between an uncle I didn't really know too well and my sister in the middle of a great plane, a lone acacia tree looming in the distance. While we ambled on, he'd sometimes ask me questions about his brother, my dad, someone he briefly, randomly met once in a Dubuque, Iowa, bar. And then later that night, my music-and-travel obsessed uncle would express disbelief about the stark differences in their personalities and interests. "My brother really didn't listen to music at all?" I'd shake my head from side to side and then he and I would slip into a conversation about artists and albums that were important to us. He was pleasantly surprised to learn that one of my favorite albums is Joni Mitchell's "Blue"; I was astonished when he'd say, "It's good people are starting to realize how great of a guitar player Prince was," something that could have come straight out of my mouth. Other times on the trip we'd exchange travel stories. He told me about how he was once arrested in Sudan for showing up without a visa and I told him about my recent month-long stint volunteering in a refugee camp in Greece. As I let my facial hair grow out, some of the other walkers, most of whom were returning trekkers, commented that I resembled my bearded uncle.
Our group would hike about eight miles per day, traipsing through never-ending savannahs, that most African of African landscapes, where a legion of wildlife lurked and acacia trees dotted the yellow flatlands. In any direction, there would be movement: gazelles and antelopes hopping in the distance, herds of zebras timidly watching us pass, baboons hanging out in a tree, and a mass of Cape buffalo lingering beyond. Part of the appeal of walking in the African bush, as opposed to being driven around in a jeep, is that you get a much more intimate and personal look at wildlife. I'd been on a traditional safari before and the idea of leaving the jeep seemed like sure suicide. Yet, here we were, ambling right out into an open field.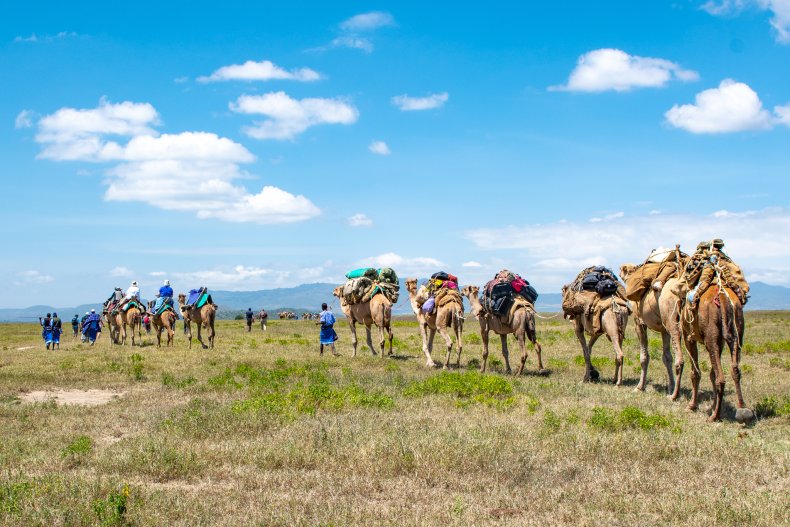 For the walk, we had a dozen "cameleers," as Amanda and John Perrett from Babong & Ol Maisor Camels call their workers, most of whom come from the Turkana tribe from northern Kenya. The spear-wielding Barabara Nakua, 41, led our walking group, followed by the tall, sturdy Alex Nawoi, 32, who carried a whip. Like all the cameleers, they wore white-and-blue kikoys, a traditional ankle-length cloth that fits snuggly around their waists. We'd trudge behind them and our camel caravan would follow, lugging tents, cots, blankets, food, drinks (including an abundance of water, beer and wine), and equipment for makeshift toilets and showers. At night they'd cook up a feast, including tomato-chickpea stew, roasted mutton with rice and mint jelly, and even camel meat curry; in the morning, we'd eat pancakes, eggs, and sausages to get fuel for the hike.
The day after our evening stroll in which we were apparently surrounded by lions, we set off around nine o'clock in the morning, as we always did. "Twende," "let's go" in Swahili, one of the cameleers would call out and we'd be off. I was walking ahead of the group with the whip-carrying Alex Nawoi and I asked him what he looks for when leading people through the bush. "I read the ground like a newspaper," he said, "spotting animal tracks and assessing its freshness." And just like that, he stopped, pointing out the pugmark from a lion. "Very fresh," he said. "But it went in the direction from where we came."
We strolled past Lake Elementeita where hundreds of bright-pink flamingos rested just off the shore until we got too close for comfort and the cotton candy-colored flock fled as a unit. We trudged up a hill for an hour, as dikdiks and antelopes sprinted past us and majestic snake eagles soared overhead looking for prey. On our penultimate night, my uncle Michael and one of the other walkers, Joshua Achalam, the leader of a Richmond, VA-based reggae band called Mighty Joshua and the Zion #5, had a jam session with some of the cameleers, my uncle on harmonica, Joshua on the djembe drum, and the cameleers singing and clapping along to Bob Marley tunes and songs in Swahili. The group gathered around and enjoyed the spectacle while my sister Cathy and I waxed on about our Swahili-speaking uncle being the coolest person in our family.
Uncles often play the role of mentors and role models for a nephew or niece. I wasn't necessarily looking for this in Michael. But it was also impossible to not be inspired by his selfless determination to make a difference in the world. On a more superficial note, Michael had a keen interest in art, culture, travel and a healthy intellectual curiosity about the world, things his brother, my father, lacked, and traits that have long made me different from most of my family. For a relative who just randomly drops into your life, it could have been a lot worse, I remember thinking that night in my tent before drifting off to sleep.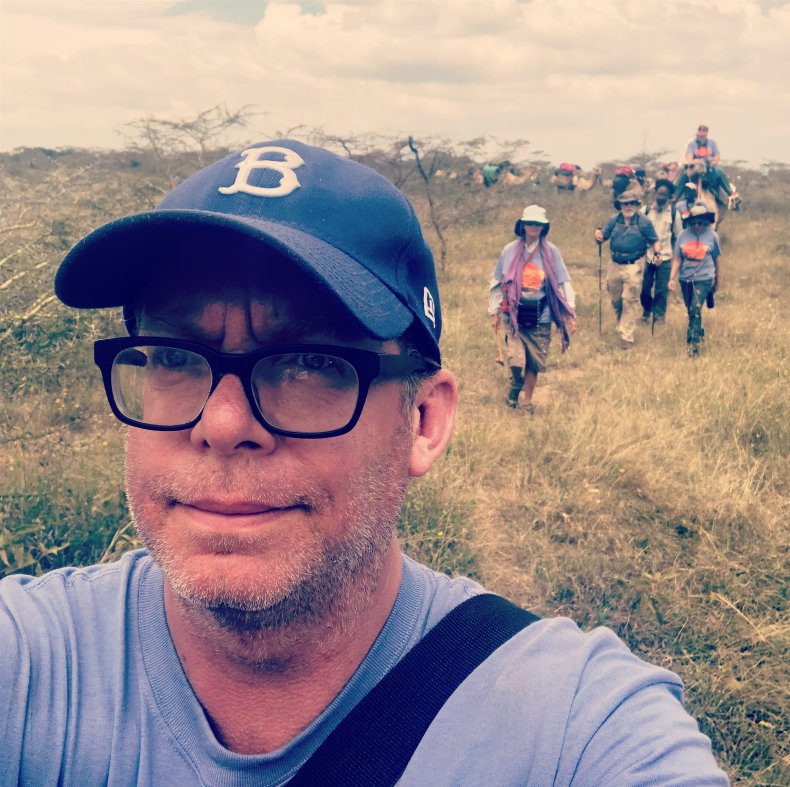 On the morning of the last day's hike, Michael informed us that we'd be hiking out of the bush to our bus, implying it would be the easiest trek of all. We paraded down a path flanked by thick, thorny acacia shrubs until we were deposited into another great savannah. A smattering of zebras were gnawing on grass about 500 feet to the right of us and a plus-sized herd of Cape buffalos were stewing about 500 feet to our left, as we marched through with our 30 camels. The cameleers began singing a song in their Turkana dialect. Amanda Perrett sidled up to me. "They always sing this about now," she said. "It's a song about the joy of emerging from the bush into the safety of the planes."
I rambled along, getting lost in the song while gazing out into the distance of the open field when I heard some commotion behind me. Amanda Perrett ran by me, saying, "This is not good!" Everyone's attention was focused back and to the right at a large Cape buffalo and her offspring. We'd cut off the mother buffalo and her baby from the rest of the herd and there was fear she might feel threatened and attack.
The Turkana men started to move the camels in a circle and we were being corralled inside the camel belt for protection. I could feel my heart beating in my chest. "C'mon, let's go," I heard someone yell. "Get in the camel ring now!" But before we could do so, the buffalo thought twice about it and darted in the opposite direction, her baby in tow.
I asked Ms. Perrett if we were truly in danger. "If we hadn't had the camels with us, the buffalo would have attacked us," she said. "She certainly had intention in her stride."
Within minutes, the Turkana cameleers were back to crooning about the joys of coming out of the bush and I was walking next to my uncle for the finish of the five-day jaunt. We processed in comfortable silence as if I've we've been in each others' company for much longer than we have.
As I saw our big yellow bus in the distance, the finish line, I wanted to ask Michael why he spends every August in Kenya, walking with a group of people who have raised thousand dollars each for the children's center (and individually raises four or five times more than everyone else). And then I thought back to the previous week with the way-more-joyous-than-they-should-be kids at Makindu. We spent hours playing soccer and throwing the frisbee. We conversed about the parental guardians they live with. We danced to Afro-pop music. It was two of the sweetest days of my life. I turned to him to ask, but then I realized I knew the answer already.
Instead, he said to me: "I hope we've set in motion the foundations for a great friendship." We hugged each and other and I said, "Thanks, uncle."
"Any time, nephew," he said.
I may have recently gained an uncle out of the blue. I also gained a great friend.
David Farley is a freelancer for Newsweek. He also writes for the New York Times, the Wall Street Journal, National Geographic Traveler, and BBC, among other publications. He's the author of the books "Underground Worlds" and "An Irreverent Curiosity: In Search of the Church's Strangest Relic in Italy's Oddest Town," which was made into a documentary by the National Geographic Channel.