Longtime North Carolina Rep. Walter Jones Dies At 76
Longtime North Carolina Congressman Walter B. Jones Jr. died on Sunday at age 76.
Jones was granted a leave of absence from Congress in late 2018, citing health complications from an undisclosed illness. On January 14, Jones suffered a broken hip at his home in North Carolina and underwent surgery at Vidant Medical Center in Greenville, North Carolina.
On January 26, Jones' family released a statement saying that the congressman had been moved to hospice care and asked for privacy.
"Congressman Jones was a man of the people. With a kind heart and the courage of his convictions, he dedicated his life to serving his Savior and to standing up for Americans who needed a voice. He was a champion for our men and women in uniform and their families, always mindful of their service and sacrifice." Jones' office said in a statement posted to the congressman's website. "Congressman Jones will long be remembered for his honesty, faith and integrity. He was never afraid to take a principled stand. He was known for his independence, and widely admired across the political spectrum. Some may not have agreed with him, but all recognized that he did what he thought was right. He will be sorely missed."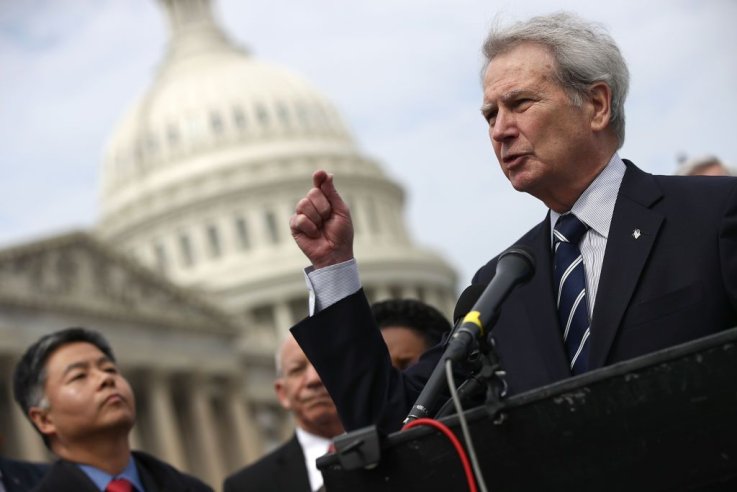 Jones was elected to the House of Representatives in 1994, representing North Carolina's 3rd District. Jones was re-elected in November 2018 when he ran unopposed. Before being elected to Congress, Jones served 10 years in the North Carolina House of Representatives.
"Deeply saddened by the passing of Walter Jones — a beloved colleague and friend who had a profound impact on all through his graciousness, character, and committed Christian faith. God be with and keep his family. We will miss him," Rep. Mark Meadows, R-N.C., tweeted.
"Walter Jones was one of a kind. He served with conviction, humility, generosity and kindness. My condolences to Jo Anne and the Jones family," North Carolina Rep, Mark Walker tweeted.
"Congressman Jones represented the best in North Carolina politics. He understood that being a leader meant often putting political allegiances aside in order to bring people together around important work," Rep. G.K. Butterfield said in a statement, "To serve alongside Walter Jones was a great honor. ... I will miss his humility, intellect, and unwavering love of his community."
In his career, Jones was once a strong supporter for the 2003 war against Iraq, including arguing that french fries and french toast served in the House cafeteria be renamed freedom fries and freedom toast in a mark of derision for France opposing the war. However, Jones later said he regretted his enthusiasm for the military operation, telling Mother Jones magazine that the funeral of a 31-year-old Marine with three young children helped change his mind.
Jones wrote over 12,000 letters to the families of service members killed in the Iraq and Afghanistan wars, the Washington Post reported.
Jones was born on February 10, 1943, in Farmville, North Carolina. He is survived by his wife, Jo Anne Jones, whom he married in 1966, and his daughter Ashley.
Longtime North Carolina Rep. Walter Jones Dies At 76 | U.S.