Lonzo Ball May Not Yet Deserve a $495 Shoe for Basketball, but He Sure Raps Like He Deserves One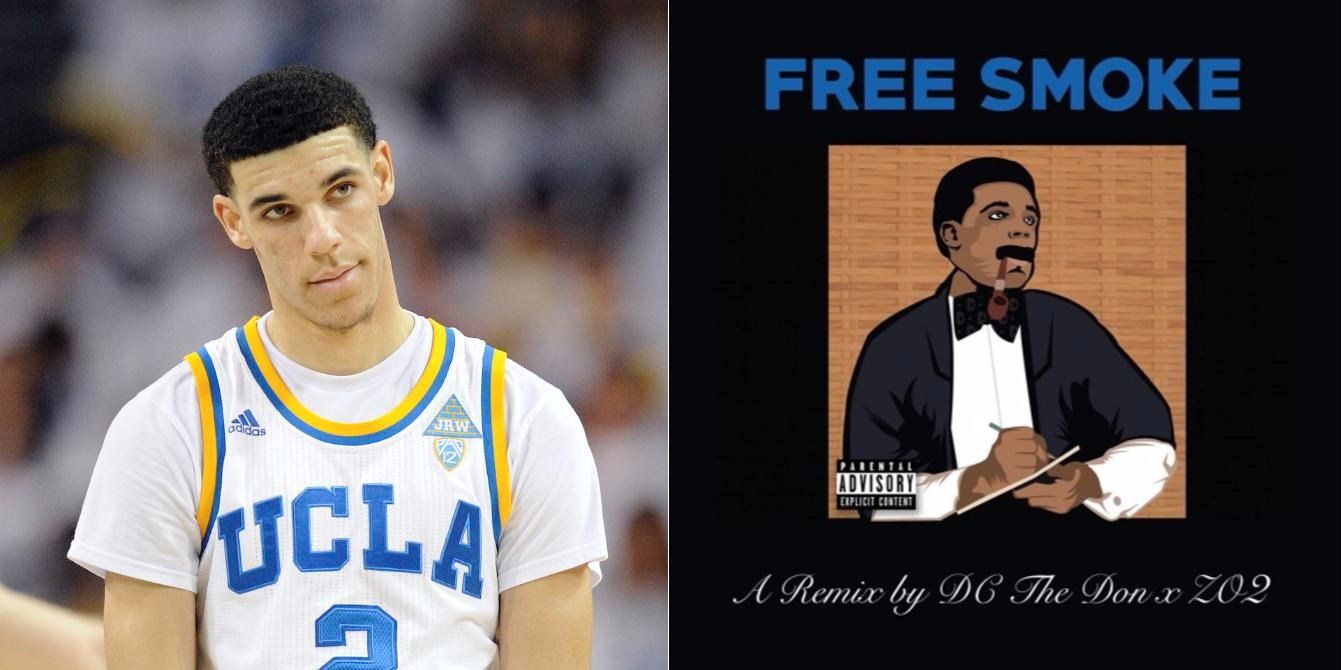 LaVar Ball is doing all he can to become the most insufferable personality in sports, and he's not even an athlete. His son, Lonzo, is a standout point guard at UCLA last year who projects to be one of the top picks in next month's NBA Draft, but LaVar doesn't seem to care that his son hasn't yet played a single professional minute. He has repeatedly made it clear that he thinks Lonzo should be treated like NBA royalty right this instant, and America has rolled its eyes at his every new sound bite. The latest came on Monday, when he insinuated on Fox Sports 1 that his oldest son is a bigger deal than Michael Jordan.
LaVar was invited to appear on Undisputed to discuss his son's new $495 shoe, the ZO2. Typically, a player needs to establish himself as a superstar before he can land a lucrative shoe deal from the likes of Nike or Adidas, and even then the player's signature shoes aren't going to cost close to $500. Earlier this year, LaVar said he wanted a $1 billion package shoe deal from Nike for his three sons, two of whom aren't even old enough to go to college. When Nike said the price was "a little steep," LaVar wasn't deterred. Last week, he unveiled the ZO2 through his own Big Baller Brand, via which he also sells T-shirts for $60 and ZO2 sandals for $220. "Gucci and Prada, what have they done?" LaVar said on Fox Sports 1 in defense of the pricing. "At least my son can play."
Related: Here are some of the greatest individual games in sports history
Appearing alongside a parent comparing his 19-year-old child to Michael Jordan in basketball's pantheon of cringe-worthiness is the spectacle of a player trying to rap. It's been happening for a while, and it has never—not once—gone well. Shaq tried it. Kobe tried it. Allen Iverson tried it. The NBA's rapper du jour is Portland Trailblazers guard Damian Lillard, but now there's Lonzo Ball.
While we wait for LaVar to compare his son's rhyme-spitting ability to that of 2Pac, have a listen to this remix of Drake's "Free Smoke," which he dropped Sunday on Soundcloud.
Rapping as ZO2, Lonzo's verse is first, followed by DC The Don. It has to be considered...not bad? Perhaps it is even...good? Maybe even...really good? Is this actually happening?
Here are some choice lyrics:
On the beat, man, I'm a monster
Always acting, where's your Oscar
Felt the heat but I'm hotter
You a king I'm still your father
Simba n***** Im Mufasa
Pretty impressive.
See the crown and then I conquer
Just to hit y'all with another
I be ballin' with my brothers
Had to do it for the culture
He's bringing it.
Been ballin' I just added rappin'
Removed the fake yeah that's subtraction
Divide my time just to make it happen
Now I'm spitting flame like I'm a fucking dragon
In a couple months, man, I'll be in a mansion
With my car clean and my diamonds dancing
LONZOOO!
Lonzo had previously posted several freestyle videos, but this is the first time we've heard him on an actual track. Even though LaVar's comments have turned a good number of basketball fans against the entire family, it's hard to deny Lonzo has some skills behind the mic. Will his silky smooth flow translate to the court? It did in college, but it's still to be determined whether it will at the next level too, which isn't a given, even for someone as talented as Lonzo. If it doesn't, Big Baller Brand might have to pivot away from apparel and into the recording industry.
Read more from Newsweek.com:
- Twitter announces it will carry live coverage of MLB, PGA, WNBA
- Killing Cinderalla: There will be no Unicorn Frappucino in NBA Playoffs
- Isaiah Thomas headlines a wave of sub-six-foot scoring stars