Marianne Williamson Drops Out Of 2020 Race. Here's a Look Back At Her Controversial White House Run
Marianne Williamson, the best-selling author and spiritual guru whose White House run was based on a message of love and peace, officially suspended her presidential campaign on Friday.
The move came a week after she laid off her entire campaign staff, although the Democrat insisted at the time that she was not going to be ending her 2020 bid. She also said it was "amazing" what you could accomplish with volunteers.
But in a message to supporters, Williamson acknowledged that she would not be able to gain enough votes in the early-voting states to continue on in the competitive Democratic race. Her exit leaves 13 candidates still vying for the party's nomination.
"I ran for president to help forge another direction for our country. I wanted to discuss things I felt needed to be discussed that otherwise were not. I feel that we have done that," she wrote, adding that it's time to "rise up."
Until she launched her campaign in January 2019, Williamson was mostly known for her Oprah Winfrey–endorsed self-help books, like A Return to Love. The 67-year-old author, who was raised in Texas, once described herself as a "bitch for God."
She carried that philosophy into the 2020 Democratic primary. In her announcement video, she said America has to "fall in love again with what this country can mean," and over the course of her campaign she repeatedly referred to Donald Trump's election as a "symptom" of a spiritually deficient country.
In fact, the centerpiece of her campaign was the creation of a Department of Peace. The department, she proposed, would work to prevent wars, reduce violence and tackle issues like white supremacy and domestic terrorism.
Despite being considered a long-shot candidate, Williamson made it further than some career politicians, such as Kamala Harris, Kirsten Gillibrand and Beto O'Rourke. She qualified for two of the six Democratic debates last year and reported raising more than $6 million in the first three quarters of 2019.
Williamson's first big splash in the Democratic race was during the first debate, in June 2019. Asked what her first action as president would be, she said she'd call the prime minister of New Zealand to tell her "Girlfriend, you are so on." The phrase quickly became a viral meme.
She was the most-searched candidate on Google following that first debate performance. Ahead of the broadcast, her team had sent a press release encouraging people to replace debate-themed drinking games with yoga or more Zen activities.
In her second, and final, debate performance she chastised her rivals for focusing so much on policies instead of forming a real connection with voters.
"If you think any of this wonkiness is going to deal with this dark psychic force of the collectivized hatred that this president is bringing up in this country, then I'm afraid that the Democrats are going to see some very dark days," she said.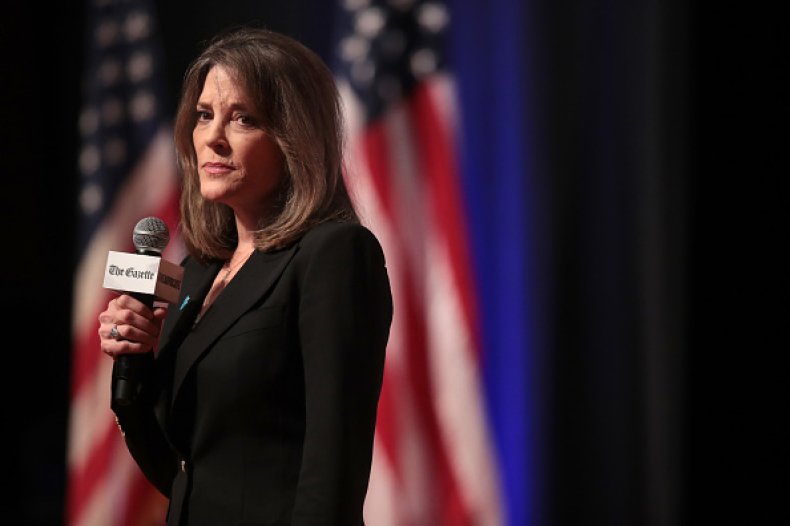 At the July debate she also gave some sharper responses to questions on race and inequality. She was met with applause when she described slavery reparations as "payment of a debt that is owed" rather than "financial assistance."
Williamson garnered some praise after asserting that the water crisis in Flint, Michigan, would have never happened in a majority-white, rich community. "This is part of the dark underbelly of American society—the racism, the bigotry," she said.
But after the first two debates, Williamson's campaign took a downturn. She failed to qualify for any more of them as the requirement thresholds continued to rise. She also rarely managed to poll above 1 percent.
She also frequently came under fire for her comments on science and medicine. She once referred to the vaccine mandate as "Orwellian"—a remark she later apologized for. She also repeatedly questioned the existence of clinical depression and said antidepressants were being overprescribed for "normal human despair."
Williamson may be stepping back from the race, but she said on Friday that she would back the eventual Democratic nominee with "all my energy and in full support."
"Things are changing swiftly and dramatically in this country, and I have faith that something is awakening among us," she concluded. "A politics of conscience is still yet possible. And yes...love will prevail."