Look at Latest Hurricane Florence Trackers: East Coast Due for Hard Hit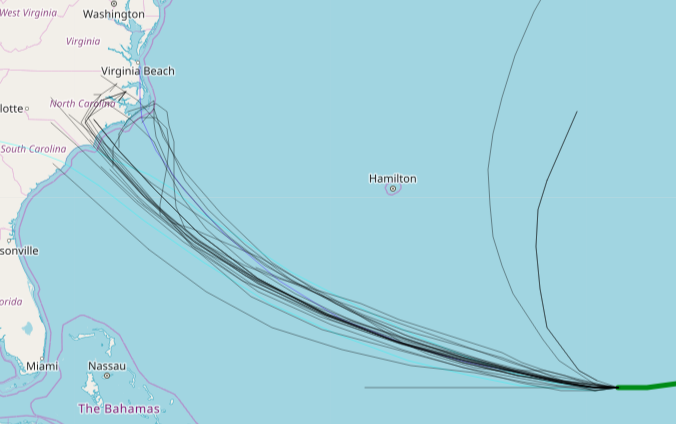 For days hurricane forecasters have said the Florence track is fuzzy – it may hit the U.S. East Coast, or it may not; the forecast path was hard to pin down. But look at the latest Florence forecast runs generated tonight in the above image. It's now becoming clear that a strong Hurricane Florence will likely hit the East Coast.
The potential Florence paths generated by various trusted models, including the National Hurricane Center official forecast, the European, and GFS, are now coming together to reveal a dangerous picture for states including South Carolina and North Carolina which may take a direct hit from major Hurricane Florence mid-to-late next week. Just one day ago the forecast model pictured above had lines running in every direction. Now, the image above is practically harmonious.
That's why the National Hurricane Center has sharpened its language today, now suggesting that an East Coast direct hit is more likely.
"Florence is forecast to be a dangerous major hurricane near the southeast U.S. coast by late next week, and the risk of direct impacts continues to increase," the National Hurricane Center said this weekend. "Interests along the U.S. East Coast, particularly from north Florida through North Carolina, should closely monitor the progress of Florence, ensure they have their hurricane plan in place, and follow any advice given by local officials."
The NHC said timing remains uncertain for a Hurricane Florence strike along the East Coast. It's clear it will be next week but exactly when is unclear, though the latest forecasts show the storm approaching late Thursday and into Friday.
"However, given the uncertainty in track and intensity forecasts at those time ranges, it's too soon to determine the exact timing, location, and magnitude of those impacts."
It's also troubling forecasters that conditions are ripe for Florence, now a tropical storm, to rapidly strengthen into a hurricane – becoming a major hurricane within three days.
"Our top intensity models unanimously predict strengthening of Florence into a Category 3 or 4 hurricane by Tuesday, and the storm is also expected to increase in size," reported Weather Underground on Saturday. "Florence will still be embedded in a relatively dry atmosphere, so it is possible the storm could suffer from dry air intrusions that would interfere with the intensification process, though."
As for landfall, the highest odds now involve South Carolina or North Carolina mid-to-late next week.
"Florence will continue heading west-northwest to northwest until landfall in North Carolina or South Carolina on Thursday (40% chance)," Weather Underground reported. "Recent operational runs of the European model have championed this scenario, along with some recent operational runs of the GFS model."