A Look at Some of the America's Most Famous Female Competitive Eaters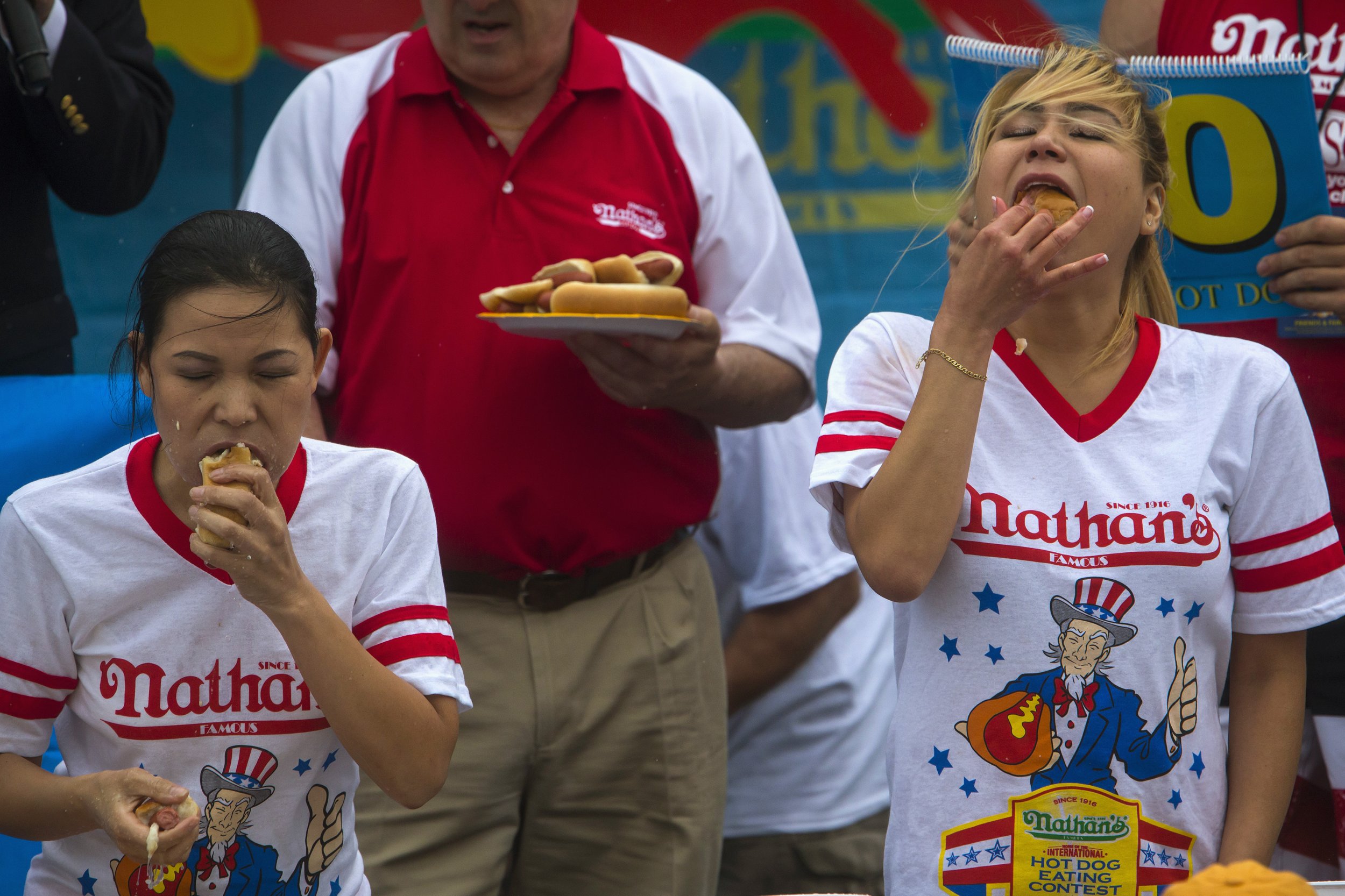 In this week's issue of Newsweek, Alexander Nazaryan profiled Molly Schuyler, a competitive-eating whiz and mother of four. Women are beginning to make a serious dent in the world of competitive eating, even beating long-standing male champions like Joey Chestnut and Takeru Kobayashi. Below are a few of the most renowned female "weapons of mass digestion."
Molly Schuyler
Bio: The mother of four holds multiple records with the independent competition organizer All Pro Eating.
Build: 120 pounds; 5 feet, 7 inches
Extraordinary feats: In April, Schuyler wolfed down three 72-ounce steaks, plus sides of shrimp cocktail, baked potato, salad and rolls, in roughly 20 minutes in Texas. She once consumed eight beef patties in one minute and 46 seconds at a national beef patty eating championship in 2013.
Miki Sudo
Bio: Sudo won her first competition in 2011, when she devoured 12 pounds of the Vietnamese noodle dish Pho. "It's a great feeling being able to eat more than men two or three times the size of me," she's said. Sudo is currently ranked fourth in the world by Major League Eating.
Build: 125 pounds; 5 feet, 7 inches
Extraordinary feats: In 2014, Sudo was the first new winner of the women's division of the Nathan's Famous Fourth of July International Hot Dog Eating Contest. She beat long-running champion Sonya Thomas. She's eaten 7½ pounds of deep-fried asparagus in Stockton, California, in 10 minutes. This May, she consumed 13.875 pounds of burritos in 10 minutes.
Sonya "the Black Widow" Thomas
Bio: Thomas picked her arachnid nickname to express her desire to "eliminate the males" in competitive eating, according to her website.
Build: 100 pounds; 5 feet, 5 inches
Extraordinary feats: Thomas holds the women's record for the most hot dogs consumed at the annual Nathan's hot dog eating contest in Coney Island: 45. A list of her favorite records on her website includes 564 oysters in eight minutes, 8.4 pounds of baked beans in 2 minutes and 47 seconds and 250 jalapeno peppers in nine minutes.
Juliet Lee
Bio: This former chemistry professor from China only began eating competitively in 2006 but quickly became one of the first women invited to participate in the Nathan's Famous contest.
Build: 100 pounds
Extraordinary feats: Lee has eaten 13 pounds of jellied cranberry sauce in one go. In 2008, she took 7 minutes and 13 seconds to down seven chicken wings, 1 pound of nachos, three hot dogs, two pizzas and three Italian ices in an ultimate eating tournament, according to Major League Eating.