Looking for a 2024 Bellwether? Look No Further Than the Sunshine State | Opinion
Today is primary day in Florida, setting the stage for what is sure to be an eventful sprint to November's general election.
The coming weeks will feature a full-throated debate over whether November's midterm elections will be a red wave, or if Democrats have enough time remaining to close the gap. But regardless of the ultimate outcomes, the midterm elections this November will provide valuable insight from both a candidate and messaging perspective, as both parties seek to sharpen their narratives to voters ahead of a monumental 2024 election cycle.
If you want to get a sense of where things are headed in 2024, spend your November 8 looking at the Sunshine State.
Florida has undoubtedly become the heart and soul of the Republican Party. Not only is it the home of former President Donald Trump, a likely candidate for president again in 2024, but it's also where you can find arguably the nation's most high-profile governor, Ron DeSantis.
In addition to DeSantis and Trump, Florida is home to other prominent voices within the Republican Party, such as Senators Marco Rubio and Rick Scott, who will both play a pivotal role in Republicans' attempt to reclaim the Senate majority this November. Rubio is facing a re-election campaign against Congresswoman (and former Orlando Police Chief) Val Demings. And while Rick Scott is not up for re-election himself, as the chairman of the National Republican Senatorial Committee, he is nonetheless involved in Senate races across the country.
Not only is Florida center-stage when it comes to this November's elections, but much of the current policy direction for the Republican Party, particularly on major national hotbed issues, also finds its origins in Florida.
On everything from handling COVID to critical race theory to the border, Florida is laying the blueprint that many Republican politicians across the nation are now implementing. That makes Florida the ultimate litmus test this November for how voters are reacting to the current direction of the Republican Party.
If Florida Republicans see resounding victories this November, it will be a green light to the rest of the national GOP that the policies and messaging emanating from Florida represent the pathway for success heading into 2024.
For many, the optimism in Florida heading into November comes from the significant strides the GOP has made there in voter registration. In 2016, Florida Democrats held a registration edge over Republicans of more than 300,000 voters. Today? Republicans have nearly 200,000 more registered voters than Democrats, marking the first time in the state's history that Republicans have held a registration advantage—a trend at least partially buoyed by an influx of new residents relocating to Florida from blue states.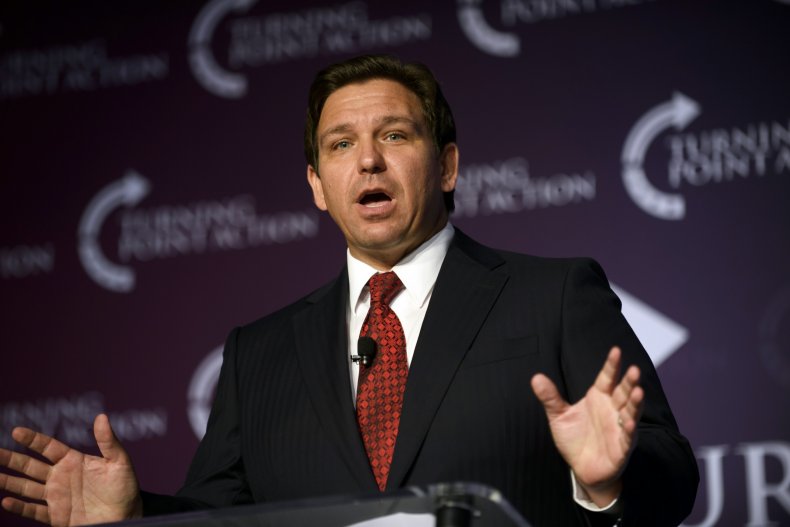 Perhaps the most significant trend with voter registration is the sharp increase in Hispanic voters flocking to the Florida GOP. Hispanics have become the second-largest segment of voters by ethnicity, making Republican inroads with these communities increasingly noteworthy. Among Hispanic voters in South Florida's populous Miami-Dade County, Republicans recently saw an advantage over Democrats of over 70,000 voters. This is a growing problem for Democrats, particularly on the heels of President Joe Biden already experiencing faltering national support among Hispanic voters in reputable opinion polling.
Beyond the data points, it's important to note that many of the issues Florida Republicans are pioneering appear to be resonating with many Hispanic voters. Whether it's pushing back on mask and vaccine mandates, championing personal and economic freedom, or even a renewed prioritization of civics education that includes a focus on the brutal history of communism and socialism, it seems more and more voters from all segments of the state's prominent Hispanic community are increasingly embracing the Republican Party's agenda.
Florida is a state that is known for its razor-thin election margins; the most well-known of these is, of course, the famous 2000 presidential election. And in the last decade, the close political margins in Florida have continued to leave candidates sweating on election night. In either of his elections as the state's governor, Rick Scott never won by more than 1.2%. And the only person to have a tighter race in 2018 than DeSantis, who won his gubernatorial election by just 0.4%, was Scott himself, who won his race for U.S. Senate by 10,000 votes—or 0.12%.
As things currently stand, Governor DeSantis seems poised to potentially be headed toward one of the largest gubernatorial margins of victory in Florida in decades. And while Senator Rubio's race is likely to be a bit closer, many polls suggest he is currently in a strong position as well.
Ultimately, the only poll that matters is the one we'll see on Election Day. But if we see the big night for Governor DeSantis and Republicans up and down the ballot that many are expecting, it might be time for the storm sirens to start blaring in Florida as a warning to national Democrats of what's to come in 2024.
Evan Berryhill is a vice president at Firehouse Strategies and formerly served as the deputy communications director for Gov. Ron DeSantis' 2022 re-election campaign. You can follow him on Twitter: @EvBerryhill.
The views expressed in this article are the writer's own.