Looking Ahead to 2016 Presidential Run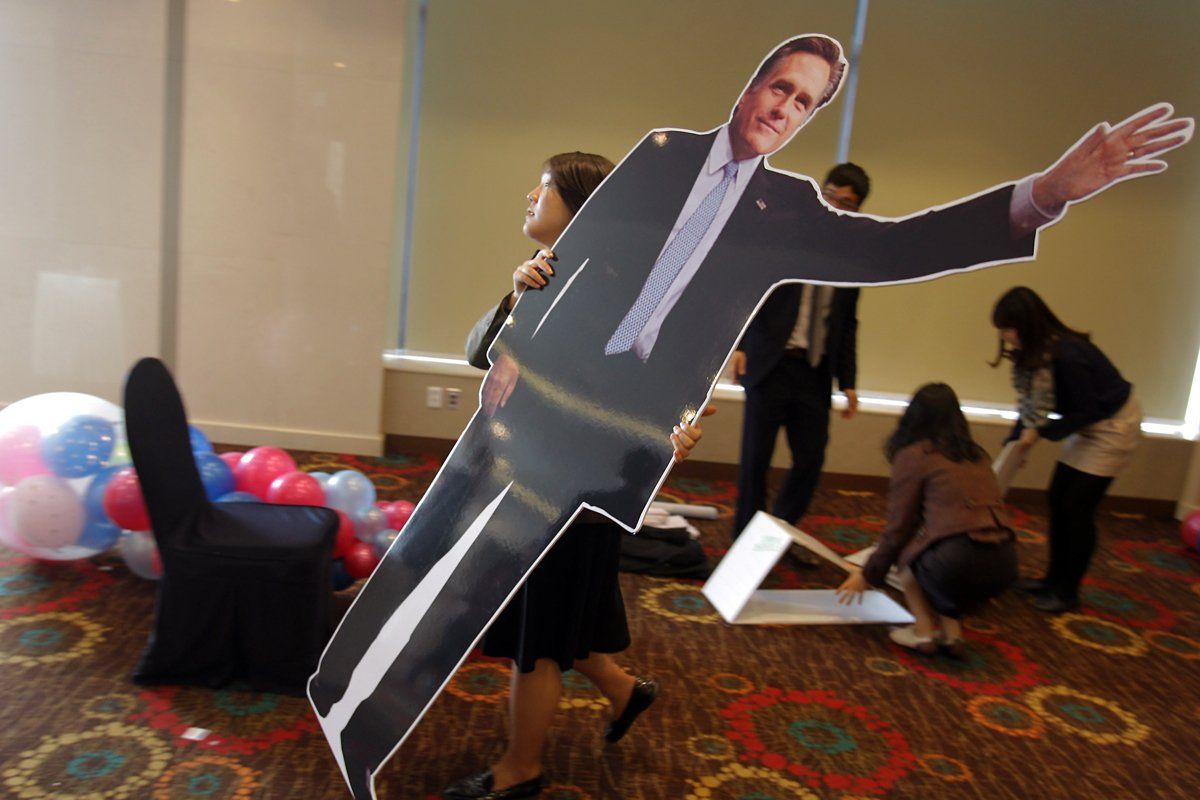 Presidential politics never really takes a break these days, so the circling contenders and their gurus are already focused on 2016. For Republicans, the search for a nominee who can break their two-election losing streak will be fueled by a broader ideological war for the soul of the party. For Democrats, the question in the wake of Barack Obama's resounding reelection is far simpler: will Hillary Clinton run, and can anyone derail her if she does?
Let's start with the GOP. In the ideological warfare about to consume the party, the right wing clearly has the upper hand. Conservatives, their resentment heightened by Mitt Romney's last-minute lurch to the middle, will argue that both Romney and John McCain had too much moderate baggage to offer voters a stark contrast with Obama's liberalism. They will have considerable advantages in disseminating this argument: the money, mojo, and media machine that power the party are embedded on the right, as are the grassroots activists who keep knocking off more centrist lawmakers.
That will pose a huge challenge for any center-right candidates. Chief among them is Jeb Bush. The former Florida governor has plenty to recommend him: he has good relations with Hispanic voters and is a certified grown-up. On the downside, voters might be wary of a third reign for the Bush dynasty (which one GOP operative dismissively called "déjà vu déjà vu"). But perhaps more problematic, Jeb has criticized the party's rightward lurch, saying Ronald Reagan would have a hard time fitting in today. "Jeb is not a lockstep, pissed-off, cranky wingnut," says an informal adviser. "He'll think it through." A consultant who knows him adds that Bush is worried about the impact on his wife and his son, George P., who is eyeing a political future.
Another moderate aspirant, Chris Christie, seemed to start his 2016 run at the Tampa convention, where his keynote speech was mainly about himself. His hard-charging persona can be compelling (when he doesn't veer into bully­ing), an antidote to all those cautious, poll-tested candidates. But the governor has had his setbacks in New Jersey, and his full-fledged embrace of Obama after Hurricane Sandy may especially alienate serious partisans. "The perception that he was an October surprise that many Republicans didn't enjoy could hurt him," says a party warhorse. Another pointed to Christie's weight, saying, "You can't be that out of shape in the modern era."
On the hard-edged right, Paul Ryan has long been a champion of conservative orthodoxy, but his VP run was hardly the game changer for Romney that his fans expected. Ryan was supposed to bring an intellectual defense of smaller government to the ticket, but grew oddly muted as Romney soft-pedaled his plans to slash spending and cut taxes. What's more, the congressman's Medicare voucher plan could prove an albatross among older Republicans who depend on the program.
Rick Santorum, who was the year's surprise with 11 primary wins, appears to want another shot. He has set up an organization called Patriot Voices to cultivate donors and position himself for a likely run. But that would require the former senator to expand his appeal beyond Christian conservatives animated by social issues—and exercise more discipline than he did in talking about church and contraception.
Perhaps the most intriguing of the younger conservatives is Marco Rubio. Charming and charismatic, the Florida senator is a fresh Latino face (though he takes a harder line on illegal immigration than many in his community would like). He is beloved by the party's Rush Limbaugh wing and has been giving speeches on foreign policy. One strategist who deals with Rubio says he won't run unless his family is on board, but also says "Marco is certainly cognizant that your moment doesn't always arrive based on your own calendar." One potential problem, noted by a former House GOP official: "Republicans tend not to swoon for a young person."
There is no shortage of potential second-tier contenders. Wisconsin Gov. Scott Walker became a conservative hero while beating back a recall vote that centered around his crackdown on public-employee unions. Tea Party favorite Rand Paul will likely fill the libertarian slot normally occupied by his father, peren­nial candidate Ron Paul. Could Sarah Palin, who was a force in the 2010 midterms but soon faded, attempt a comeback? There is even buzz about a potential wild card: congressman turned cable host Joe Scarborough.
While the early vetting will revolve around the question of whether a hard-right or moderate vision will guide the GOP, some party activists may draw a nonideological lesson from Romney's failure: charisma counts. A more natural politician not given to musing over his affinity for firing people might have beaten Obama, and Republican power brokers may place a premium on likability next time around.
Tea Party favorite Rand Paul will likely fill the libertarian slot normally occupied by his father, perennial candidate Ron Paul. Or could Sarah Palin, who was a force in the 2010 midterms but soon faded, attempt a comeback?
As for the Democrats, two people close to the Clintons say Hillary is exhausted and may be finished with politics after stepping down from the State Department (though lately she's made noises about staying on a while longer). They say she wants to write a book, give speeches, and launch a global women's foundation—and that she lacks her husband's ferocious ambition. "I don't sense there's a fire in the belly," one says. Still, the lure of finally cracking the ultimate glass ceiling—and moving back to the mansion she occupied as first lady—could be hard for Clinton to resist. And her husband, who became Obama's most valuable surrogate after his boffo convention speech, might prod her as well.
Meanwhile, Joe Biden has made certain moves, such as hiring veteran operative Steve Ricchetti, that suggest he is keeping the door open. The voluble vice president won plaudits for his passionate debate performance (amid the usual qualms about his propensity to veer off message). Biden dropped a hint in the campaign's final week, telling one Florida voter that when insurance rates go down, "then you'll vote for me in 2016." But his fate would be tied to Obama's popularity.
Among governors, the two most likely candidates are Andrew Cuomo and Martin O'Malley. Cuomo would bring a street-tough savvy, a successful Albany record, and fundraising prowess to the campaign. And he recently got a chance to seize the reins when Sandy flooded Manhattan and its subways and tunnels. O'Malley, Maryland's governor, already seems to be running, despite a widely panned convention speech. He followed Cuomo in pushing a gay-marriage initiative (which passed Tuesday), now a threshold requirement in Democratic politics.
One dynamic that might favor either man is that four of the five presidents before Obama had been governors. Since the public is perennially fed up with Washington, a statehouse executive can meld an outsider's appeal to the experience of actually having run a government. Cuomo also served in Bill Clinton's cabinet, which doesn't hurt—though it hardly approaches the asset of being married to him.
For all the talk of a new Democratic majority—by 2016, Obama's party will have held the White House for 16 of 24 years—the pendulum can swing in unexpected ways. Voters rarely give one party three consecutive terms in the executive mansion. What's more, second-term presidencies often run out of gas, and the Democrats could be viewed as having exhausted their agenda. If that happens, then four years from now we could be talking about a Republican ascendancy—and an ideological war among Democrats for the soul of their party.