A Look at All the 'SNL' Staffers Who've Received Oscar Nominations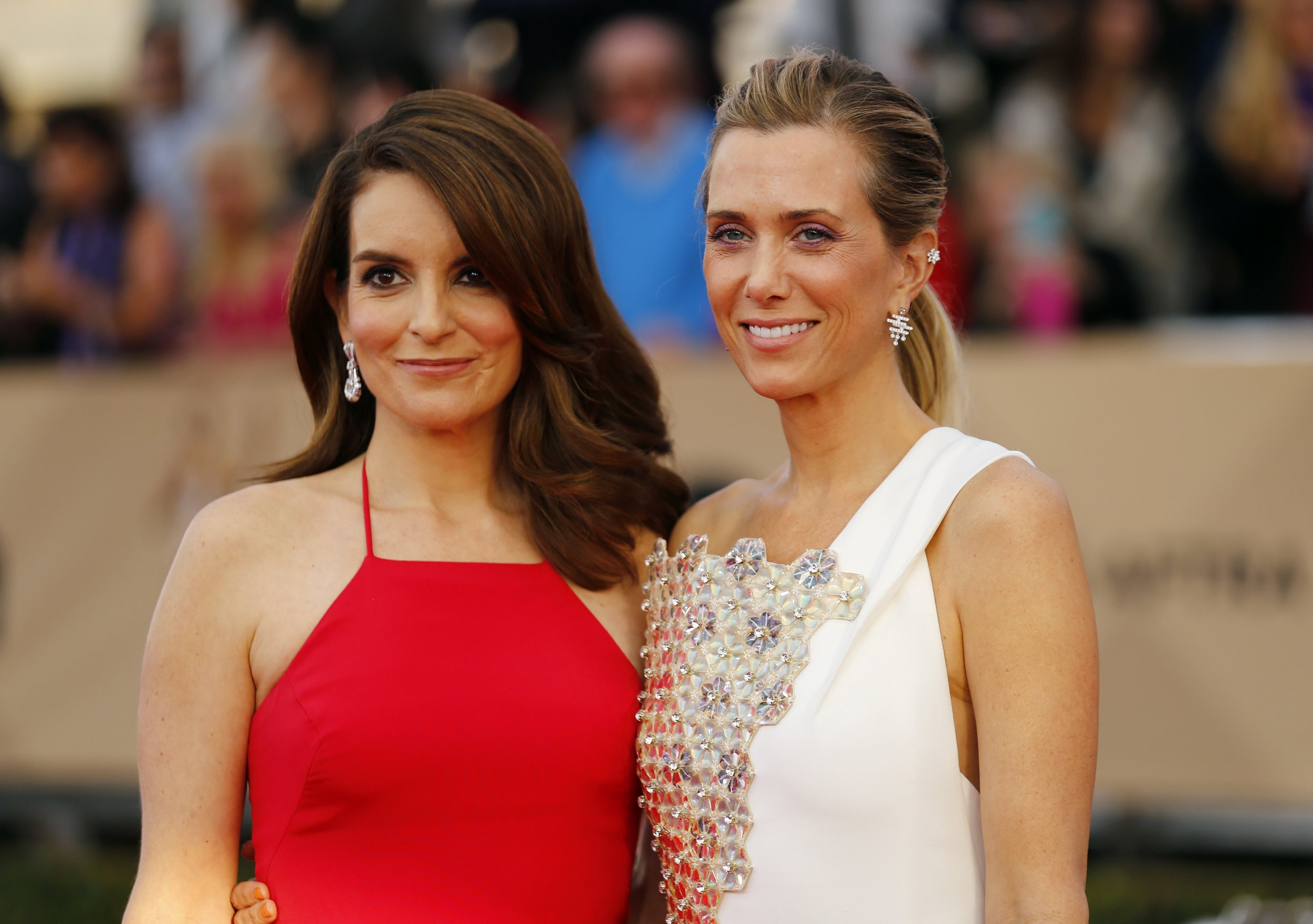 This year's Academy Awards has one of the most open fields since Gladiator narrowly bested Crouching Tiger, Hidden Dragon and Traffic for best picture. At the center of the current race, The Big Short's frenetic take on the 2008 recession has challenged more earnest fare, The Revenant and Spotlight, positioning it as the rare comedy grasping for Oscar's big prize. It's an unlikely contender, despite serious momentum suggested by recent wins at the Producers Guild of America, ACE Eddie Awards and Writers Guild of America awards. A full bear-hug from the typically comedy-averse Academy on February 28 would be historic in a few ways.
Besides its irreverent tone, The Big Short was helmed by Adam McKay, madcap filmmaker of Anchorman, Talladega Nights and Step Brothers—satires masquerading as broad comedy.
He is also the former head writer of Saturday Night Live, an institution with a spotty record at the Oscars. Beyond the three-time Oscar-winning composer Howard Shore, who cut his teeth as the musical director on SNL during the show's initial '75-'80 heyday, no one in the show's history can claim the "O" in EGOT. In fact, McKay—with two nominations for Best Director and Best Adapted Screenplay—would become the first actual performer/writer from the late night comedy show to win an Academy Award. As seen during last year's SNL40, the staggeringly deep bench of SNL—related talent is like a Who's Who of Hollywood elite. The notion that, in 2016, McKay is the closest SNL graduate to winning an Oscar is a little shocking.
In a year of #OscarsSoWhite, McKay's quest for Oscar gold hopes for its own precedent. Comedic films often avoid the pitfalls of the so-called "Oscar movie"—a formula-driven product designed to garner prestige then, quietly, vanish from view. By recognizing comic voices (and by extension a more diverse body of work), the Academy affirms its own commitment to honoring excellence of all kinds.
A brief review of SNL alum recognized by the Academy reveals an often ad hoc approach: yet another flagrant blind spot in Oscar history. (Notable omissions: Tina Fey was overlooked for writing Mean Girls. Groundhog Day—now revered—was entirely passed over in 1993.) If the Oscars exist as a barometer of greatness, they have failed their mission to validate exceptional work time and time again.
Here's a recap of the SNL performers who have been enshrined in film history by the Academy:
Randy Quaid
SNL tenure: 1985-1986
Oscar nomination: Best Supporting Actor, The Last Detail(1973)
The first SNL nomination feels like a bit of a cheat, as Randy Quaid would not appear on the show until more than a decade after Hal Ashby's classic comic tale of two U.S. Navy petty officers, Jack Nicholson and Otis Young, escorting young goofy Quaid to prison. And even then, his season on SNL would be largely characterized as a failure. More on this bizarre, fluke season later....
George Coe
SNL tenure: 1975-1976
Oscar nomination: Best Short Film—Live Action, The Dove(1968)
Again, this is a technical inclusion, as Coe's nomination for the Ingmar Bergman spoof predates his status as a member of the original Not Ready for Primetime Players by six years. And even then, Coe was only credited as a cast member for the very first show, despite appearing in several episodes throughout the first season. Nevertheless, the recently departed Coe deserves kudos from comedy buffs: Voiceover aficionados will recognize him as Woodhouse on Archer.
Joan Cusack
SNL tenure: 1985-1986
Oscar nominations: Best Supporting Actress, Working Girl (1988); In & Out (1997)
Cusack is a curious case. She is the first cast member to be nominated after Saturday Night Live, appearing alongside Quaid in the ill-fated 1985-1986 season. She's also an outlier in Oscar history, earning two nominations for mostly comedic roles. More than just John's sister, Cusack deserves a reappraisal from comedy buffs who regularly point to Carol Burnett and Lucille Ball as the standard-bearer of women in comedy. Appearing on SNL years before the show fully embraced the untapped potential of female cast members, Cusack also deserves appreciation as a pioneer for Oscar-nominated comic actors.
Dan Aykroyd
SNL tenure: 1975-1979
Oscar nomination: Best Supporting Actor, Driving Miss Daisy(1989)
The man behind Elwood Blues, Beldar Conehead and Ray from Ghostbusters is also the first true SNL star to earn an Oscar nod. Aykroyd left the show with John Belushi in 1979, quickly establishing himself as a comedy star in 1980s Hollywood. Despite a string of successes, including 1983's Trading Places, Aykroyd accumulated enough clunkers (hey, Doctor Detroit) to suggest his future lay in character work. Driving Miss Daisy typifies that, with Aykroyd riding the Academy's now-legendary, Spike-Lee-be-damned embrace of the film to a nomination for best supporting actor. He has not been recognized since, but demonstrating his chops opposite Jessica Tandy and Morgan Freeman allowed Aykroyd to parlay into character acting (Gross Pointe Blank, Get on Up) once it became evident Dragnet would not be commissioned a sequel.
Robert Downey Jr.
SNL tenure: 1985-1986
Oscar nominations: Best Actor, Chaplin (1992); Best Supporting Actor, Tropic Thunder(2008)
Downey is the third cast member from Lorne Michaels's bumpy, quixotic return to running SNL, suggesting the 1986-1987 cast was brimming with talent even if it wasn't quite right for the late-night sketch format. (Somewhere, Jon Lovitz is wistfully planning to revive his Master Thespian character...but for real.)
Downey's two nominations embody the painfully traditional (epic biography of a major 20th century figure) and the unusual-for-the-Academy (comedy). He first earned kudos opposite Aykroyd's Mack Sennett in the uneven biopic Chaplin, directed by Richard Attenborough. Sixteen years later, he landed a joyous, perfectly Hollywood comeback as the subterranean method actor Kirk Lazarus in Ben Stiller's action satire Tropic Thunder.
Bill Murray
SNL tenure: 1977-1980
Oscar nomination: Best Actor, Lost in Translation(2003)
For some, Murray should be the first Oscar-winning SNL alum. Recalling his bitter loss to Sean Penn for Mystic River (and who even talks about that performance anymore?), Murray winkingly embodied two acting styles in one film, via his sublime work in Sophia Coppola's Lost in Translation: subdued naturalism versus hammy method acting. As Bob Harris, Murray tweaked the wiseass persona he introduced on SNL, and later in comedies like Meatballs and Stripes. His collaborations with Wes Anderson revived his career (Rushmore) just at a time when it appeared he'd finally tapped out (The Man Who Knew Too Much, Larger Than Life). Instead, the world's been treated to his Polonius against Ethan Hawke's Hamlet, and watched in awe as he gamely attempted to portray FDR.
Today, Murray is a unique blend of character actor and movie star. He deserves every Oscar, ever.
Michael McKean
SNL tenure: 1994-1995
Oscar nomination: Best Original Song, "A Kiss at the End of the Rainbow," A Mighty Wind(2003)
Another intriguing nomination, as McKean appeared on SNL during its poorly regarded, post-second Golden Age, pre-Will Ferrell period. (It also can't help your odds at success when you're expected to replace Phil Hartman, RIP.) Still, people sleep on McKean's status as a comedy icon: He came to prominence as Lenny on Laverne & Shirley, before appearing as David St. Hubbins, lead singer and rhythm guitarist of the mock rock band Spinal Tap, in This is Spinal Tap. McKean holds the interesting distinction of having appeared first as a musical guest and then host of SNL, before eventually joining as the then-oldest cast member. (He also played two great smug comic villains in Coneheads and The Brady Bunch Movie.) McKean eventually reteamed with Spinal Tap members (and former SNL actors) Christopher Guest and Harry Shearer in Guest's mockumentary A Mighty Wind. With his wife Annette O'Toole, McKean wrote the Oscar-nominated song "A Kiss at the End of the Rainbow," sung by Eugene Levy and Catherine O'Hara in the film.
Eddie Murphy
SNL tenure: 1980-1984
Oscar nomination: Best Supporting Actor, Dreamgirls(2006)
Murphy follows Aykroyd and Murray in the tradition of SNL superstars who reveal a new layer after decades of steady mainstream success. Murphy achieved unparalleled stardom by the time he entered his mid-20s (and once aspired to be the next Charlie Chaplin), but when it came to the 2006 Oscar race, he was deemed too "prickly" by industry insiders, who opted to award acting veteran—and Second City graduate—Alan Arkin for his role in indie juggernaut Little Miss Sunshine. The timing of the offensively bad Norbit (featuring an in-drag, fat-suited Murphy as putrid villainess Rasputia) during the peak of the Oscar race did not help. Nor did a nonplussed speech at the Golden Globes.
Kristen Wiig
SNL tenure: 2005-2012
Oscar nomination: Best Original Screenplay, Bridesmaids(2011)
In a way, it's surprising Wiig is the sole SNL cast member to be nominated in this category. Many of the show's biggest stars—Belushi, Murray, Murphy—moonlighted as writers during their time at 30 Rock. And, to date, writers that worked on SNL include five recipients of the Mark Twain Prize for American Humor, a sitting U.S. senator, numerous Simpsons staffers, the creator of Clarissa Explains It All, the poet-guitarist behind "Classical Gas" and, briefly, Larry David. But Wiig—and, indeed, the nomination of her Bridesmaids co-star Melissa McCarthy—suggests the Academy may be becoming more open to comedians, though it helps that Wiig has shrewdly balanced appearances in the Anchorman and Zoolander sequels with roles in indie projects like The Skeleton Twins and The Diary of a Teenage Girl.
Before McKay and Wiig, previous SNLers that received Academy Award nominations for writing include Terry Southern (Dr. Strangelove; Easy Rider) and Douglas McGrath (Bullets Over Broadway).
Also, a shout-out to Albert Brooks, who was nominated for best supporting actor as poor Aaron Altman in Broadcast News. Brooks was a stand-up comedian, ironic Tonight Show guest and filmmaker before contributing six short films to SNL's inaugural season. It's also important to recognize Oscar nominee Marc Shaiman's history with the show, as the piano player for the Sweeney Sisters sketches, among other bits. And, if we want to get super-precise, Steve Carell contributed to Robert Smigels' TV Funhouse shorts years before he went dramatic and got Oscar love for Foxcatcher.