Looking to Become a Real Vampire? It's Time to Move to Texas
Texas is known for many things — barbecue, the Alamo, and vampires (yes, you read that correctly). Real-life vampire communities, known as courts, are popular in the Lone Star State. These communities may sound grotesque and scary, but the truth is they are incredibly philanthropic and even welcoming to outsiders.
"We celebrate the dark, the macabre, and the spooky, and we recognize that it's part of culture throughout history," Mikael Kage, king of the Houston Vampire Court (HVC) since 2017, told Fodor's. "No matter how weird or how spooky you think your passions and ideas are, you have a place where you're not judged for it."
Kage discovered this community while scoping out the goth nightclub scene and meeting folks who also had an affinity for all things vampire and spooky. But, what does it mean to realize you are a vampire, you may ask, and that it's not just a phase?
When someone realizes they identify as a vampire, the universal moment is "the awakening," which is the moment they also call "coming out of the coffin." Kage revealed that this moment usually happens around puberty, but can sometimes occur later in life.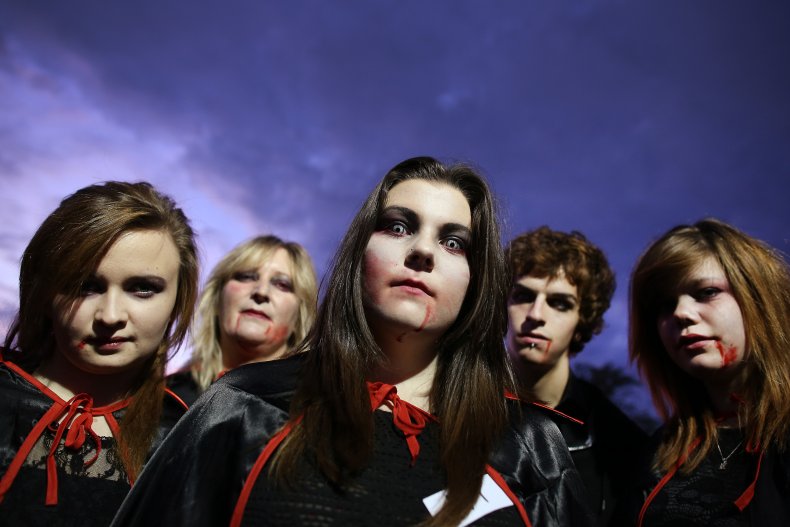 These real-life vampires aren't like Dracula, and are incomparable to the Twilight saga's Cullen family. Kage said that those fictitious creatures are just "mopey superheroes that sparkle in the sunlight."
However, whether or not garlic is deadly to these Texas vampires remains unclear though equally unlikely.
Kage noted that the HVC has helped "disabuse people who may have some really weird notions" about the blood-sucking and immortality associated with vampires. "We'll help them enjoy how they feel without going down any dangerous paths," he said.
Courts themselves also have different vibes. The HVC is more of a punk-rock scene, meanwhile the Dallas/Fort Worth Vampire Court (VCD) has more of an artistic focus, according to members, so there's something for everyone.
These vampire courts are also known for their philanthropic work.
"Charity work seemed the best way to utilize the amount of unique talent inside and outside of our membership as well provide these needed opportunities for giving," Danielle Kowal, a media representative and member of the VCD, told Fodor's. They benefit the city and community by creating art, culture, and music while supporting local causes.
Blood drives, children with medical needs, heart research, exotic animal shelters, and domestic abuse prevention are among the causes the VCD has benefitted. The HVC, meanwhile, has been highly successful in their annual drive to pay-off student lunch debts.
Are you sold on moving to Texas and becoming a vampire? In order to join these vampire communities, you can apply for membership in the designated city.
You can also keep an eye out for charity balls thrown, such as Houston's annual Nightshade Ball and Dallas's Bleeding Hearts Ball. These gothic events include live music, drinks, and entertainment like burlesque performers and tarot card readings. Maybe the eerie celebrations will suck you right in.