Revisiting N.W.A's Musical Legacy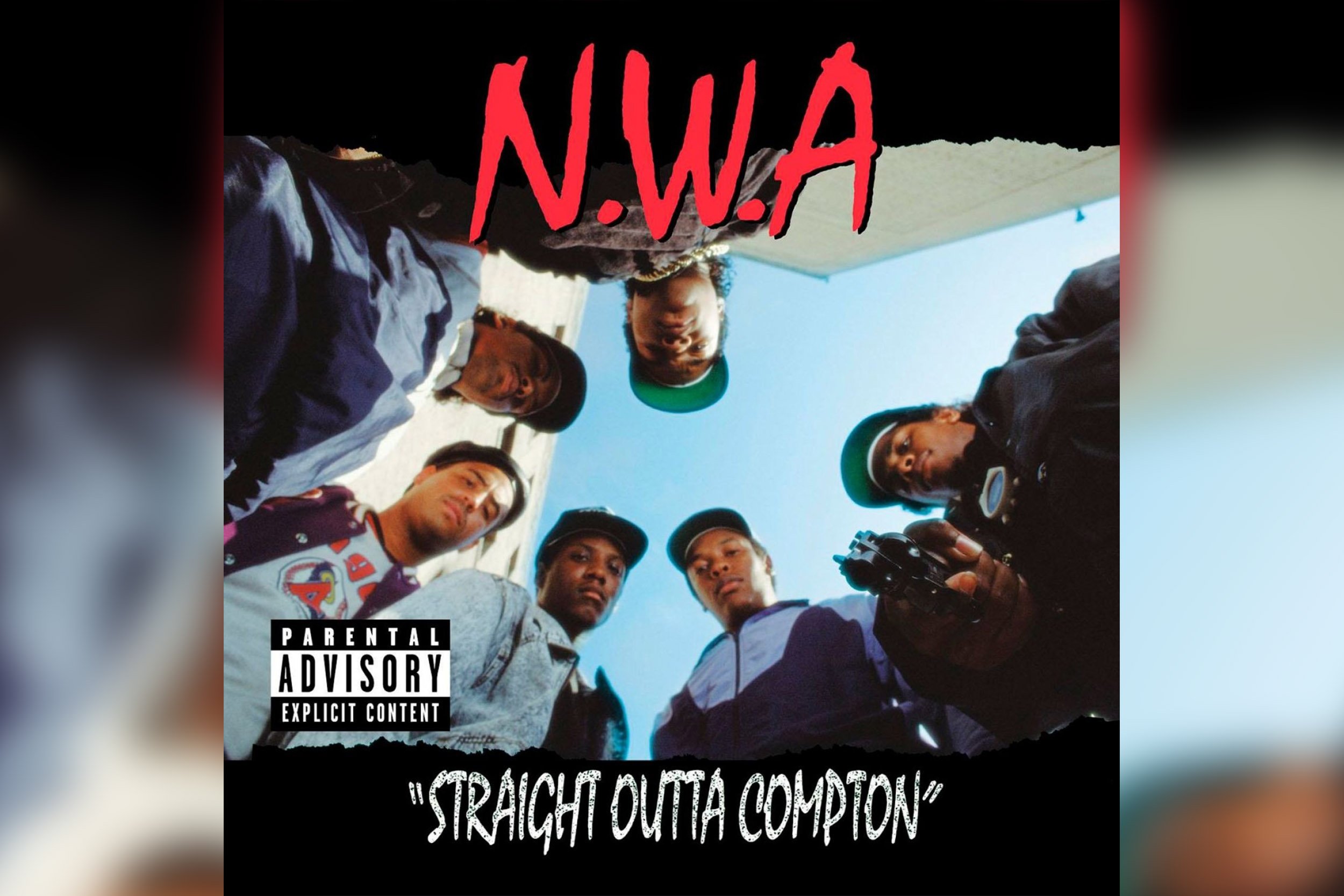 N.W.A will be inducted into the Rock and Roll Hall of Fame in April, likely angering and annoying many a rock purist. But when it comes to industry success, cultural impact, lasting musical legacy and sheer rock 'n' roll rebelliousness, the hall certainly got it right by inducting the Compton rap crew.
Consisting of Ice Cube, Dr. Dre, DJ Yella, MC Ren and the late Eazy-E, N.W.A not only sold millions of records but their shocking success propelled the entire gangsta rap movement to stratospheric levels and changed American pop culture forever. They took inner city rage and gangsta culture mainstream, melding Zapp, George Clinton, H. Rap Brown and Tookie Williams into a visceral, speaker-rattling spectacle of urban funk and controversy.
They weren't known as "The World's Most Dangerous Group" for nothing. They pissed off politicians, cops and parents coast to coast, were threatened by the FBI and were boycotted and targeted by Congress and censorship crusaders. In the process, they became arena-filling superstars and launched a new genre—gangsta rap—that paved the way for Biggie Smalls, Tupac, Jay Z, Kendrick Lamar and everyone in between.
During their heyday in the late 1980s and early '90s, there was no Internet to search for similar acts, so fans relied on fanzines, underground radio, club DJs, word of mouth, cassette tape trading and other creative promotional means to find new artists. N.W.A's run was short (the original lineup released just one full album together, in addition to an EP and a second album minus Ice Cube), but they inspired generations of artists and fans and spawned a slew of spinoff acts, some of which traveled the road paved by N.W.A to long careers and platinum success. Others didn't fare as well, burning out quickly or being derailed by tragedy.
So many rap artists have ties to the N.W.A family tree (most notably Dr. Dre protégés Eminem, Snoop Dogg, Warren G and Kendrick Lamar) that you could spend days traveling down Wikipedia rabbit holes researching them. Newsweek did some of this work—along with perusing our old tape and CD collections—to give you this primer on the era's most intriguing (and in some cases largely forgotten) acts who owe their careers to N.W.A:
The D.O.C.
The D.O.C. (born Tracy Lynn Curry) was a golden-voiced rising star who was set to be Dr. Dre's first bona fide hit machine. He contributed lyrics to N.W.A's Straight Outta Compton and Eazy-E's first solo album, Eazy Duz It. His 1989 debut, No One Can Do It Better, went platinum and is still considered an underground classic. But his ascension to stardom ended abruptly when his larynx was crushed in a late-night car wreck just five months after his debut was released, destroying his voice. He released a sophomore album in 1996 called Helter Skelter and the Deuce compilation in 2003, but both were disappointing and poorly received. He is said to be working on a new album.
Da Lench Mob
This fiery trio of Ice Cube disciples dropped an underground gem with 1992's gold-selling Guerillas in the Mist, a dark, funky and deadly serious album that starkly captured the sound and fury of post-riot Los Angeles. With Nation of Islam–inspired lyrics and hardcore black power themes, rappers J Dee, Shorty and T-Bone railed against the rigged justice system, corrupt politicians, music industry double standards and systemic oppression, all over a slamming street funk soundscape. Their success was short-lived, as J Dee and T-Bone were charged with separate murders and the group dissolved. T-Bone was acquitted but J Dee was convicted and remains in prison, serving 29 years to life.
C.P.O. (Capital Punishment Organization)
This side project of MC Ren made just one album, 1990's To Hell and Black, another underground classic that showcased Ren's often underrated rap skills, as well as the searing rhymes of Lil' Nation (a.k.a. CPO Boss Hogg) and Young D and the funky beats of Ruthless Records beatmaker DJ Train. The album hit No. 33 on the Billboard chart but they never made another record together. DJ Train (born Clarence Lars) tragically died in a 1994 fire in Long Beach, California, after rescuing several relatives from the burning home.
Del Tha Funky Homosapien
Ice Cube's cousin, Del (born Teren Delvon Jones) got his start writing rhymes for Da Lench Mob on the Guerillas in the Mist album. He released his first album, I Wish My Brother George Was Here, in 1991 when he was just 18 and it went platinum, thanks to the quirky hit "Mistadobalina." He helped forge the early '90s Oakland rap sound with his Hieroglyphics collective and has had a long and successful career, collaborating with indie rap icons Dan the Automator, Kid Koala, Brother Ali, Souls of Mischief and Handsome Boy Modeling School. He hit commercial pay dirt slinging the trippy rhymes on Gorillaz's 2000 smash "Clint Eastwood" and continues to make records today.
Above the Law
Eazy-E's find, these California rappers helped fuel the success of Eazy's Ruthless Records after N.W.A disbanded. They cranked out two platinum and one gold album in the early '90s and once reportedly violently beat down members of Da Lench Mob in New York. ATL's producer, Cold 187um, also produced for Suge Knight's Death Row Records and is widely credited with helping create the G-Funk sound that became Dr. Dre's platinum calling card. He produced tracks for MC Ren, Eazy-E, Snoop Dogg and Tupac, among others, and was once signed to Insane Clown Posse's Psychopathic Records. In the mid-2000s, he served two years for drug trafficking. Another ATL member, KMG, died of a heart attack in 2012 at age 43.
Compton's Most Wanted and MC Eiht
Hot on the heels of N.W.A's success, fellow Compton crew and real-life gangbangers Compton's Most Wanted, who were friends with MC Ren, burst on the gangsta rap scene with It's a Compton Thang. Their biggest commercial success came with 1992's Music To Drive By, while the group's front man, MC Eiht, won acclaim for a supporting role in the 1993 film Menace II Society. The group's success stalled when CMW member Tha Chill went to jail for three years on weapons charges. Eiht, a Crips gang member, released an acclaimed solo album in 1994, We Come Strapped, which hit No. 5 on Billboard and went gold. Eiht collaborated with Tupac, Snoop and Cypress Hill, did a cameo on Kendrick Lamar's 2012 album Good Kid, M.A.A.D. City and is said to be recording a new album.
Spice 1
Spice 1 emerged from the Bay Area rap scene in 1992, a protégé of Oakland rap kingpin Too $hort, and put out some of the West Coast's hardest and funkiest rap of the early '90s era. Backed by his keyboard maestro/producer Ant Banks, he released three gold albums, including the underground classic 187 He Wrote, which hit No. 10 on Billboard and No. 1 on the Billboard R&B chart. He collaborated with Eazy-E and contributed the stark street tale
Geto Boys
While N.W.A was exploding out of Compton, in Houston buzz was building for this gangsta rap crew. They toiled through the late '80s before breaking through with 1991's classic We Can't Be Stopped, which featured a real picture of dwarf rapper Bushwick Bill with a gunshot wound to the eye being wheeled on a hospital gurney by bandmates Scarface and Willie D. They delivered one platinum and two gold records in the mid-'90s, while Scarface has had an even more successful solo career, churning out three platinum and three gold records. His 1994 album The Diary hit No. 2 on Billboard while 1997's The Untouchable hit No. 1. Scarface and Bushwick Bill have both collaborated with Ice Cube while Bill appeared on Dr. Dre's 1992 classic The Chronic. Like N.W.A, the Geto Boys became targets for censorship advocates and drew controversy and protests. In 2010, Bushwick was nabbed for cocaine and marijuana possession in Georgia. Willie D, who has been a professional boxer and writes a syndicated advice column, served a year in prison in 2010 for wire fraud. Scarface, meanwhile, was arrested for failure to pay child support in October 2015 at the BET Awards, where he was receiving a lifetime achievement honor. The Geto Boys did a reunion tour two years ago and Scarface is actively touring.