Looking for a Smart Safe to Keep Valuables Secure? Mycube iCube May Be It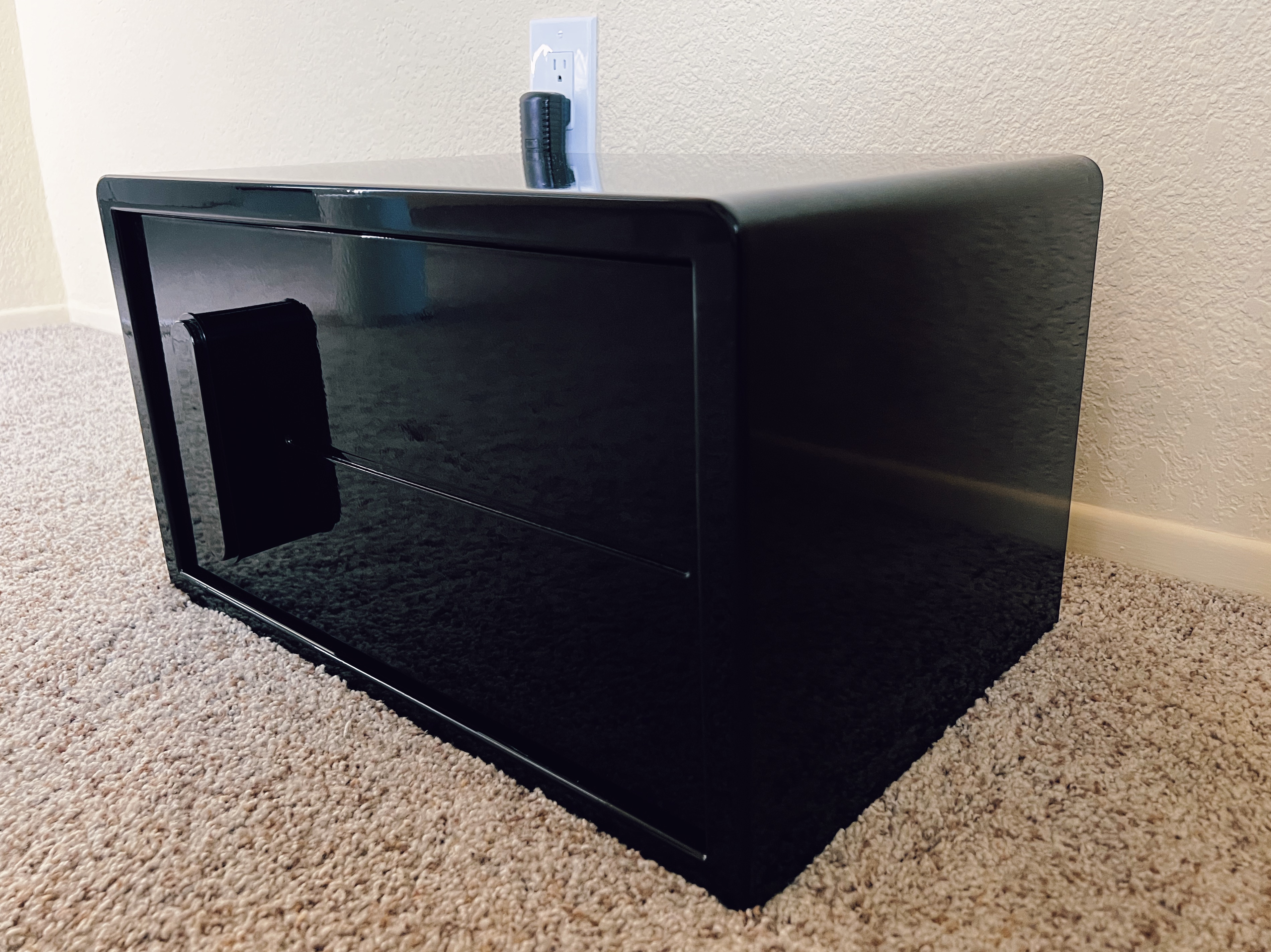 The premise of Mycube's iCube is simple: It's a smart home safe that can lock up cash, jewelry, medicine or things a bit more nefarious. The way it goes about securing valuables, however, extends way beyond any basic lockbox. The iCube connects to the internet via its free cellular connection, no Wi-Fi password or Bluetooth pairing is needed. It gets locked and unlocked through its mobile app and uses the app to track activity and inventory.
After some hands-on time with an iCube, I can confirm the smart safe is easier to use than one off the shelf with a numerical keypad. Paired with the Mycube mobile app, which can tap into a phone's biometric authentication such as Face ID, there aren't even any passwords to remember. The iCube is easy and convenient—just be prepared to pay for those luxuries.
TL;DR
Pros:
Large capacity
Free cellular connectivity
Easy-to-use mobile app
Cons:
Needs an outlet close to safe
Buy at Mycube.
The Basics of the iCube Safe
Everything with the iCube smart safe is done through the Mycube mobile app. There's a hidden key slot in the handle as a backup measure, but otherwise, the app controls everything.
The company says iCube uses an "end-to-end cloud security platform" to secure the device. But, because it uses its own cellular connection, there shouldn't be any compromises from people on the same Wi-Fi network. The safe doesn't use Bluetooth, either, so there shouldn't be any social engineering from visitors trying to pair with it when you're not looking.
Mycube iCube runs on 110-volt power and has a backup battery to keep it running for brief electrical outages. It will send notifications through its app when the power is disconnected. I stumbled over this function accidentally when someone turned off the wall switch paired with the electrical outlet the safe was connected to.
After that, when attempting more tests, I usually received notifications that the power was disconnected within seconds of my unplugging it. The same was true when plugging it back into an outlet. It alerted me that power had been restored very fast.
Limitations of the iCube
I didn't have any technical issues with the iCube and was pleasantly surprised by how effortless it was to operate. But there are some things to note about it. The iCube introduces a couple of extra considerations for placement in the home around power and signal. Since this connected safe has its own cell connection, it's not recommended to use in typically dead zones, such as a basement far underground. That also means the iCube is also not recommended for use in secluded, rural areas that don't get great cellphone coverage. (A future Wi-Fi version is forthcoming to alleviate these edge cases.)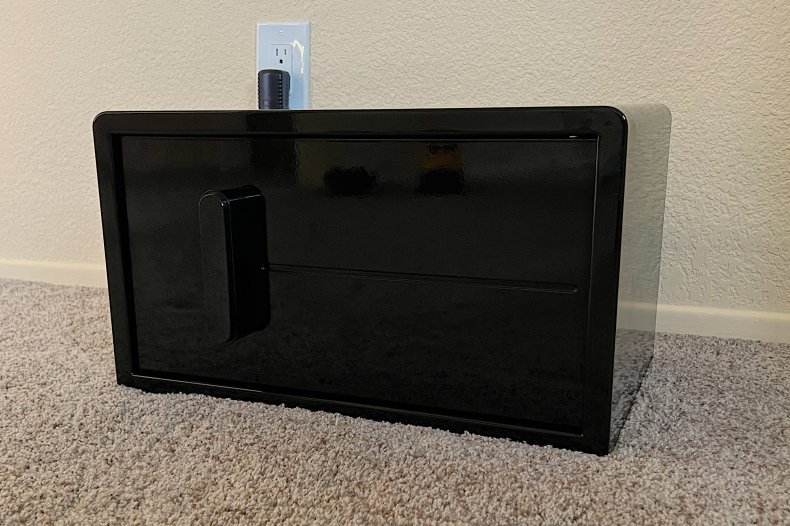 Its requirement of an outlet to keep the iCube continually plugged into power may be more of a concern. I personally don't have an outlet in a closet; finding a suitable place to keep the safe was slightly challenging but not impossible. But with these issues in mind, using the iCube has been smooth sailing for me.
Using an Internet Connected Safe
Setting up the iCube consists of creating a free account for its app and then scanning a QR code inside the safe. Doing so is about as easy as I can imagine. Again, there is no Bluetooth pairing or Wi-Fi password needed.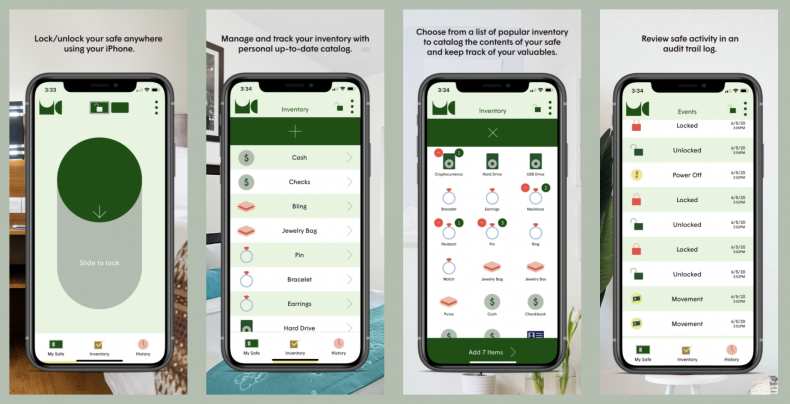 The Mycube app experience itself is fairly basic, with big icons and interface elements. The app almost looks like it's from a movie in which everything on the phone needed to be enlarged so it's easy for the viewer to see as it flashes across the screen. The lock and unlock mechanism, for example, is a giant circle that is either red when it's unlocked or green when it's locked. I don't feel strongly either way about the app. Depending on what gets stored in the safe, the app might not even be used more than a few times a year. Even used daily, it worked perfectly fine.
While notifications for the state of its power were fast and constant, I found myself needing an explanation around the tamper alerts. I picked up the safe from the ground, while still plugged into power, and put it on a counter without receiving any alert. I reached out to the company to get more clarity and heard back that the threshold for tampering is set much higher, to only register things like an attempted break-in. I wanted to try to trigger it, so I banged on the side of the iCube as if someone might were they trying to dislodge a bolted-down safe.
I was eventually able to get a notification that there was a movement for the safe, but it did take some effort. I was told that sensitivity will be user-adjustable in the future. Personally, I wouldn't want to get a notification every time the safe was bumped, so I understand the high threshold needed to send out alerts. Plus, the loss of power notification also serves as a heads-up warning if someone is trying to steal the iCube.
In terms of size, the inside capacity of the iCube is generous without the whole unit being too unwieldy. There's room for documents or plenty of valuables. A half-size shelf divides the top from the bottom but can be removed if it's not needed. The internal size is 10 inches tall by 19 inches wide by 10.25 inches deep.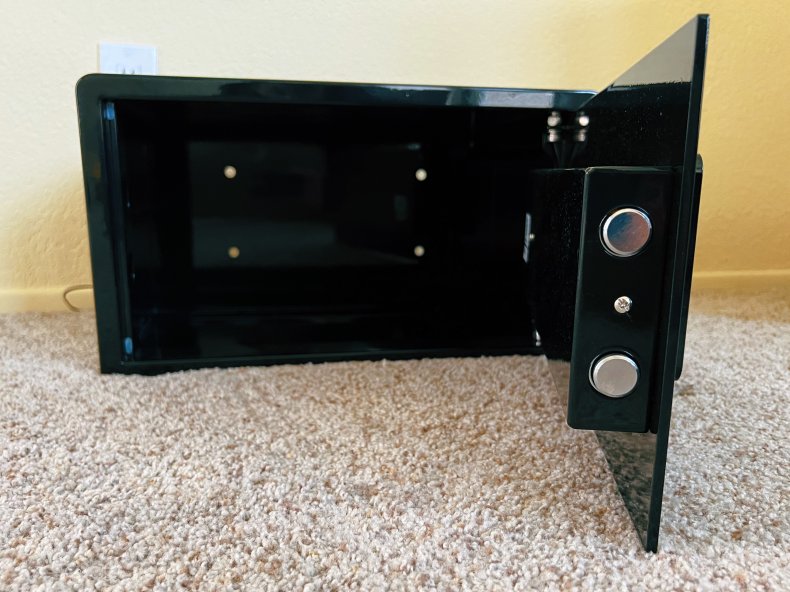 For people who need to unlock a safe at a moment's notice, the iCube does support remote access. That means it can be unlocked without your being near it. One other small nicety is that the app keeps a history of when the safe was unlocked, locked, moved or lost power.
If you lose access to your phone and the Mycube app, there is a hidden keyhole inside the safe's handle to manually unlock it. My biggest wish is that there was a way to lock the safe without the app, from the unit itself in the form of a button so it could lock quickly in case of an emergency.
Should You Buy the iCube Safe?
The hassle-free experience of having a cellular connection built into a smart safe is really nice. It worked seamlessly for me every time I needed it. It could be a critical feature for some who needs to unlock it for other people at any time. Mostly, I think a smart, connected safe is a luxury at the moment. Despite how nice it is and how well it worked, it's hard to argue that its technology is critical to its locking up valuables for general use. Its need for a power cord does introduce a few extra considerations.
The price of the iCube is steep, but there is no recurring monthly connection fee. So if a nearly $700 safe is in the budget, or it's worth splurging on, start by looking closely at this one.
Buy at Mycube for $675.
Newsweek may earn a commission from links on this page, but we only recommend products we back. We participate in various affiliate marketing programs, which means we may get paid commissions on editorially chosen products purchased through our links to retailer sites.