The Looming Battle for Hermès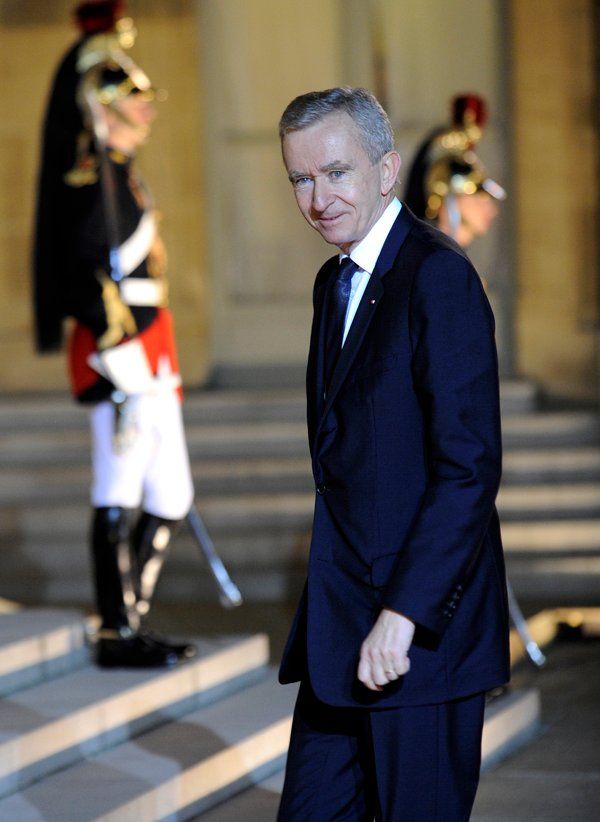 In the plush, cut-throat world of luxury fashion, French tycoon Bernard Arnault is known as the "wolf in cashmere." That's because he has guzzled down one high-end brand after another like so much Dom Pérignon champagne (which, by the way, he also happens to own). Louis Vuitton. Givenchy. Marc Jacobs. Fendi. All these and more are part of LVMH Moët Hennessy–Louis Vuitton, the French conglomerate that Arnault assembled on his way to becoming the seventh-richest man on the planet (net worth: $27.5 billion and counting). Now he's poised to consume one of the last family-controlled brands in the business: Hermès, whose Kelly handbags and colorful silk scarves are required wear for the wealthy and those who aspire to be.
Like any good predator, the 61-year-old Arnault crept up on Hermès International unawares. Late last month LVMH revealed it had quietly accumulated a 17.1 percent stake in Hermès for just over $2 billion. As is often the case when one company is about to devour another, LVMH insisted it had no intention of launching a tender offer or taking control of Hermès. And lest Arnault's motives be misinterpreted, the company pledged that "the objective of LVMH is to be a long-term shareholder of Hermès and to contribute to the preservation of the family and French attributes which are at the heart of the global success of this iconic brand."
What makes Hermès such a coveted prize is its devotion to quality. In the last two decades the luxury industry has been refashioned from a collection of small, family-run businesses serving a niche clientele to publicly traded megabrands that do billions of dollars a year in sales. Arnault has been the primary driver of this trend, marketing once exclusive labels like Louis Vuitton to the aspirational class—especially in developing markets like China, Russia, and India. That strategy has made LVMH the industry's unrivaled giant, with $23.5 billion in sales in 2009, compared with $2.6 billion for Hermès.
Yet many criticize Arnault for trading class for mass, especially as Fendi bags have found their way into outlet malls and Dom Pérignon is sold next to the Korbel at Costco. In May Britain's Advertising Standards Agency banned two Louis Vuitton ads for allegedly misleading customers about how its wares are made. One ad showed a seamstress sewing a handbag along with text that read: "A needle, linen thread, beeswax and infinite patience …?" Today the majority of Louis Vuitton leather goods are made by machine on an assembly line.
The thought of mass-produced Hermès shoes and shawls has purists in a dither. Each of the company's Kelly and Birkin bags is made to order by a single craftsperson, with one piece of thread, from beginning to end. The demand for these bags—which start at $6,000 apiece—so surpasses the production capability that there is a yearlong waiting list. Even in the down economy, Hermès has been booming: CEO Patrick Thomas announced last week that the house's third-quarter sales were up a staggering 30 percent. No wonder Arnault is salivating, especially since LVMH's own profits slipped in the last year.
If Arnault's record is any indication, Hermès is going to need a lot more than a Birkin handbag to beat him away. "Arnault is a shrewd man," says one luxury-brand CEO who would speak frankly about his competitor only on the condition of anonymity. "He has reviewed his portfolio and sees what he is missing—a company that still produces true luxury—and he is going after it." Arnault declined NEWSWEEK's request for comment.
Arnault earned his predatory reputation in the late 1980s, when he wrested control of LVMH from the Vuitton family in a vitriolic boardroom fight that grew so personal and vengeful the French daily Libération called him "the Machiavelli of finance." The war ended with the Vuittons packing up their offices and leaving their Avenue Montaigne headquarters in tears.
During the decade that followed, Arnault expanded his empire by snapping up one family-owned brand after another. Not all the purchases were tearful affairs; the acquisitions of Krug champagne and the Florentine fashion house Pucci were quite civil. But others were far less agreeable, such as the time Arnault stepped into the middle of a family feud and bought a controlling stake in France's famed Château d'Yquem vineyard, which once belonged to Eleanor of Aquitaine.
Arnault's manhandling of company founders is seen as decidedly un-French. When he bought the ready-to-wear company Céline from its founders, he assured them they could remain at the helm—only to have them fired a few months later. Hubert de Givenchy was pushed into retirement after Arnault assumed control of his couture house through his takeover of LVMH. And after LVMH bought the Guerlain perfume company, its longtime nose, Jean-Paul Guerlain, was slowly but surely relieved of his duties, too. Tellingly, LVMH's competitors began to refer to Arnault's conglomerate as "the evil empire."
The battle royal came in the late 1990s, when Arnault launched a takeover attempt of Gucci that came to be known as "the war of the handbags." After months of legal and boardroom fighting, Gucci found a white knight, French financier François Pinault, who proceeded to create Arnault's biggest competitor, Gucci Group. It was Arnault's only takeover failure.
Since then Arnault has lain relatively low, focusing on the growth of his brands, particularly Louis Vuitton, which now does more than $3 billion a year in sales. But all the while, there have been periodic rumors in the French markets that Arnault was considering making a run at Hermès, a brand he greatly admires.
That's certainly been a fear of the heirs of Thierry Hermès, who control the fashion house. After seeing the way Arnault dealt with the Vuittons, Hermès's then-CEO, Jean-Louis Dumas, set up a partner company in 1989 to represent the family shareholders, with the sole authority to appoint management and decide company strategy. Dumas, a conservative, hardworking Protestant, also feared that family infighting and greed might one day break up Hermès. Several of the heirs live large (one was the longtime head of the International Polo Federation; another flew 450 people to Marrakech on a private jet for his five-day wedding reception), and Dumas worried that they might want or need more money than their dividends paid. So in 1993 he listed 25 percent of the partner company on the French stock market, believing that this two-tier setup would protect Hermès from a takeover by a non–family member.
But this structure also allowed for outsiders to buy up the stock. Which is what LVMH has been busy doing, acquiring what are known as cash-settle equity swaps. These financial instruments are often used by hostile buyers trying to amass a large stake in a publicly traded company without having to disclose their holdings. The use of equity swaps in takeover fights has caught the attention of the AMF, France's equivalent of the Securities and Exchange Commission, causing AMF president Jean-Pierre Jouyet to liken the practice to the "Wild West." Earlier this month the AMF announced it would investigate LVMH's equity swaps to confirm that French rules were respected. LVMH said it is "confident that this inquiry will establish, as the group has always affirmed, that these operations were made in full respect of current regulations."
Hermès executives have let Arnault know, quite clearly, that the company is not for sale. Two days after LVMH's announcement, Thomas, the CEO, and Bertrand Puech, a fifth-generation descendant of Thierry Hermès who heads the family partner company, met with Arnault and told him they didn't consider LVMH's move as "friendly," as Arnault had publicly stated. The two have demanded that Arnault quit his aggressive pursuit of the company, saying the family is "unanimous" on the subject; Arnault responded that he has no intention of giving up his Hermès stake and that he has broken no securities laws.
The heirs may be "unanimous" about keeping Hermès in the family, but the question remains: for how long? According to analysts, the protection guaranteed by the family partnership extends only through the sixth generation of Thierry Hermès's descendants, who are now well into middle age. Today there are about 60 family shareholders, but by the next generation that number will double—increasing the odds that the heirs will want to cash out and feather their trust funds. While Hermès loyalists recoil at the thought of the house being owned by the "evil empire," some observers think the merger could be good for both groups. "There would be a lot of synergies, such as media buying, operations, and supply chains, and so on," says Luca Solca, a luxury analyst for Bernstein Research in London. "Consolidation is the way the luxury industry is going to go—there will be two or three groups who will own the majority of the business." If that's the case, the wolf may soon be quite satiated. For the time being.
Editor's note: This story mistakenly indicated that Louis Vuitton bags are sold in outlet malls. Although other LVMH brands have stores in outlet malls, Vuitton does not.