The 'Looney Tunes' on HBO Max Still Have Sticks of Dynamite, But They're Missing One Big Thing
Warner Bros. has stripped Elmer Fudd and Yosemite Sam of their weapons in the latest Looney Tunes Cartoons that are featured on HBO Max. That's right—the grumpy rabbit hunter and trigger-happy cowboy have had their guns removed in the Looney Tunes reboot.
The update is in response to the various mass shootings that have devastated Americans in the past few years. Aside from being disarmed, the two iconic characters remain largely the same in the new Looney Tunes adventures. In one clip that was recently shared on YouTube, Elmer Fudd is without his usual shotgun rifle, but his animosity for the "wascally wabbit" is still intact. (He's also wearing a shirt and tie, and not his trademark hunter's outfit, but according to CNN, Elmer Fudd and Yosemite Sam's clothes haven't changed permanently.)
As for Yosemite Sam? In a trailer for the fresh Looney Tunes Cartoons series, he doesn't challenge Bugs Bunny to the usual quick-draw contest; instead, he bullies the rabbit into an arm-wrestling contest.
Even though those two characters have been disarmed, viewers can still expect some cartoon violence. There will be sticks of Acme dynamite exploding in characters' faces.
"We're not doing guns," executive producer and showrunner Peter Browngardt said in a recent interview with The New York Times. "But we can do cartoony violence—TNT, the Acme stuff. All of that was kind of grandfathered in."
Also speaking to the Times, story editor Johnny Ryan said that violence is a key part of the Looney Tunes characters and cartoons, and that makes them a bit out of step with our current moment. "We're going through this wave of anti-bullying, everybody needs to be friends, everybody needs to get along," Ryan said. "Looney Tunes is pretty much the antithesis of that." He added, "It's two characters in conflict, sometimes getting pretty violent."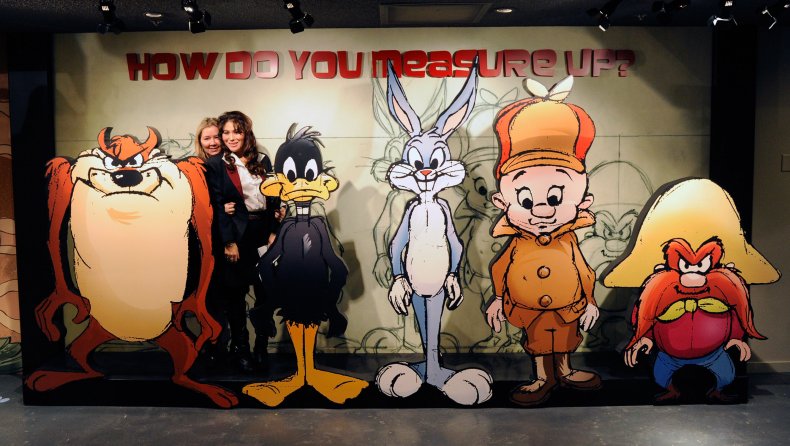 There has been both backlash and support from people on Twitter regarding the new cartoons' lack of guns. Former Republican congressional candidate DeAnna Lorraine wasn't thrilled with Fudd using a "plastic straw to hunt the rabbit." She also claimed in her tweet that the changes were because of the death of George Floyd, who was killed while in Minneapolis police custody on May 25, and whose death has sparked protests all over the world.
Michael Ruocco, a storyboard artist on the HBO Max show, defended the changes, which were being considered since 2017. He tweeted, "It was never about the gun. It was about Elmer's flawed, challenged masculinity."
"Also, think about context about what's going on in the world, and how long ago our show started production. Late 2017, early 2018. Right on the heels of a record number of mass shootings, particularly the horrific one in Las Vegas. Nobody wanted to touch guns working in media," argued Ruocco.
Ruocco also added this tongue-in-cheek image to the trolls:
Looney Tunes Cartoons is available to stream on HBO Max, along with several classic installments of the old Looney Tunes shorts.
And, as Porky Pig likes to say, "That's all folks!"