Loose Camel Kills Two People on Farm
Two people are dead after they were attacked by a loose camel on a farm in Tennessee on Thursday, according to a local sheriff's office.
The Obion County Sheriff's Office said it received a call about a loose camel near Shirley Farms in Obion, Tennessee, that was "attacking people."
"Deputies arrived on scene to find two unconscious victims on the ground at Shirley Farms and a camel still on the loose," the sheriff's office wrote in a statement posted on the department's Facebook page.
First responders attempted to render aid to the victims of the attack, but both of them were pronounced dead at the scene, according to the sheriff's department. The victims were identified as Bobby Matheny, 42, of Ridgely, Tennessee and Tommy Gunn, 67, of Obion, Tennessee.
The sheriff's department added that after officials arrived on the scene, the camel attacked a sheriff's vehicle, and "then moved towards deputies who were attempting to move a victim to EMS."
"It was at this time officers had to put the camel down for the safety of everyone on the scene," the sheriff's office wrote.
Newsweek attempted to reach Shirley's Farms for comment on Friday, but was unable to leave a message at a number listed for the business.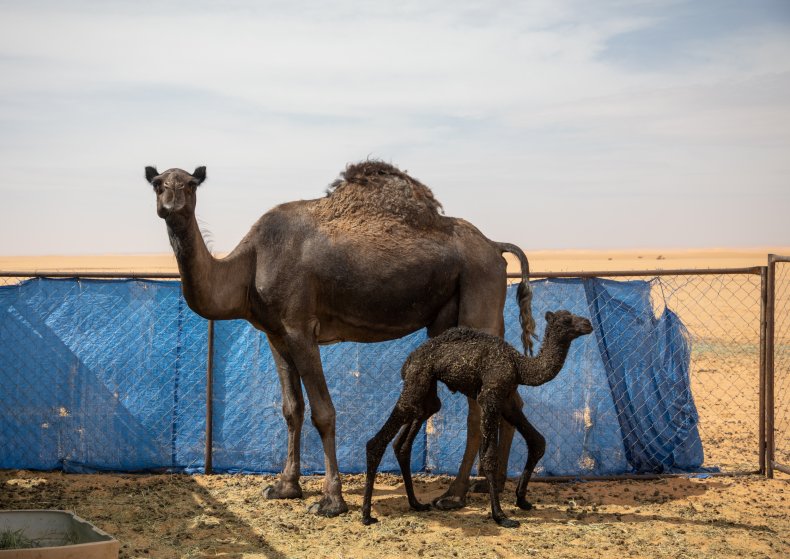 The attack by the camel is not the only recent incident where someone was killed on a farm by an animal. In December, a woman who was volunteering on a farm in Massachusetts died after being repeatedly injured by a sheep.
The incident happened on December 4 when Kim Taylor, 73, of Wellesley, Massachusetts, was rammed by a sheep multiple times while she was volunteering at Cultivate Care Farms in Bolton, Massachusetts, according to reports.
Police told NBC Boston that Taylor suffered extensive injuries and went into cardiac arrest.
In another fatal incident in August, three brothers died after getting stuck in a manure pit at a farm in Ohio. According to reports, Gary, Todd and Brad Wuebker were working on a pump inside a manure storage pit in Mercer County, Ohio, before all three of them were found unconscious.
First responders pulled all three men out of the pit and they were transported to an area hospital, but all three later died at the hospital.
In February of last year, a woman was killed by the dog her brother bought to improve her mental health. Keira Ladlow, 21, was mauled by the Staffordshire bull terrier cross, named Gucci. One day her brother returned home he found Ladlow "lifeless" on the floor of the living room, which was "covered in blood," he said in a court proceeding.
"I've always protected her... I feel responsible even though there was nothing I could have done that day," her brother, Kayden Barrett said.