Recovered Painting Looted by Nazis Is Almost Identical to Painting on Display in Philadelphia Museum
A Nazi-looted painting that was believed missing for over 80 years and recently recovered by the Federal Bureau of Investigation (FBI) is almost identical to another painting on display in Philadelphia, Pennsylvania.
Winter, by American artist Gari Melchers, was confiscated in September from the Arkell Museum in Canajoharie, New York, decades after it was stolen by Nazis in Germany sometime between 1933 and 1934. News of its recovery first broke last month.
In a new twist, the Philadelphia Inquirer reports that Winter bears an uncanny likeness to another, more famous, Melchers painting, Skaters, which was acquired by the Pennsylvania Academy of the Fine Arts in 1901 and has been a staple of PAFA's collection for over a century.
Skaters and Winter both depict idyllic rural scenes of a young Dutch man and woman carrying ice skates and a skating stick. The subjects of the two paintings appear to be the same people, however, on closer inspection there are differences between them that rule out one being a counterfeit.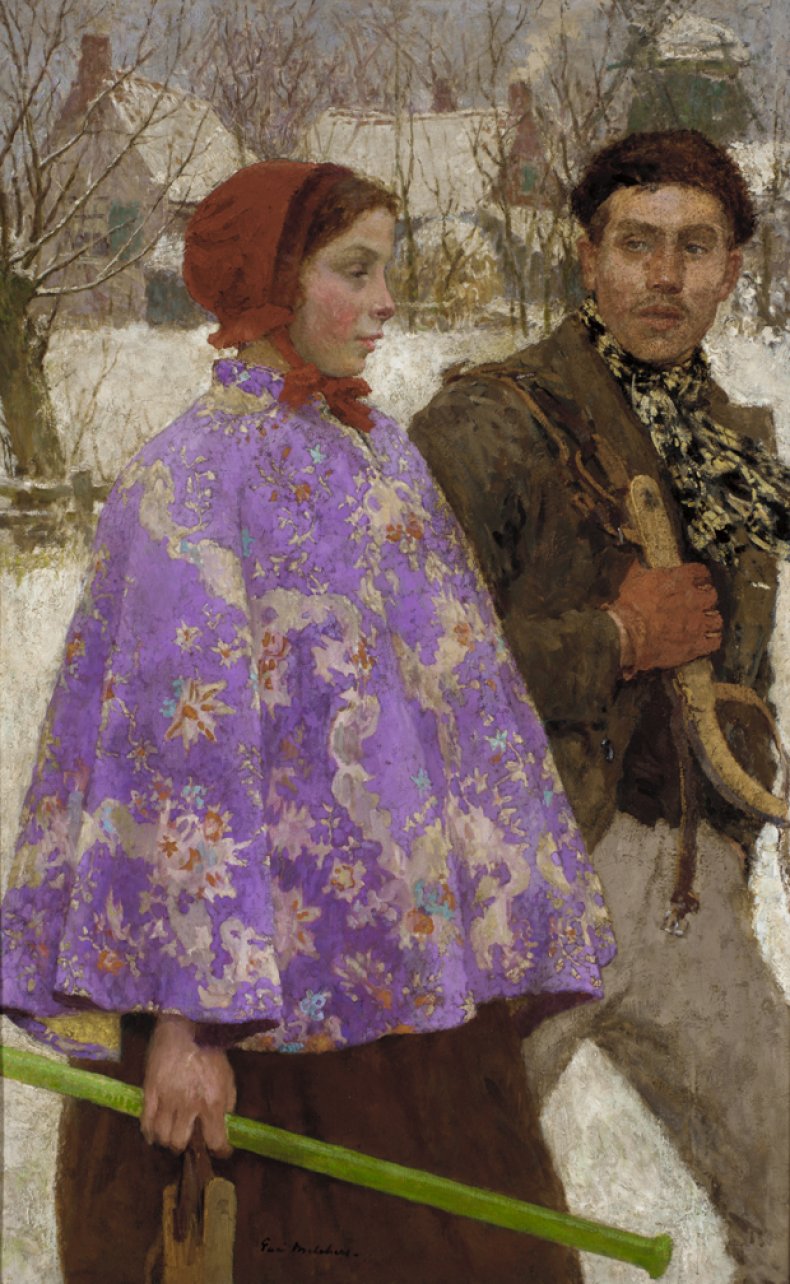 For example, in Skaters, the male skater appears to tilt his head towards the viewer, while in Winter, both skaters are looking straight ahead. There are also subtle color differences between the two paintings—in Skaters, the female skater is adorned in a brightly colored purple cloak and is carrying a bright green skating stick compared to the more sombre hues in Winter.
According to the Philadelphia Inquirer article, Anna Marley, PAFA's curator of historical American art, initially thought that Skaters might be a copy of Winter.
It is not known which painting came first, but Skaters, according to PAFA's website, was painted in 1892 by Melchers, a Detroit-born artist of German ancestry, and was perhaps first displayed in 1893 at the World's Columbian Exposition in Chicago. It was acquired by PAFA's director Harrison Morris in 1901.
Winter, meanwhile, was acquired by German publisher Rudolf Mosse at the Great Berlin Art Exhibition in 1900, NBC News reported in October. Mosse ran a periodical that was critical of the Nazi Party, making him and his ancestors a target of the Nazis. When Mosse died in 1920, his art collection was inherited by his adopted daughter and her husband, but the couple fled Nazi Germany in 1933, leaving their possessions behind, after being persecuted by the Nazis.
It's believed Winter and other art in the Mosse collection were illegally liquidated by the Nazis around 1933. "The Nazis commissioned Karl Haberstock of the Rudolf Lepke auction house, to liquidate the Mosse family's art collection," forfeiture documents filed by the U.S. attorney's office said after it was seized by the FBI in September.
In 1934, Winter resurfaced at the Macbeth Gallery in New York and was purchased by Bartlett Arkell, one of the founders of the Beech-Nut Packing Company, the famous baby food manufacturer. Arkell donated the piece to his namesake museum, where it was displayed until being seized by the FBI in September.
According to Joanna Catron, curator of Gari Melchers Home and Studio in Falmouth, Virginia, the near-identical paintings may be the result of Melchers being inspired by his own work.
Catron told the Philadelphia Inquirer: "He was known to copy or crib from himself multiple times—anything to pay the rent. I think this was an instance of, 'Well, this is so successful, I think I'll try it in pastel.'"
Catron said the Melchers Home and Studio also has a pastel version of the Skaters oil painting—meaning there are at least three versions of the painting.
The curator said the Virginia pastel painting is "much closer" to the oil painting on display at PAFA but not as "impressive."
"I think it was painted as a spec piece but didn't sell, which is why it is still with us," Catron told the Philadelphia Inquirer. "We are very glad to have it, though. I will assume, because it was worked up on very thin tissue/tracing paper mounted on board, that [Melchers] traced it from the original PAFA version."
As for Winter, Suzan D. Friedlander, the Arkell Museum's executive director, told Newsweek by email Monday that the museum was "aware that Melchers had produced different versions of this scene, and that one was in the [PAFA] collection."
Friedlander added: "The works are incredible. It would have been terrific to look further into this group but Melchers had never been the subject of intense research here."
Winter is currently in an FBI storage facility in Albany, New York, while investigators track down the nearest Mosse relatives to return it to the family.
It's not believed that Arkell was aware of Winter's illegal liquidation by the Nazis when he bought it in 1934. The Arkell Museum forfeited the painting to the FBI in September.
Friedlander said last month the museum "was of course very upset to learn the history of the painting's seizure from the Mosse family by the Nazis in 1933 and its subsequent sale at the Lepke Auction in 1934. We fully support the work of the Mosse Art Research Initiative and other efforts, and willingly turned over the painting to the FBI, waiving all right, title, and interest in the painting."
This article has been updated with additional comment from Suzan D. Friedlander.