Looters Rob Gas Station While Hurricane Ian Blocks Police From Responding
A Florida gas station was reportedly looted on Wednesday while law enforcement officials were "unable to respond" to some calls due to Hurricane Ian.
During a press conference on Wednesday, officials in Florida's Lee County announced that a curfew was in place, shortly after there was reports of looting.
"Earlier today, when law enforcement was unable to respond because of weather conditions, it was unsafe, there was a break-in on Cleveland Avenue and there was looting," Lee County Manager Roger DesJarlais said during a press conference. "There was a group of people, don't know a lot about it yet, who just had their way. I think it was with one of the Speedway gas stations or one of those and so the city of Fort Meyers...called to talk about a curfew."
"There is going to be a zero tolerance policy for looting and violence," DesJarlais added.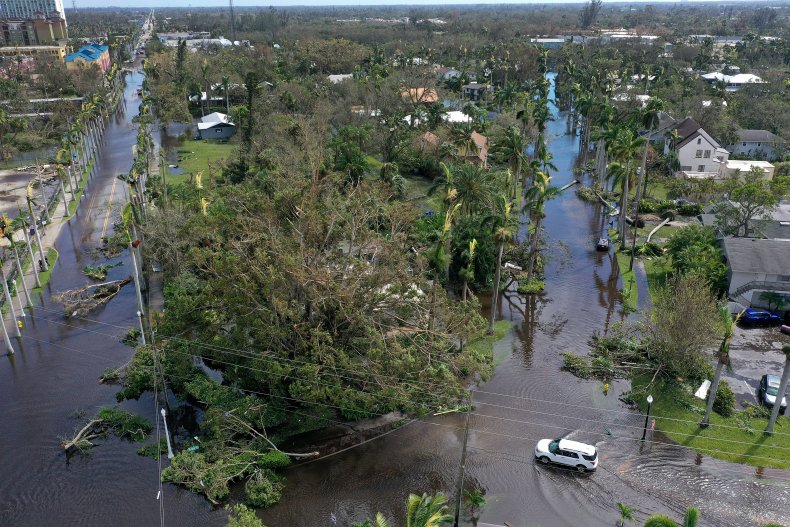 Hurricane Ian made landfall in Florida as a Category 4 storm. The hurricane brought heavy rainfall, high wind speeds and damaging flash flooding.
"Catastrophic storm surge along with destructive waves from #Ian are expected along the southwest Florida coastline from Englewood to Bonita Beach, including Charlotte Harbor. Residents should urgently follow evacuation orders from local officials," the National Hurricane Center's Storm Surge Twitter account said at 7 a.m. on Wednesday.
Similarly, the National Hurricane Center said at 11 a.m. ET that as Hurricane Ian made landfall in Florida, "Catastrophic storm surge inundation of 12-18 ft above ground level," was expected.
"Catastrophic wind damage is also beginning," the National Hurricane Center added.
During a separate press conference on Wednesday, Lee County Sheriff Carmine Marceno also warned residents about looting and other violence during the hurricane.
"A message that's very clear for any of those individuals that think they're gonna go out there and loot or prey on people during this horrific event," Marceno said. "You better think twice. When I say zero tolerance, zero tolerance means we will hunt you down, track you down and you're going to jail if you're lucky."
Marceno continued, "I know we had a report of one incident where someone tried to loot into a gas station. I don't know the details but it's infuriating and we're not gonna allow it. We are a great law and order state. We need to access the people that need to be helped, their life and safety is most important. But my message is very clear to those who think they're gonna loot. Go somewhere else, leave the state, don't do that in here, not in Lee County."
After making landfall in Florida, Ian has been downgraded to a tropical storm by the National Hurricane Center.
Newsweek reached out to the Lee County Sheriff's Office and the Lee County Government for comment.
For live coverage of Hurricane Ian, visit our live blog.