Looting after California Wildfires: Cal Fire Station and Trucks Burglarized, Two Men Arrested
A pair of alleged thieves were busted attempting to burgle a fire station as embers still kindled acreage in Northern California.
Robert Palma and William Erlbacker, both of Concow, California, were nabbed and charged for looting, theft of a vehicle and possession of stolen property, according to a release by CalFire.
The pair of suspected thieves were arraigned and held on $250,000 each.
The incident comes only days after six people were caught for looting incidents in the Camp Fire, now officially the Golden State's deadliest fire that has turned an entire town of Paradise, California into ash.
Officially, there have been 77 deaths tied to the hellish blaze and as a mounting number of missing residents, tipping more than 1,000 people, has plagued the recovery efforts.
The six people, some who allegedly lifted firearms (including a .45 caliber pistol and an AR-15 rifle) a quad ATV, as well as chainsaws and other tools, were named and shamed by Paradise Police Sgt. Steve Bertagna as the "lowest of the low" for alleged theft of evacuees' precious belongings.
Jason Burns, 41, and Michael Salisbury, 48, were spotted by police doing patrols around Quail Run Drive on Nov. 12, when they trailed the pair ducking into a bedroom of a home belonging to one of Burns' relatives, police reported.
Burns and Salisbury were immediately brought into custody and booked for suspicion of being a felon in possession of a firearm, possession of an assault weapon, possession of a machine gun, possession of a controlled substance while armed, possession of a stolen vehicle, being a prohibited person in possession of ammunition, and entering into an evacuated area, according to an official release of the charges.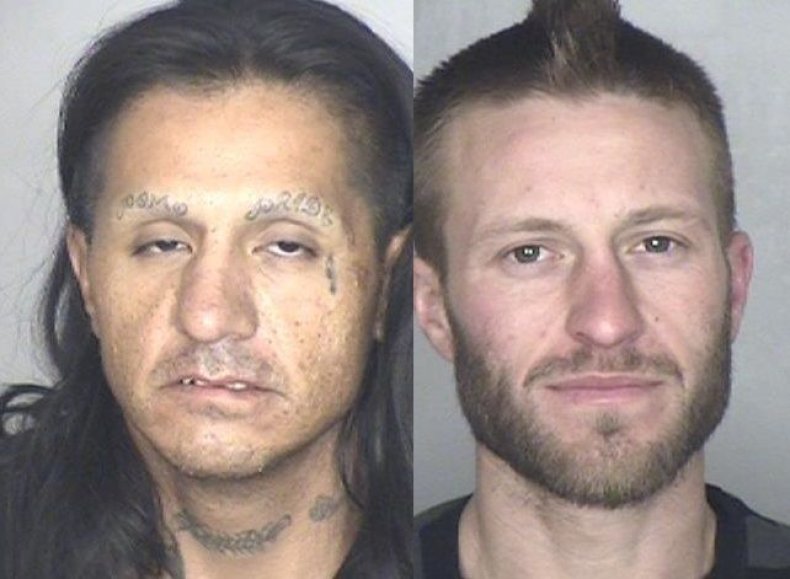 The following day Teddy King, 27, and John Brown, 38, allegedly walking along a bike path on Skyway which was off-limits to the general public because at the time it was under an evacuation order.
Once authorities caught up to the pair, they purportedly were in possession of a stolen laptop, as well as a ski mask, drugs and drug paraphernalia, the sheriff's report states.
They were arrested for possession of a controlled substance, and possession of drug paraphernalia.
Later in the day, an evacuated motorhome that had been reported missing before it disappeared was discovered wheeling along Benatar Way in Chico.
Officers pulled the motorhome over and discovered the ignition was tampered.
"There was not a key in the ignition, and the ignition was damaged," the report states.
The driver of the vehicle, Shayne Tinnel Jr., 22, and passenger, Tracy Sizer, 42, were immediately arrested and charged with vehicle theft, possession of a stolen vehicle, and looting.​