'Loqueesha' Director Argues Controversial Film 'Goes Beyond Race and Gender' (EXCLUSIVE)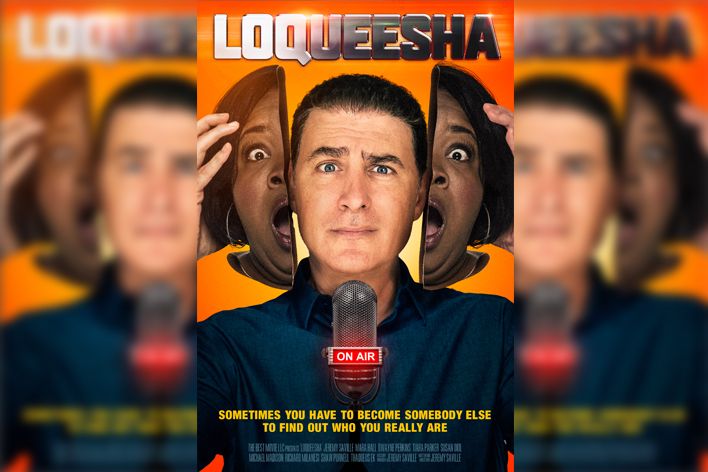 Loqueesha has the most controversial movie trailer of 2019. Writer and director Jeremy Saville stars as Joe, a down on his luck bartender who manages to secure a job as a radio DJ by impersonating a black woman to get on air. When the trailer launched on May 11, a wave of confusion and outright anger spread online on social media.
"I'm excited that so many people are aware of the film, for whatever reasons," Saville told Newsweek. "As an independent filmmaker, you always want your work to be seen by the largest audience possible." He claims that the name "Loqueesha" was created on the spot and "just came to him." Twitter user Joelle Monique described the name as "racist" and "coded to sound loud and ghetto.'"
When asked what inspired Loqueesha, Saville said he wants "to make a funny film that would bring joy and laughter to people watching it." He funded the entire production because he "loved the script." This is only Saville's second film, with his first being The Test in 2012 (which he also starred and directed). "The movie had moments that were funny and entertaining, but please be aware that it is a low budget movie with poor acting and a disappointing ending," wrote one IMDB reviewer of The Test.
In response to the obvious criticisms of his movie, namely that it is patently offensive for a white man to impersonate a caricature of a black woman, Saville thinks that people are jumping to conclusions based on the trailer.
"When people watch the entire film, they will see that there is much more here than meets the eye." he said. "Virtually all the comments I've seen online are addressed directly in the film from a variety of perspectives." Saville did not elaborate on those comments or perspectives.
Saville defends his performance in Loqueesha by citing a 2015 SNL skit featuring Louis C.K. talking in a black woman's voice to avoid being seen as a racist by his coworkers and boss. "(The sketch) has him performing a similar character. It was met with laughter and applause," Saville said.
In an Instagram post, Saville also compared his film with The Wayans' Brothers 2004 comedy White Chicks, which stars the pair of black comedians in white face paint and female clothing. "( White Chicks) has a very similar concept, and that film included physical transformation as well," Saville elaborated. Marlon Wayans refuted the comparison, saying he "hates when people tag him in their bullshit."
In addition to critics charging Loqueesha with a racially insensitive premise, Loqueesha appears to have also committed plagiarism. The trailer claims it was a part of the San Luis Obispo International Film Festival. However, in a statement posted to Twitter and given to Newsweek, festival organizers adamantly denied the claim, and wrote that "the film did not screen at this year's film festival." They have contacted their legal representation and "requested the trailer be pulled and those laurels be removed."
(UPDATE: May 19 12:00 p.m. EST.) Saville clarified his relationship with the San Luis Obispo Film Festival, claiming that after the trailer was made they "subsequently withdrew the film from the festival because we felt it wasn't the best fit and timing for the film." The trailer was then reposted without the incorrect laurels.
YouTubers, streamers and radio personalities shared their bewildered thoughts on the project. "I thought it was very offensive, it sounds like what a stereotypical version of what a white person thinks a black woman sounds like," said Angela Lee of the Power 105.1 FM radio show Breakfast Club. "It's already hard enough for a black woman to get these positions and jobs."
Sean Mulvihill, a film critic for Fanboy Nation whose tweet originally sparked the controversy, was "stunned" when he read the movie's official synopsis. "It was so obviously misguided in every facet of its being," Mulvihill told Newsweek. "The weirdest part of the reaction to the film was the sheer number of people who thought that Loqueesha had backing from a studio or investors when it's obviously a no-budget movie from its writer-director-star."
"This film goes beyond race and gender; it's about spirit over form," Saville said. "Our diverse and talented cast was happy to be a part of it." Actor Dwayne Perkins, who appears as Mason in the movie, told Newsweek he will "hold off answering any further questions until the movie becomes available for viewing." Mara Hall, who plays Renee, said she is not taking interviews about the film.