Dominic Monaghan has revealed the weird way he met Andy Serkis before they starred together in the Lord of the Rings trilogy.
During his most recent episode of his and Billy Boyd's podcast The Friendship Onion, which was released on Tuesday, the actor detailed their first encounter to guest Stephen Colbert and his co-host.
Monaghan portrayed Hobbit Meriadoc Brandybuck (Merry) in the fantasy films, while Serkis took on the dual roles of Gollum and Sméagol.
They worked on the trilogy, consisting of The Fellowship of the Ring, The Two Towers and The Return of King, from October 1999 to December 2000, but it was years before that they had first met.
The Lost star revealed that as a teen he used to visit theaters to try and get advice from working actors, as he was unsure of his career path.
He explained: "When I was 16 studying drama at college and English Lit[erature], I went to Manchester and hung around theatres hoping to meet working actors to ask them their advice about how I could become an actor and stuff.
"I was outside the Palace Theatre in Manchester and an actor came out who I recognized from TV in England and I said 'oh, can I ask you a question?' and he said 'of course', and I said: 'I'm an actor studying drama and I don't know what to do next.'
"He said 'oh that's great you're studying drama, do as many plays as you can and try to get involved in regional theatre and then maybe you can get into drama college, and that's how it worked for me, good luck to you,' and all that kind of stuff.
"[He] signed an autograph and walked off. That was Andy Serkis, and I only found that out about a year into filming."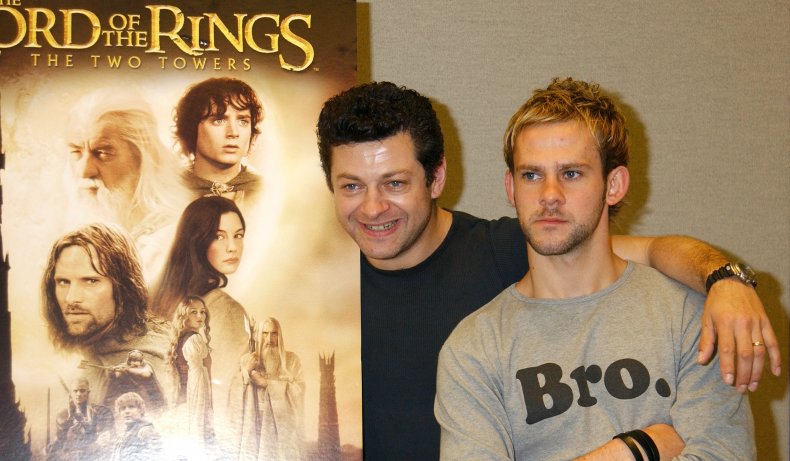 Monaghan was 22 when he first started shooting for the films in New Zealand, so it had been six years since their brief encounter, but the actor admitted it had a lasting impression on him.
Reflecting on how he came to realize he'd met Serkis before, Monaghan added: "I remember saying to Andy, he was in the make-up trailer with the hobbits, and I said 'Andy I can't work this out but I feel like we've met before, maybe it's because you're an actor on TV?'
"And suddenly I was like 'wait did you do a play at the Palace Theatre?' and we put it together.
"So, he really put me on a path to become a professional actor, and then years later we're in the trilogy together, crazy stuff!"
Although Monaghan and Serkis both starred in Peter Jackson's adaptation of J.R.R. Tolkien's books of the same name, their characters never shared a scene together.
Serkis worked predominantly with Elijah Wood, who played Frodo Baggins, and Sean Astin, who played Samwise Gamgee.
The actor only briefly appeared in the same scene as Monaghan in The Fellowship of the Ring, when Gollum follows the Fellowship into the mines of Moria.
The Friendship Onion is released weekly by Monaghan and Boyd on Spotify and Apple podcasts, and videos of their chats are shared on a dedicated YouTube channel.