'The Rings of Power' Star Morfydd Clark on 'Majestic, Powerful' Galadriel
For Morfydd Clark it was a joy to portray a "majestic, powerful" version of Galadriel, her character in Prime Video's The Lord of the Rings: The Rings of Power, she told Newsweek.
The elf, who is known as the Lady of Lothlórien in The Lord of the Rings, features in several stories by J. R. R. Tolkien, not all of which coincide with each other.
Galadriel plays a part in different stories from The Unfinished Tales and The Silmarillion, and trying to understand what the character meant to the iconic fantasy author became important to Clark.
'The Rings of Power' Star Morfydd Clark on 'Majestic, Powerful' Galadriel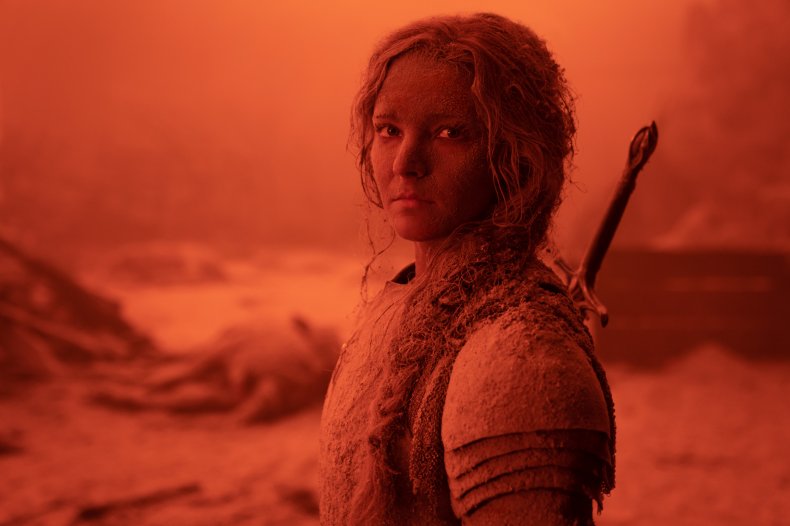 In The Rings of Power, Galadriel is a fierce warrior who has made it her quest to find the Dark Lord Sauron to get revenge for the deaths of her people during their fight against the villain and his leader, Morgoth.
"I have been kind of a huge fan of The Hobbit, The Lord of the Rings and the films of them and I didn't know much about The Silmarillion, and so it was really just exciting to kind of delve into all of that," Clark said of her character.
"And I found Galadriel really fascinating and how he writes about her because he changed his mind quite a lot, and so I also kind of got obsessed with thinking like 'what did Tolkien need in his life at this point that Galadriel needed to be this to him?'
"Yeah, and it was really interesting, I've often played characters who are the victim, and so to play a majestic, powerful magical creature was kind of a big leap and really exciting, and, yeah, the Elves are so cool. She's the coolest in my opinion."
Morfydd Clark and Charlie Vickers on Shooting Their Sundering Seas Scenes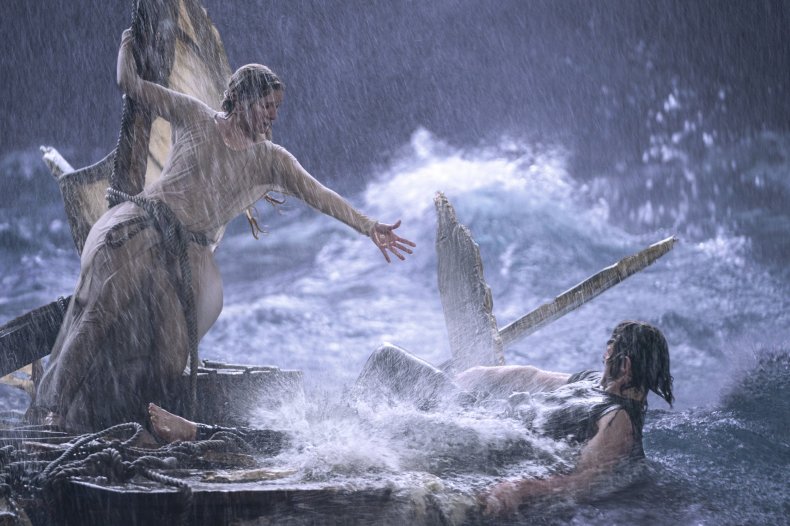 The show's first two episodes premiere on Friday, September 2 and it sees Galadriel traverse the Sundering Seas alongside Halbrand (Charlie Vickers), a man she encounters while in the treacherous ocean.
Clark and Vickers share several scenes on a raft for this storyline, and the actors were put through their paces, so they told Newsweek.
"Yeah it was a grueling process," Vickers reflected. "I mean, we spent months it seemed like in that water tank, but it was like also being in a theme park at times because you're on a raft and you have huge waves and then you have a rain machine, and then you're underwater. It was really exciting but, physically, pretty demanding and challenging."
Clark added: "Charlie's trousers, when we were swimming, the bottom was like really tight so we didn't realize that Charlie was swimming basically with water weights."
"And the trousers were leather so the leather would fill up," Vickers concurred. "[Clark's] dress kept getting tangled as well, right? It was tough, hazards out there on the water."
Clark did attest that at least the water tank where they filmed those scenes was warm, which she said "was great."
The Lord of the Rings: The Rings of Power premieres with its first two episodes on Friday, September 2, and it will air weekly thereafter on Prime Video.