Is Lorde a Bigot? Washington Post Attack Ad Accuses Singer of Anti-Semitism and Prejudice Against Israel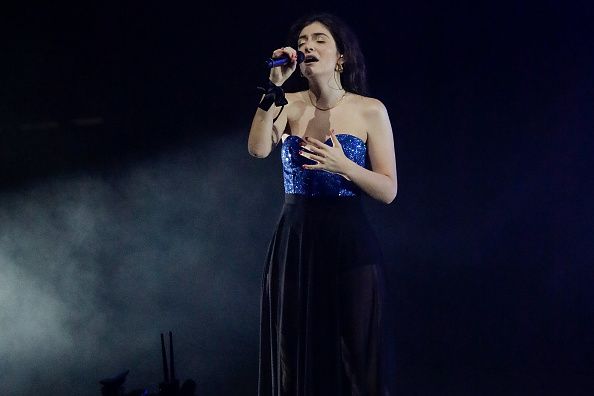 A controversial Orthodox rabbi took out a full-page advertisement in The Washington Post on Sunday calling New Zealand musician Lorde a bigot for having canceled a concert in Israel.
The ad, which appeared on page 5 of the Post on Dec. 31, was paid for by rabbi Shmuley Boteach's The World Values Network, whose stated mission is to disseminate universal Jewish values in politics, culture, and media. The ad features a large photo of the 21-year-old singer from New Zealand with men running through a war torn landscape holding their children. "Lorde and New Zealand ignore Syria to attack Israel," the advertisement reads.
Lorde has come under fire over the past week from supporters of Israel because she cancelled a concert scheduled to take place in Tel Aviv in June due to pressure from the Boycott, Divest, Sanctions movement, which aims to pressure Israel to change its behavior toward Palestinians. Two of the singer's fans had written an open letter to Lorde arguing that the concert would show support for Israel's occupation of Palestinian territory, and Lorde responded by cancelling the show.
Rabbi Shmuley's advertisement slammed the decision for demonstrating a "growing prejudice against the Jewish State." It also called Lorde a hypocrite for boycotting Israel while going ahead with a planned concert in Russia, another country accused of human rights violations over its support for a regime in Syria accused of heinus crimes against its population.
"While Lorde claims to be concerned with human rights, she hypocritically chose to proceed with her two concerts in Putin's Russia, despite his support for [Syrian president Bashar al-]Assad's genocidal regime," the ad reads. The words "21 is Young To Become a Bigot," are written in bold across the page.
The advertisement also accused New Zealand in particular for anti-Semitism because it voted in December together with 127 other countries for a United Nations resolution that called on the U.S. to withdraw its recognition of Jerusalem as the capital of Israel.
President Donald Trump recognized Jerusalem as Israel's capital last month, and said his administration will eventually move the U.S. embassy from Tel Aviv to Jerusalem. The international community was almost unanimous in its condemnation of the decision because part of Jerusalem has been envisioned as the future capital of Palestine if a two state solution is agreed between Israel and the Palestinians. Many critics argue that Trump's decision put an end to any hope of a peace deal.
On Dec. 21, the UN held an emergency session and 128 members, including New Zealand, voted in favor of a resolution condemning Trump's Jerusalem decision. Only nine members supported the U.S., and 35 abstained.
But high-profile condemnations of Israel's policies in the Middle East, like that of Lorde, often get more attention than the goings-on at the UN. Israel's ambassador to New Zealand responded to the cancellation of Lorde's concert by inviting the singer to meet with him personally. In a message on social media, ambassador Itzhak Gerberg said Lorde had "succumbed to the supporters of a small fanatic group."
It is unclear whether the singer agreed to speak with the ambassador.
Rabbi Shmuley Boteach, the man behind the ad in the Post, has been called the world's most controversial Jew. He often gives high-profile speaking tours in which he broaches diverse topics like sex and the Arab-Israeli conflict.