The Influences on Lorde's 'Melodrama': Frank Ocean, Robyn, Bowie and 10 Other Artists Who Shaped Its Sound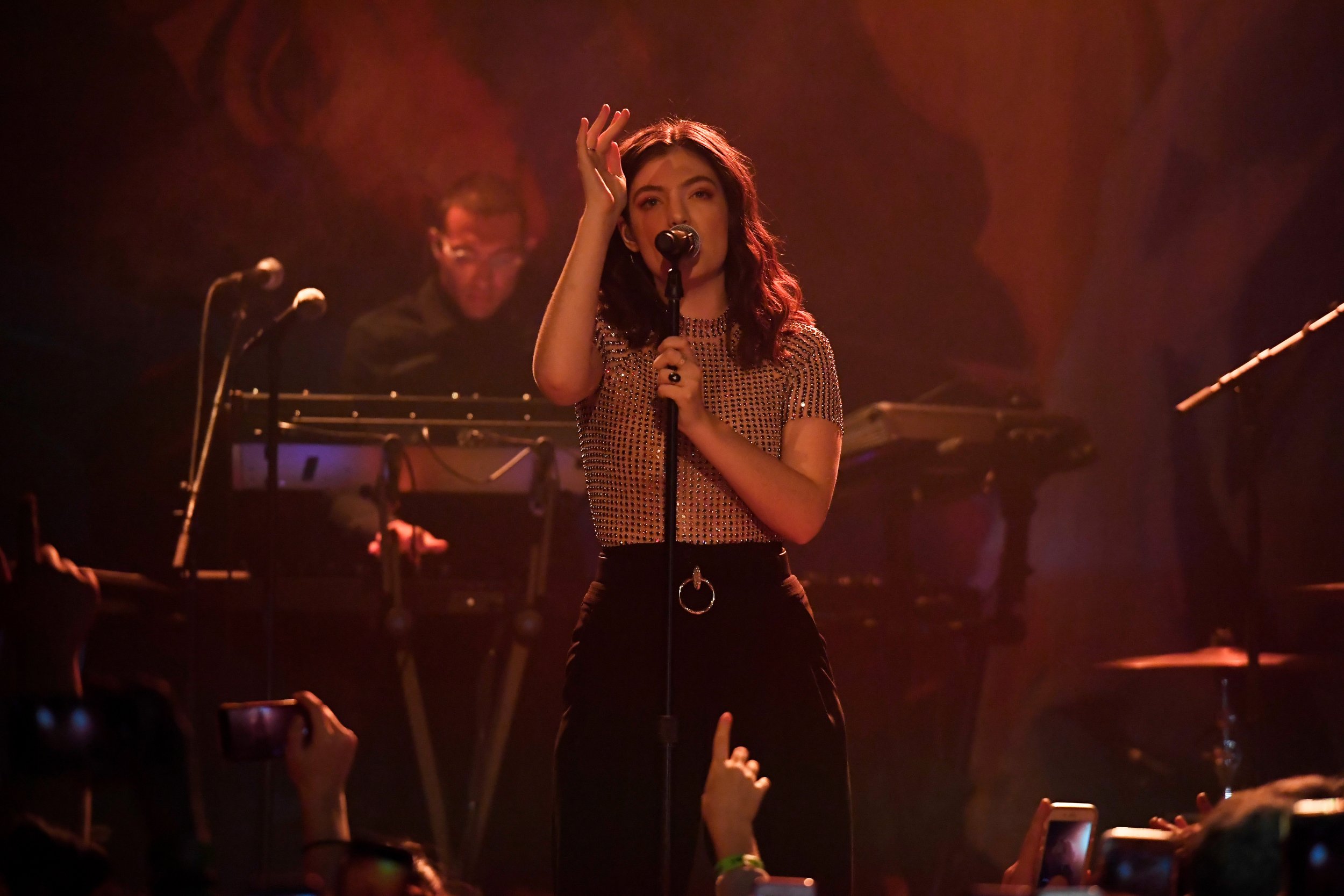 It's been a week since Melodrama, the much anticipated follow-up to New Zealand singer Lorde's 2013 debut Pure Heroine,was released worldwide and took the pop music sphere by storm. Many critics have proclaimed it the best pop album of the year so far, in no small part due to 20-year-old Lorde's growth as a songwriter and an artist. Once the precocious teenager who made shrewd observations on her small-town life contrasting with hip-hop excess, Lorde on Melodrama takes a far more dynamic route in the wake of her first significant breakup. The emotional cocktail of young adult heartbreak led to Pure Heroine's minimalist electronics being traded in for a sprawling, diverse range of music that, with the help of producer Jack Antonoff, traverses everything from '80s power ballads to club bangers to experimental vocoder pieces.
"I've been so dialed in to youth culture and pop culture," Lorde said in a recent interview with NME. "I needed to be challenged in a different way. I know what 'modern' sounds like. That's something every young person is all over. What I found so revelatory about someone like Paul Simon or Don Henley is it's really nice for me to sit down with my headphones and be schooled in the art of writing a perfect song."
Here are some of the musicians who helped inspire Melodrama's sound, lyrics, subject matter—or all the above.
Paul Simon
Simon's 1986 album Graceland was a significant inspiration to Lorde while she was recording Melodrama in summer 2016; you can even hear a sample of him saying "This is my favorite tape" at the start of the "Loveless" half of "Hard Feelings/Loveless." Along with the soft rock of Leonard Cohen, Joni Mitchell and Fleetwood Mac, Lorde would often listen to Simon's music while riding the subway in New York or taking cab rides home from parties in her native Auckland. She even compared Simon's songwriting to that of Miley Cyrus's "Malibu" when it was released, tweeting: "Enjoying Miley's idea of Malibu as utopia, or the answer, similar to how Paul Simon talked about Graceland – as somewhere we hope we're headed. How lovely that first love is Malibu, and Graceland is enlightenment after love lost."
Graceland may have also inspired Lorde through its fusion of musical genres and styles, combining the observations of a singer-songwriter with elements of Creole folk music and South African vocal chants (and igniting controversy as a result). Melodrama doesn't draw from those specific influences, but as Lorde herself has declared, "I don't think about staying in my genre lane."
Phil Collins
Lorde has been a long-professed Phil Collins fan, and it shows. His 1980s brand of pop anthems with sky-high drums and ethereal production had a noticeable effect on Melodrama's overall sound, from the trumpeting bacchanal of "Sober" to the soaring synths of "The Louvre" and "Perfect Places." (The guitar outro on "The Louvre" especially sounds like it belongs in an '80s teen rom-com.) The famous drum solo from Collins's "In the Air Tonight" even makes an appearance—right after the Simon sample—on the "Loveless" intro.
Don Henley
You probably weren't expecting a young pop star at Coachella to start singing lyrics from Don Henley's "The Heart of the Matter" onstage, but Lorde did just that, if only for a few seconds. When she introduced her song "Liability," Lorde demonstrated that the chords were identical to Henley's 1989 ballad by singing a few bars over the "Liability" piano intro. She and Antonoff also discussed its relationship to "Hard Feelings/Loveless" in a profile for The New York Times Magazine:
[Antonoff] said the song put him pleasantly in mind of Don Henley's 1989 hit, "The Heart of the Matter," in which he grapples with news that a past lover has met someone new, then laments other bygone relationships. "I love that genre of breakup song, where it's the calm after a big fight," Antonoff said.

It was a deeply uncool reference, but Lorde nodded enthusiastically. "This song is the moment of calm before you start raging," she replied. "I remember this being so jarring while it was happening, like: Oh, this is that moment in the breakup. Until now the two of you were concentric circles, but the instant you get out of this car, you are only going to get farther apart from each other."

They continued to discuss their love of the Henley song, reciting lyrics back and forth. "First he goes, 'My thoughts seem to scatter,' " Lorde said, "then later it becomes 'My friends seem to scatter.' " She shook her head appreciatively. "Devastating."
Lyrics throughout Melodrama contain that resigned calm displayed by Henley, in between moments of madness and chaos. "I light all the candles/Got flowers for all my rooms/I care for myself the way I used to care about you," Lorde sings on "Hard Feelings." Later, on "Sober II (Melodrama)," she sings of "cleaning up the champagne glasses" in an almost defeated tone, as though she knows that more than just the party is over.
Kate Bush
Aside from the obvious superficial resemblance (witchy young woman from a Commonwealth nation with a surprise breakout hit and artsy sensibilities), there are plenty of musical similarities between Lorde and Kate Bush. Much like the classic Bush record Hounds of Love, Melodrama has a distinct structure across its 11 tracks: a rise and fall that comes close to fitting a three-act story arc emotionally, if not functionally. It also marks a new dimension to Lorde's voice, where every little breath and enunciation carries enormous meaning. The heartwrenching chorus of "Writer in the Dark," in particular, is uncannily similar to Bush's high register and otherworldly excess of feeling: "I am my mother's child/I'll love you till my breathing stops/I'll love you till you call the cops on me."
Rihanna
For its premiere on Beats 1 with Zane Lowe, Lorde said of the song "Liability," "I was in this cab alone, listening to 'Higher' by Rihanna, because ANTI had just come out. And I had a little cry and I was just like, 'It's always going to be this way, at some point with everyone it's going to be this way.'" Both "Liability" and "Higher" are late-night musings on loneliness coming from artists who weren't especially known for their pathos. For both Rihanna and Lorde, the risk definitely paid off.
Frank Ocean
"In this sort of post-Blonde landscape, we can all sort of do whatever we want in terms of instrumentation," said Lorde when discussing "The Louvre" in an episode of The Spinoff. "It's exciting. I can use guitars and I can get a big gnarly Flume beat and throw it underwater."
Ocean has made a career out of breaking new ground in pop music genre-hopping. His debut mixtape, Nostalgia, Ultra, sampled Coldplay and the Eagles. His acclaimed 2012 album Channel Orange used the "Benny and the Jets" piano line on a song featuring Earl Sweatshirt. And Blonde, one of most highly regarded releases of 2016, turned indie rock guitar into neo-soul and Elliott Smith into vaporwave. Melodrama tracks like "The Louvre" (which was co-produced by Ocean collaborator Malay) take traditional song structures and, as Lorde puts it, throw them underwater; like the best songs off Blonde, "The Louvre" resists diving head-first into a triumphant pop chorus and captures the essence of falling in love in a hardly contained giddy headspace. "Broadcast the boom, boom, boom, boom, and make 'em all dance to it," Lorde murmurs, over what sounds like a club hit booming in the next room over. Her cadence on this line, as with others on the record, nearly transforms into rapping, blurring the genre lines even further.
Purity Ring
Turns out that Lorde does a really good Purity Ring impression. (Skip to 5:09 to hear her sing a portion of their music.) The "cute" vocals on the song "Fineshrine" affected her own performance on "Homemade Dynamite," in which she sings blissfully of a drunken car crash: "We'll end up painted on the road, red and chrome, all the broken glass sparkling/I guess we're partying." Additionally, the bizarre, glitchy instrumental break in "Hard Feelings" sounds like Purity Ring, Drake, the Sister Nancy sample in Kanye West's "Famous" and the outro of Ocean's "Ivy" thrown into a blender.
Robyn
When Lorde performed "Liability" on Saturday Night Live, she put a framed picture of the Swedish pop star Robyn on top of the piano; she and Antonoff allegedly kept the photo with them in the studio throughout Melodrama's recording. Given that Melodrama takes place over the course of a house party—in a timeless, volatile place existing before, during and after a breakup—this should come as no surprise. Sonically, the nostalgic anthem "Supercut" resembles Robyn's vulnerable yet joyous dance tracks the most, but Lorde ends up taking more from her idol's subject matter than anything. Everything about Melodrama channels the Robyn hit "Dancing on My Own": the wild-night abandonment tinged with sadness in "Perfect Places," the "swaying alone/stroking her cheek" line in "Liability," the "Green Light" music video. It's no wonder that Lorde once chose "Dancing on My Own" as the one song she "would send into space, to live on forever."
Florence + the Machine/The National
Both bands lent their inspiration to the distinctive piano line contained in the pre-chorus of "Green Line." Lorde stated on an episode of The Rookie Podcast. After seeing Florence + the Machine's pianist banging dramatically on the keys in concert—described as "very British"—Lorde and Antonoff came up with a melody that resembled her playing more in spirit than in structure. Lorde has also noted its resemblance to The National's piano intros, like the one in "Fake Empire."
Laurie Anderson
Anderson is an avant-garde artist best known for her 1981 art-pop track "O Superman," which, amazingly, rose to No. 2 on the U.K. pop charts. Her experimental use of the vocoder has influenced everyone from Kanye West to Bon Iver; you can even hear it in the peculiar uses of Auto-Tune by Jack Antonoff's band Fun. on their album Some Nights. On Melodrama, Lorde ad-libbed the lyrics for "Liability (Reprise)," recording it quite late in the album's development. One of her mixers later modified her voice with a vocoder, and she briefly considered keeping it as an a cappella track before deciding to "be sensible" and add a backing beat.
David Bowie/Prince
In the chorus of "Perfect Places," Lorde sings "All our heroes fading" in reference to the deaths of Bowie and Prince during the recording of the album. "A massive light went out," she writes in the song's annotations on Genius. Bowie once told Lorde she was "the future of music," and with its thrilling combination of pop and avant-garde influences (much like what Bowie and Prince were known for), Melodrama certainly makes a good case for her significance.