When Is Lorde Releasing Her New Album? Primavera Festival Sparks Speculation
Is a Lorde comeback closer than we think? On Tuesday, fans of the New Zealand singer got a pleasant surprise when the pop star was announced to be performing at a Spanish festival next year.
The much-loved songstress, who has been on a hiatus and has not released a new album since 2017, is confirmed to headline Primavera Sound in Barcelona in 2022.
The news has sent fans into something of a frenzy on social media and fueled release date rumors about her highly anticipated third album.
The singer—whose real name is Ella Marija Lani Yelich-O'Connor—will be joining the likes of Tame Impala, The Strokes, Megan Thee Stallion and Tyler, The Creator at the event.
Lorde is yet to reveal details of her third album, but some observant fans noticed that Primavera's website seemingly confirms that the follow-up to 2017's "Melodrama" will be released before next year.
"Lorde, who will emerge from her retirement with her third album after her unforgettable visit in 2018," the website states.
On Twitter user pointed out: "THIRD LORDE ALBUM CONFIRMED BY PRIMAVERA SOUND."
While another added: "'Lorde, who will emerge from her retirement.'"
However, this has since been edited to say: "Lorde, who will emerge from her retirement after her unforgettable visit in 2018."
Newsweek has contacted Lorde's representatives for comment.
The singer said the album was on the way in May 2020, when she sent out an email updating fans.
"I started going back to the studio again in December, just for something to do, and to my surprise, good things came out," she wrote, via Variety. "Happy, playful things. I felt my melodic muscles flexing and strengthening."
The 24-year-old also confirmed that she was once again collaborating with Jack Antonoff on the project.
"A thing started to take shape. And then, of course, the world shut down. We're still working away—Jack and I FaceTimed for over an hour this morning going over everything. But it'll take a while longer."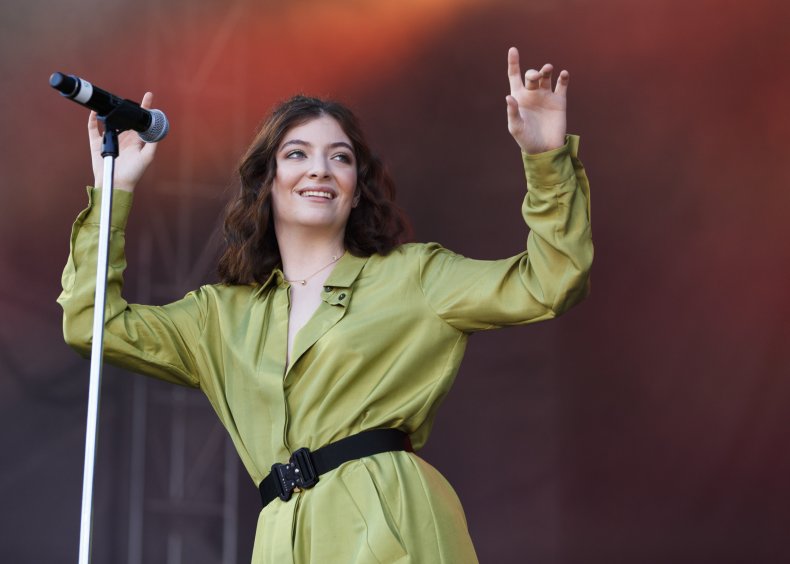 "Waiting, the thing that felt so pointless and annoying when I was young, is now this kind of delicious activity," she continued. "In my opinion, the greatest treat I can give you is work that will last ten, twenty, thirty years. And that kind of work takes time. So if you can, I'd like for you to try tuning in to the time spent waiting for something of the highest quality to arrive.
"Enjoy the sensation as it builds. When the moment comes, our wave will crest super f****** high. I can tell you, this new thing, it's got its own colors now. If you know anything about my work, you'll know what that means."
"The work is so f***** good, my friend," she said. "I am truly jazzed for you to hear it."