Lorde's Constant Shushing of Fans at Her Concerts Births a New Meme
Concerts are famously not quiet places but Lorde concerts are a different story.
The New Zealand pop star is going viral for shushing fans singing along to one of her songs while she performs live.
One video in question went viral on social media earlier this month, and now many other fans have shared her doing the same thing at other concerts.
In fact, one funny fan even made a compilation of clips of the 25-year-old singer shushing fans at a number of different shows.
This video, shared by Twitter user KULONSITE, has now been viewed more than 1.5 million times on the platform, with fans of the singer basking in the quirky moments.
The musician—whose real name is Ella Marija Lani Yelich-O'Connor—appears to always demand silence from the crowd during the same song, "Writer In The Dark," a track from her 2017 album, Melodrama.
The song is a heartbreak anthem that showcases Lorde's vocals and she often performs parts of the song acapella.
The star's shushing came to light when her performance at a 2017 concert in New York went viral on April 11.
The reaction has been somewhat split, with some fans saying that that particular concert became "awkward" after she shushed the crowd.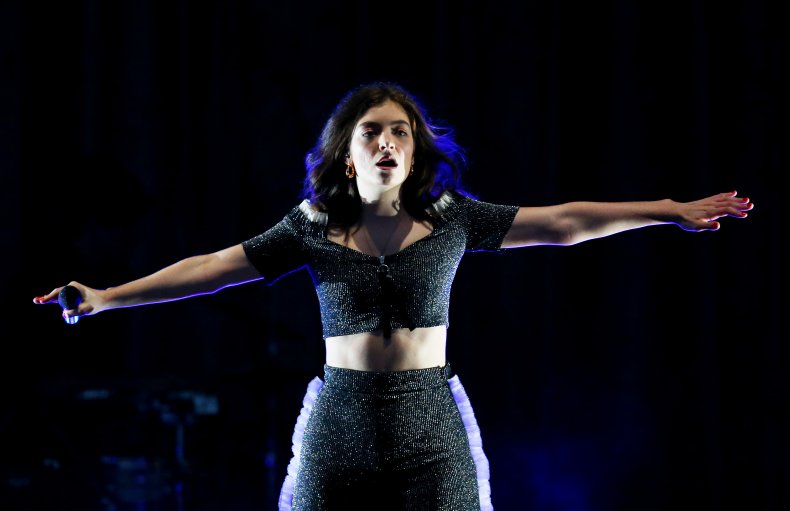 However, the shushing has led to the creation of a new meme, with social media users sharing the joke far and wide this week.
"Lorde when she sees her fans opening their mouths to sing," one user joked, along with a clip of Kris Jenner holding a gun.
While another shared a clip of Lorde saying, "shut up!" with the caption: "Lorde when the crowd starts singing."
Some are not impressed, with one fan tweeting: "I don't believe a pop artist should shush their fans who paid good money to see you, and who are showing their enthusiasm by singing along. This isn't the symphony. If you feel that song should be heard in quiet, don't perform it to a group of thousands of people."
Meanwhile, another fan defended the star, tweeting: "It's the only song she does this for. It's an extremely emotional song for her and when she performs it, it's her voice and her experience."
Another added: "It seems in bigger rooms she doesn't mind. Which I get. In a smaller room she probably can't even hear herself with everyone screaming lyrics off key lol."
Clips of the shushing are also going viral on TikTok with users on the platform also having a field day with memes and jokes.
One video, which can be seen here, has received 1.8 million views and over 420,000 likes.
Another viral video gained over 2.1 million views and more than 470,000 likes. It can be seen here.