Loretta Lynch Confirms Department of Justice Review of Baltimore Police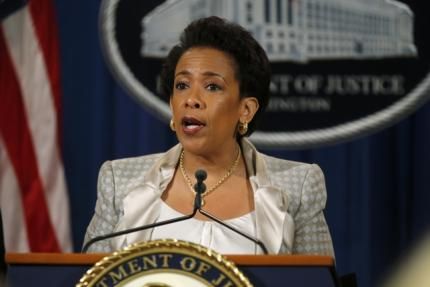 The U.S. Department of Justice will conduct a review of the current practices of Baltimore police because of a "serious erosion of public trust," U.S. Attorney General Loretta Lynch confirmed on Friday. The news follows the death of 25-year-old Freddie Gray last month after an arrest.
The investigation will examine whether the Baltimore Police Department has engaged in a pattern or practice of violations of the Constitution or of federal law.
The relationship between the police and the community is "one of the most challenging issues of our time," she said during a Friday morning press conference. Earlier this week, Lynch traveled to Baltimore, where she said she witnessed the work being done between the city and the police.
"But despite the progress being made, it was clear that recent events, including the tragic, in-custody death of Mr. Freddie Gray, had given rise to a serious erosion of public trust," she added.
The review took effect immediately, concentrating on allegations that the city's police officers use excessive force, including deadly force; conduct unlawful searches, seizures or arrests; and engage in discriminatory policing, Lynch said.
Rather than looking into whether the officers violated policies, the Justice Department's approach will examine whether the officers disobeyed the Constitution and the community's civil rights.
Earlier this week, Baltimore Mayor Stephanie Rawlings-Blake requested the federal government conduct a civil rights investigation into the department. Police Commissioner Anthony Batts and the city's police union agreed with the mayor.
The Justice Department will issue a report of its findings at the conclusion of the investigation.
"If unconstitutional policies or practices are found, we will seek a court-enforceable agreement to address those issues​," said Lynch, adding that regardless of the outcome, authorities will continue to move forward to improve policing in Baltimore.
The department has reviewed dozens of communities that now are experiencing improved policing practices and increased trust between officers and the community, she said, encouraging leaders in other cities to study the department's past recommendations in other reviews to see if they are applicable.
Lynch's predecessor, Eric Holder, recently opened investigations into the police departments in Ferguson, Missouri, and New York City, following the killings of African-American civilians.
Change will take time and sustained effort, she said.
"I am actually hopeful about the days and weeks to come," Lynch said. She is confident that as a result of the investigation, "all members of the Baltimore community, residents and law enforcement alike, will be able to create a stronger, a safer and a more united city together."