Lori Lightfoot Sparks Backlash Over Dancing Video Amid Chicago Crime Wave
Chicago Mayor Lori Lightfoot has faced criticism over a video of her dancing in the street as the city deals with a crime wave.
The video has so far been viewed more than 50,000 times since being posted on January 29.
The footage shows Lightfoot, who took office in 2019, dancing among drum players as it snows. The clip was filmed over the weekend during the city's Lunar New Year parade.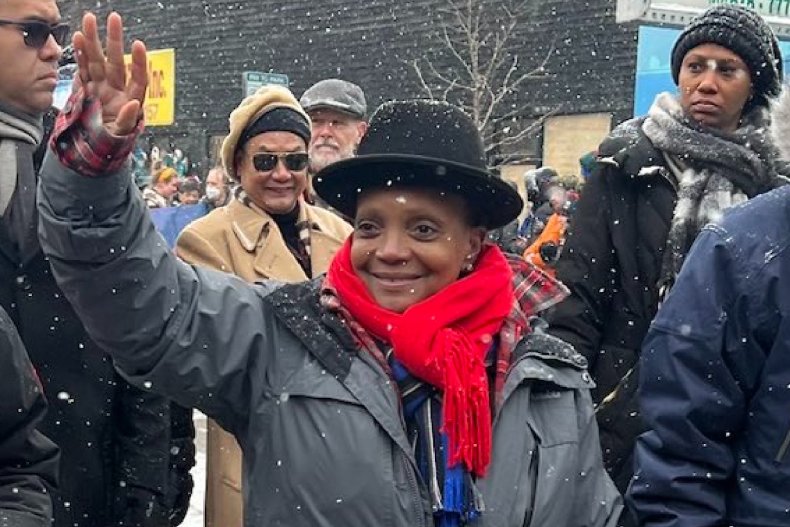 The Chicago Contrarian Twitter page, which posted the video captioned it:" Since [Lori Lightfoot's] term began, Chicago has suffered 2,278 homicides and over 9,000 shot.
"Since January 1 [2023], the city has endured 41 homicides and 194 shot.
"Yet here Lightfoot is blissfully dancing and asking voters to return her to office. Lightfoot is detached from reality."
U.S. Senate Candidate James Bradley also attacked Lightfoot. He tweeted: "This is Lori Lightfoot dancing on the graves of the 2,2278 homicide victims who have died since she took office."
Former Republican congressional candidate Lavern Spicer also tweeted: "Lori Lightfoot don't run Chicago. The gangs that OWN Lori Lightfoot run Chicago."
The Chicago Police Department has highlighted an increase in overall crime in the city in 2023 for the week January 16 to January 22 compared to 2022.
According to the report, so far this year in Chicago there have been 32 murders, 113 criminal sexual assaults, 648 robberies. 348 instances of aggravated battery, 489 burglaries, 1045 instances of theft and 2169 instances of motor vehicle theft.
Each of these recorded stats is higher compared to the same time last year according to the police department. In 2022 a total of 3013 crimes were committed compared with 2023's 4844.
Looking further back, in 2021, in the same time period, 2464 crimes were reported, in 2020 there were 2669 and in 2019 there were 2974.
The crime figures and trends may prove to be a serious problem for Lightfoot in her bid to get re-elected as mayor in February.
Speaking earlier in January during a mayoral debate, Lightfoot reflected on the problem of crime in Chicago.
"I heard a lot of rhetoric here, a lot of soundbites, but not a lot of concrete solutions on how we get the job done and make our residents and our workers safe. We're doing it every single day," she said according to a Fox News report.
"We have been in Little Village working with those street vendors, understanding what the nature of the crime is, making sure that we're doing things in concert with them to help them, to make sure that their money is secure," she said.
A poll conducted by Impact Research between November 10 and November 17, 2022 highlighted Lightfoot's dwindling popularity, according to a News WTTW report.
The poll, which targeted 700 likely Chicago voters, revealed that 68 percent of those taking part in the poll rated her negatively as mayor.
She was rated negatively by 84 percent of white voters and 72 percent of Latino voters, while Black voters were more divided, with 50 percent saying she had done a good job.
Newsweek has contacted Lori Lightfoot for comment.