Lori Lightfoot Allegedly Had Obscene Tirade Over Columbus Statue: Lawsuit
Chicago Mayor Lori Lightfoot allegedly made several offensive comments when she blocked a deal city officials made with an Italian American group to allow a Christopher Columbus statue to be displayed in a parade, according to a lawsuit filed Tuesday.
Former Chicago Park District First Deputy General Counsel George Smyrniotis filed the lawsuit against the city and Lightfoot. The suit alleged Smyrniotis was told by the Chicago Park District's top lawyer, Timothy King that the city wanted to quickly resolve a suit filed by the Joint Civic Committee of Italian Americans against the district after the Columbus statues were removed on Lightfoot's orders.
Smyrniotis' complaint states he made a deal, reportedly approved by King, with the Italian American group that would allow a Columbus statue to be briefly displayed during last fall's Columbus Day parade. However, Lightfoot was allegedly livid when she learned of the deal, according to the lawsuit.
"You are out there stroking your d**k over the Columbus statue, I am trying to keep Chicago police officers from being shot and you are trying to get them shot," Lightfoot allegedly said on a Zoom call, according to Smyrniotis' complaint. "My d**k is bigger than yours and the Italians, I have the biggest d**k in Chicago."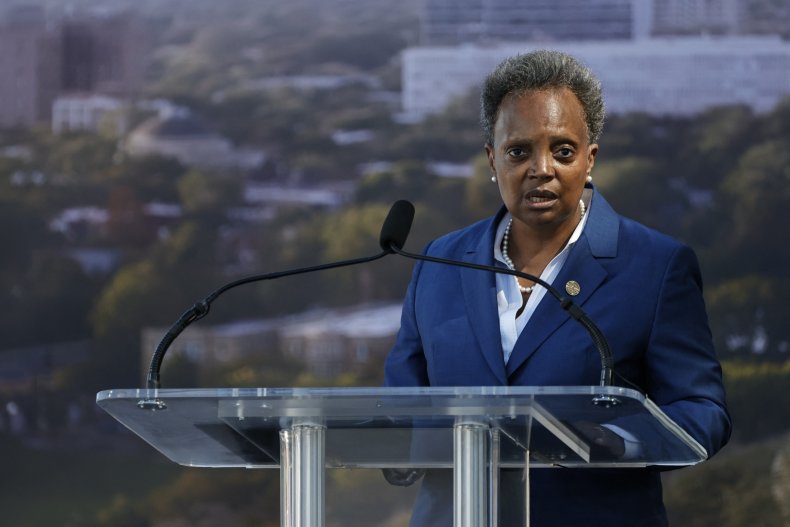 Columbus statues were removed throughout the city of Chicago after racial justice protests in the summer of 2020 resulted in violent altercations between protestors and law enforcement officials. The Joint Civic Committee of Italian Americans filed a lawsuit against the Chicago Park District in July 2021, claiming a statue removed from the city's Little Italy neighborhood violated a deal signed in 1973 that allowed its display.
According to Smyrniotis' complaint, he had been unaware that Lightfoot had allegedly told a leading representative of the Italian American Community that the Columbus statue should not be displayed in the parade. The suit claimed Lightfoot allegedly said she would pull the permit for the parade unless the representative agreed to the condition, which he reportedly did, and the statue was not in the October 11 parade.
Smyrniotis' lawsuit said Lightfoot directed a series of obscene comments at him during a Zoom call on October 11, 2021, which was attended by several other city officials, including King.
"Where did you go to law school? Did you even go to law school? Do you even have a law license?" Lightfoot allegedly asked Smyrniotis during the Zoom meeting. She also allegedly told Park District officials said for "not to do a f***ing thing with that statue without my approval."
Smyrniotis's complaint called Lightfoot's alleged comments regarding his legal background defamatory. The suit notes he resigned in February and "suffered great emotional distress."
Newsweek contacted Lightfoot's office for comment but did not hear back in time for publication.