Lori Lightfoot's Biggest Threat Wants to Expand Chicago's Police Force
One of Chicago Mayor Lori Lightfoot's biggest threats to re-election in next week's mayoral election is running on a platform to expand the city's police force amid declining numbers of cops and a persistently high crime rate.
With less than one week to go until election day, Paul Vallas—the former CEO of Chicago's public schools who once supported Lightfoot in her previous run for mayor—has been running on an alternative track, pushing support for the city's law enforcement as a key policy plank in his bid for the mayor's seat.
In addition to calling for the immediate dismissal of "absentee" Superintendent David Brown and his leadership team, Vallas has pledged to "rebuild" the city's police force amid persistent reports of burnout in the city's ranks, which have declined by nearly one-fifth since Lightfoot—a former prosecutor and onetime president of the Chicago Police Board—took office.
The message appears to have resonated. In addition to earning the endorsement of the city's police union as well as that of the center right-leaning editorial board of the Chicago Tribune, Vallas currently finds himself in a statistical tie with Lightfoot and Chicago-area Congressman Jesús "Chuy" García as Lightfoot has faced a barrage of negative press in the campaign's closing days.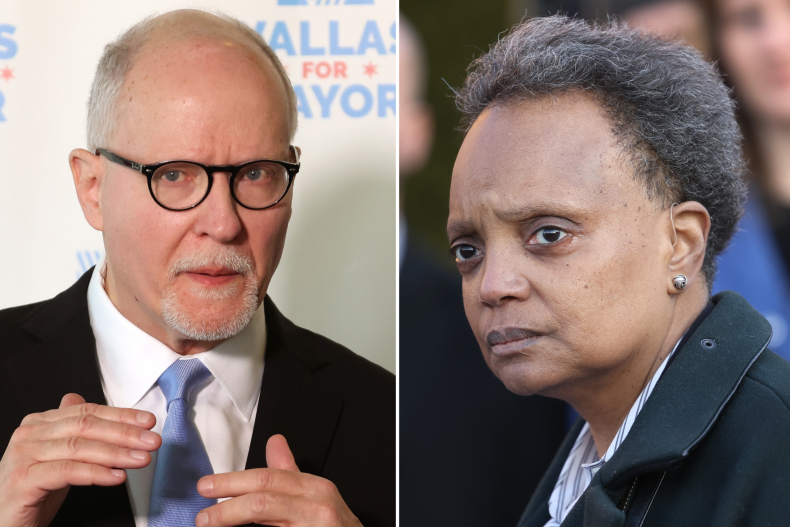 Already long-facing a "crisis of credibility" for her office's inability to quell the city's crime rate post-COVID, Chicago has replaced just one-half of its departed police officers since Lightfoot took office in 2019, according to a CBS News analysis, while crime rates (while improving) remain well-above pre-pandemic levels, according to WTTW.
Those numbers have apparently fed into public perceptions of Lightfoot's performance as well. According to a WBEZ/Chicago Sun-Times/Telemundo Chicago/NBC5 poll conducted earlier this month, nearly three-quarters of voters believed the city was "on the wrong track," while Lightfoot—who still remains a leading candidate—slightly trails both Vallas and Garcia in her bid to make it to the April 4 runoff.
Newsweek has reached out to Vallas and Lightfoot for comment.
In the race's closing days, the campaign has already become heated.
Lightfoot has already earned criticism for claiming a vote for any Black candidate other than her would "divide" the Black vote and put either Garcia, who is Hispanic, or Vallas, who is White, into the mayor's office, earning rebukes from her opponents.
Meanwhile, progressive candidate Brandon Johnson recently earned the endorsement of figures like Anjanette Young, a Chicago woman who was awarded $2.9 million after a botched Chicago police raid Lightfoot's city council rebuffed in her efforts to enact stricter police reforms than those Lightfoot supported.
"I've had enough of the lies that have been told to me by our current mayor [...] It's time for me to hold her accountable," Young said in a news conference earlier this week.
"We need someone who is not afraid to make changes to the police department," she added.
In recent weeks, Lightfoot has sought to run to the right of Johnson, who is Black, by claiming he wants to "defund the police" to win over voters who believe she has insufficiently supported the city's police force and has criticized other Black candidates for dividing the field—earning rebukes from other candidates.
"This is disqualifying rhetoric for anyone hoping to lead a Chicago that is a multiracial and multiethnic city," Garcia wrote on Twitter. "We need unity not division."
While Garcia currently enjoys the support of the city's unions—and has led most polling—Vallas is considered Lightfoot's primary threat to re-election. However, even he has faced challenges.
In the closing weeks, Vallas has already faced scrutiny for his record as the city's schools chief and over his charter school initiatives while working as a school administrator in troubled districts around the country, often leaving behind what critics claim was more harm than good.
His police union also recently hosted prospective presidential candidate and current Florida Governor Ron DeSantis at a recent event in the liberal stronghold, forcing him on the defensive.
"I'm not paying attention to DeSantis, or any attention to you know the DeSantis supporters. This city's at a crossroads, we have a leadership crisis," Vallas told Chicago's ABC7 News Monday.