Chicago Mayor Says Ivanka Trump Doesn't Know What She's Talking About, Got 'Fundamental Facts Wrong' About Windy City Violence
The mayor of Chicago, Lori Lightfoot, has angrily hit back at a tweet by Ivanka Trump in which the first daughter appeared to shift the focus away from the mass shootings last weekend by comparing them with gun violence in the Windy City.
In the wake of the shootings in El Paso and Dayton that left at least 31 dead, Trump tweeted: "Let us not overlook that Chicago experienced its deadliest weekend of the year. With 7 dead and 52 wounded near a playground in the Windy City—and little national outrage or media coverage—we mustn't become numb to the violence faced by inner city communities every day."
But as CBS Chicago pointed out, in fact no fatal shootings happened near a playground. Seven people were wounded in a shooting attack after midnight near a playground in Douglas Park, when no children were present, but no one died.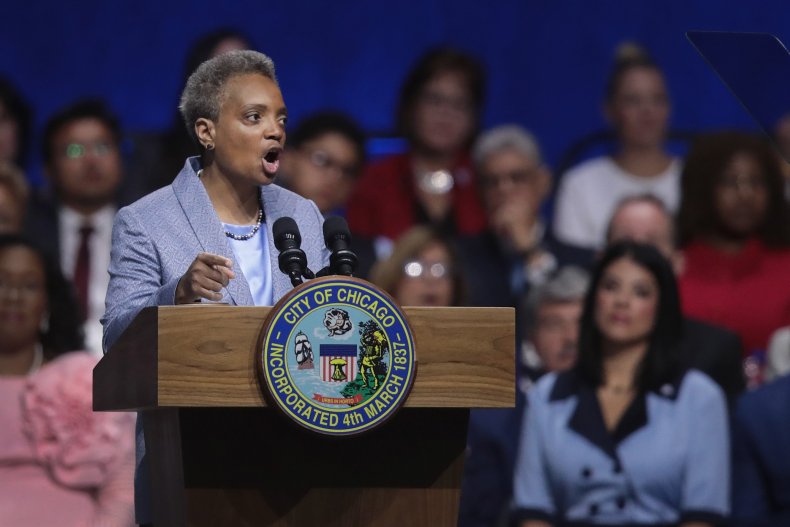 In addition, the deadliest weekend in the city was actually in June, when eight people were shot and killed and two others were killed in stabbings. There was also the same death toll in the last weekend in July.
Lightfoot told a news conference that neither Trump nor anyone else from the White House contacted Chicago City Hall before the tweet was sent.
"She got the numbers wrong. She got the location wrong. That's the danger of trying to govern via tweet," Lightfoot said.
"If they want to help, they should actually call us and ask for specifics, which we'd be happy to share, and we would offer them specific ways in which the federal government could actually partner with us to help address the issues on the ground.
"But by sending out something like that—having zero contact with anybody in an official capacity in the city of Chicago—and then getting it wrong? That's not helpful."
As of Wednesday morning, Ivanka Trump's tweet had received about 17,500 likes and 3,900 retweets.
"That's the danger of somebody with a platform and audience that time, that doesn't know what they're talking about—and getting the fundamental facts wrong that they could easily figure out, if they had the decency to actually reach out to us if they wanted to be a constructive and engaged partner."
Lightfoot said she had contacted Trump but received no reply.
"Yes, we reached out once we knew and saw that tweet to say, 'What are you doing? Why don't you actually reach out to us ahead of time and spend a moment to get the facts right?'" the mayor said.
When she took office to become Chicago's first African-American female mayor, Lightfoot met with the first daughter to discuss issues such as vocational education, criminal justice reform, and crime prevention.
Lightfoot's comments on Ivanka Trump follow her criticism of the rhetoric by President Donald Trump following the shootings.
"What he's been doing is blowing every racist, xenophobic dog whistle, and when you do that, when you blow that kind of dog whistle, animals come out," Lightfoot said, according to the Chicago Sun-Times.
Meanwhile, a White House official admitted that Trump's tweet was "misleading," telling the Sun-Times: "Ivanka has appreciated getting to know Mayor Lightfoot, respects her commitment to addressing this issue and looks forward to continuing the conversation around this issue, workforce development and economic opportunity for all.
"To the extent that her quote was misleading in implying that all of the shooting incidents occurred in one location, it remains important to note that there were 7 deaths and 52 wounded across the city, resulting in one of the deadliest weekends in the city this year.
"Her point remains the same, we cannot ignore the gun violence that happens in cities across this country on a daily basis," the official's statement said.