Lori Lightfoot Grilled Over Running for Reelection in Tense Q&A
Chicago Mayor Lori Lightfoot bristled when a reporter asked how she could consider running for reelection given the "harm" she caused the city in her first term.
Lightfoot has not yet officially announced her bid for a second term, but has been laying the groundwork for a reelection campaign in recent appearances.
The mayor addressed the City Club of Chicago on Tuesday, telling the audience that the city is "poised for the best economic recovery of any big city in the nation, bar none."
She maintained that crime in Chicago is "trending in the right direction," but acknowledged that "more needs to be done."
Later, reporter and radio host William J. Kelly began asking a question by saying Lightfoot always begins press conferences by saying "crime is down" and "the economy is booming."
She interrupted him to say: "Well that's not true, but get to your question sir."
Kelly noted that a police officer was recently injured in a hit-and-run nearby and suggested that the Magnificent Mile shopping district has become known as the "mile of fear."
"Across the street, we had a police officer on duty, the victim of a hit and run," he said.
"The Water Tower Place has thrown the keys back to the lender, they say they don't want to be in Chicago anymore.
"Real Chicagoans are asking me, how could you possibly even consider running for re-election as mayor of the city of Chicago after all the harm you've caused?"
Lightfoot quickly responded: "Well, I disagree with you fundamentally. And I don't think I need to address any and dignify your comments one second further. Next question."
The mayor did go on to answer Kelly's follow-up question on who she considers her greatest challenger in the 2023 election.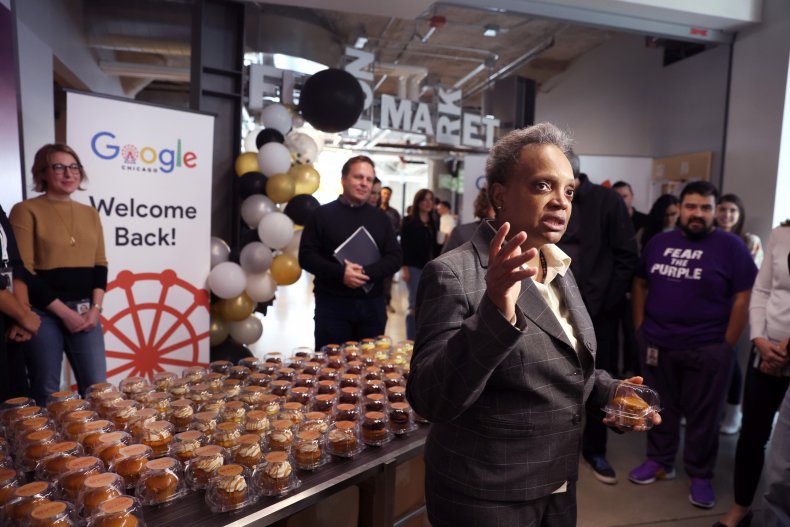 "I am not focused on any of the other people who are saying that they're gonna run for mayor," she said. "What I'm focused on on a day-to-day basis is doing my job, doing the job that people elected me to do."
Lightfoot—who became Chicago's first Black female and first openly gay mayor in 2019—is facing an uphill battle for reelection, according to the Chicago Sun-Times, with recent polls showing her approval rating stands below 30 percent.
But in Tuesday's address, she defended her record with comments suggesting she would indeed seek a second term.
"I will challenge you to find another mayor who has had to address the kinds of challenges that I have in the last three years. I don't think you're gonna find it because it's an unprecedented set of challenges: A pandemic, historic economic meltdown, civic unrest, spiking violence ... all happening within about a six-month period," Lightfoot said.
Newsweek has contacted the mayor's office and Kelly for comment.