Lori Lightfoot's Feud With Chicago Police Heats Up Over Vaccine Mandate
Chicago Mayor Lori Lightfoot has filed a complaint for injunctive relief against the city police union and its president after the leader has urged officers to not comply with the city's vaccine reporting mandate.
In a statement released on Friday morning, Lightfoot said she had filed the complaint against the Fraternal Order of Police Lodge 7 and its president, John Catanzara, "for engaging in, supporting and encouraging a work stoppage or strike."
"President Catanzara has time and again deliberately misled our police officers by lying about the requirements of the policy and falsely claiming that there will be no repercussions if officers are insubordinate and refuse to follow a City and Department directive or order," Lightfoot stated.
In a video posted on Tuesday, and first reported on by the Chicago Sun-Times, Catanzara said officers should ignore a requirement to fill out information about their vaccine status in an online city vaccine portal by Friday.
"I've made my status very clear as far as the vaccine, but I do not believe the city has the authority to mandate that to anybody, let alone that information about your medical history," he said.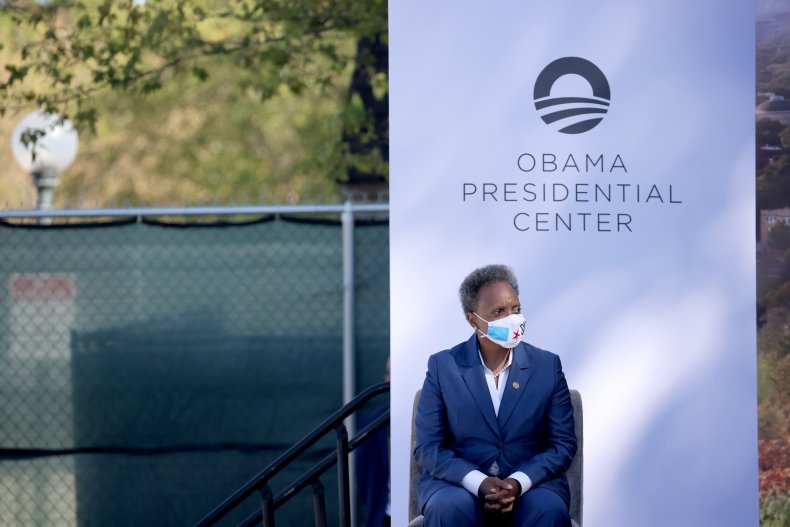 Catanzara said that if a "large number of our members" didn't supply the city with their personal vaccine information, Chicago may left be left with a police force of 50 percent or less over the weekend.
"That is not because of the [Fraternal Order of Police]," he said. "That is 100 percent because of the mayor's unwillingness to budge from her hard line."
He said that the city wouldn't be able "to sustain a police department workforce at 50 percent capacity or less for more than seven days without something budging."
He noted that his message was not "a job action" or a "call for a strike."
In her statement, Lightfoot said that by instructing police officers not to comply with the city's vaccine status reporting requirement, and "predicting that more than 50 [percent] or more officers will violate their oaths and not report for duty, Catanzara is encouraging an unlawful strike and work stoppage which carries the potential to undermine public safety...particularly during an ongoing pandemic."
The statement notes that Illinois state law "prohibits sworn officers from engaging in a strike."
Newsweek has reached out to Catanzara for comment.
Responding to the mayor's statement on Twitter Friday morning, the Fraternal Order of Police wrote that Catanzara "has never engaged in, supported, or encouraged a work stoppage."
"@LoriLightfoot is the only one who has said she will send our dedicated Officers home without pay if they choose to reject her unlawful orders. Hold the line, CPD, like you always do," the union tweeted.