If embattled Fuller House star Lori Loughlin and her husband, fashion designer Mossimo Giannulli, decide to share a legal team in the "Operation Varsity Blues" case, it could complicate their defense.
Loughlin and Giannulli were indicted in March for allegedly paying $500,000 to help their two daughters, Bella and Olivia Jade, gain admittance to the University of Southern California (USC). The couple pleaded not guilty and on Tuesday, are expected back in court to answer questions before Magistrate Judge M. Page Kelley.
The hearing will focus predominately on possible conflicts of interest their lawyers may have. Along with the legal firm's previous representation of USC, concerns were raised about them representing two clients allegedly involved in the same crime. Both the defendants and the government proposed questions to be asked at Tuesday's hearing, which largely focused on the possible complications that could come from Loughlin's and Giannulli's representation.
The prosecution claimed in a court filing that attorneys would be prohibited from fully investigating, producing and developing evidence that could be favorable to one client if it meant implicating their other. For example, the filing said, if Loughlin or Giannulli conspired with mastermind Rick Singer to falsify their daughters' athletic records but kept it a secret from their spouse, the concealment wouldn't be used in defense of the client who was kept in the dark.
A filing on behalf of the defendants' acknowledged this as well, proposing the question of whether Loughlin and Giannulli were aware that their attorneys could not represent either of them adversely to the other.
"One of your defenses may very well be to assert that your spouse was a co-conspirator in this conspiracy, that your role was minor in comparison, or that your spouse was counseling, dictating, or otherwise controlling your involvement in the scheme," the prosecution's court filing said. "Due to the conflict of interest, however, your counsel will not be able to advance any such arguments ... on your behalf, since they would implicate your coconspirator spouse."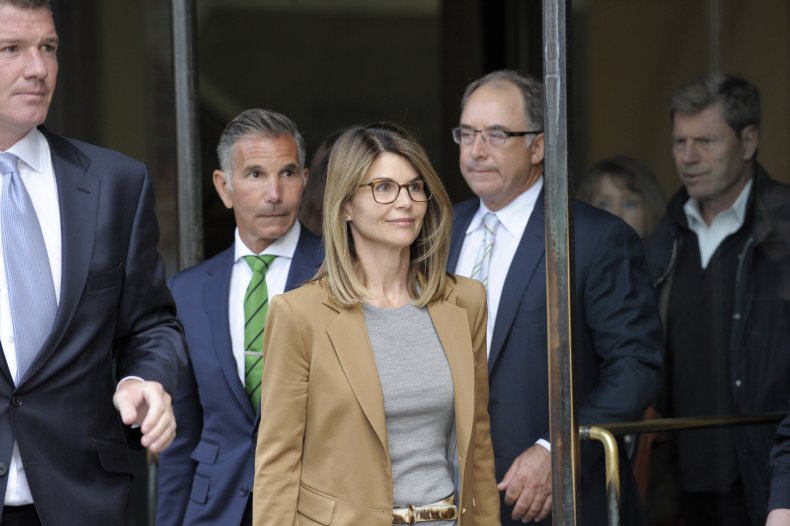 While both have pleaded not guilty, if either Giannulli or Loughlin wanted to change their plea, additional complications could arise. If one of them was asked to cooperate with the government as a witness against the other, their attorney could not advise them on the circumstances they should plead or cooperate with the government because it could mean sacrificing the defense of their other client, according to the court filing.
Communication between an attorney and their client is generally privileged from forced disclosure. If Loughlin and Giannulli both retained Latham & Watkins LLP as their counsel, the defendants' court filing noted that their individual communications with Latham would not be privileged from each other.
It's also possible, according to the government, that their lawyers could be disqualified if an actual conflict of interest in their representing of spouses is determined.
In the event Loughlin, Giannulli or both are convicted of the crimes they're accused of, the government claimed they were unlikely to be successful in an appeal based on the issue of a conflict of legal interest.
Before answering whether they wanted to have Latham as their representation, the defendants' court filing suggested asking them if they understood there could be unforeseen issues and whether they had any questions. The court filing also suggested asking Loughlin and Giannulli if they wanted to have a closed, private hearing to discuss the matter with Kelley.
Giannulli and Loughlin's daughters were allegedly admitted to USC after then-senior women's associate athletic director Donna Heinel presented them to a subcommittee for athletic admissions based on falsified athletic credentials. Heinel pleaded not guilty in March and is expected back in court in October. Then-assistant women's soccer coach Laura Janke was charged with helping to create the falsified athletic profile and pleaded guilty.