Lori Loughlin's Not Guilty Plea in College Admissions Scandal Sparks Mixed Reaction Among Twitter Users
Lori Loughlin's not-guilty plea in the college admissions scandal on Monday sparked largely negative reactions from many observers on Twitter.
Loughlin, 54, and her designer husband, Mossimo Giannulli, 55, pleaded not guilty to fraud charges they faced for their apparent involvement in the nation's biggest college bribery scheme. News of this was met with criticism from many Twitter users who spoke out about the couple's decision.
"Maybe getting rich & being white is the move in getting through this criminal justice system," one Twitter user wrote. Another argued Loughlin and Giannulli could have "negotiated for a short-term sentence," but their not-guilty plea entry could lead to "years" in prison if they lose. A third individual suggested pleading not guilty was "going to make people dislike [Loughlin] more for not owning up to her wrongdoing."
One commenter said Loughlin shouldn't be totally at fault in this case. They suggested the "corrupt college administrators & counselors that accepted these bribes" should ultimately receive "lengthy prison sentences."
Journalist Yashar Ali tweeted about how a criminal defense attorney informed him "it's standard to plead not guilty when you are arraigned on new charges." The attorney also told Ali that Loughlin will "negotiate a plea but she's gotta be in a place where she can accept responsibility."
Loughlin and Giannulli were indicted on March 12 alongside 50 others who were accused of participating in the nationwide college scheme. Desperate Housewives alum Felicity Huffman was another big name listed within the scandal. Huffman was accused of paying $15,000 to the scheme's orchestrator, William "Rick" Singer, to help her eldest daughter, Sofia Grace Macy,, cheat on her college entrance exam.
Unlike Loughlin and Giannulli, Huffman entered a guilty plea on April 8. In a statement, she took "full responsibility" and said she would "accept the consequences" that would come from her actions. She could face up to four to 10 months behind bars.
"I am ashamed of the pain I have caused my daughter, my family, my friends, my colleagues and the educational community," the 56-year-old's statement read, according to CNN. "I want to apologize to them and, especially, I want to apologize to the students who work hard every day to get into college, and to their parents who make tremendous sacrifices to support their children and do so honestly."
"My daughter knew absolutely nothing about my actions, and in my misguided and profoundly wrong way, I have betrayed her. This transgression toward her and the public I will carry for the rest of my life. My desire to help my daughter is no excuse to break the law or engage in dishonesty," the statement concluded.
Loughlin and Giannulli were accused of paying $500,000 to ensure their daughters, Olivia Jade Giannulli, 19, and Isabella Rose Giannulli, 20, would be admitted to the University of Southern California (USC). Both daughters posed as crew recruits despite having no intention of playing the sport upon being accepted to USC.
Loughlin and Giannulli received an additional charge for her alleged participation in the college bribery scandal for money laundering. With this new charge, the New York Daily News reported on April 9 that the Fuller House star could face up to 40 years—20 years for the two offenses—in prison.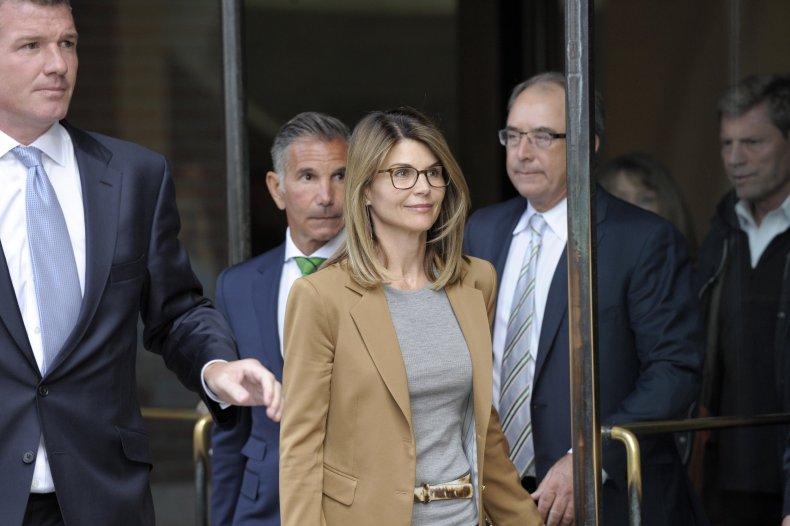 Lori Loughlin's Not Guilty Plea in College Admissions Scandal Sparks Mixed Reaction Among Twitter Users | Culture