Olivia Jade and Bella Honor Mom Lori Loughlin in First Instagram Posts Since College Admission Scandal
Actor Lori Loughlin's daughters Olivia Jade and Bella Giannulli posted individual birthday messages to their mom on Instagram, the first time they've posted since news of the college admission scandal broke.
Loughlin was among the parents charged in "Operation Varsity Blues," a federal investigation into parents paying to falsify athletic and academic records to aid their child's admission to various colleges. Some of those who were charged, including actor Felicity Huffman, pleaded guilty for their involvement and await sentencing dates, however, others, such as Loughlin, have pleaded not guilty.
For months after news of the college admission scandal broke, Bella and Olivia Jade, Loughlin's two daughters, refrained from posting on Instagram. However, that hiatus was broken on Sunday when Bella posted a black and white photo of herself and her mother.
"Happy birthday mama. I love you," Bella wrote in the caption.
Olivia Jade commented on her sister's photo, "my people," and also posted a photo in honor of her mother's birthday on Instagram, breaking a silent streak she was on since February. The photo, taken when Olivia Jade was a baby, showed herself and her smiling mother.
"One day late. Happy birthday. I love you so much," Olivia Jade wrote in the caption of the photo.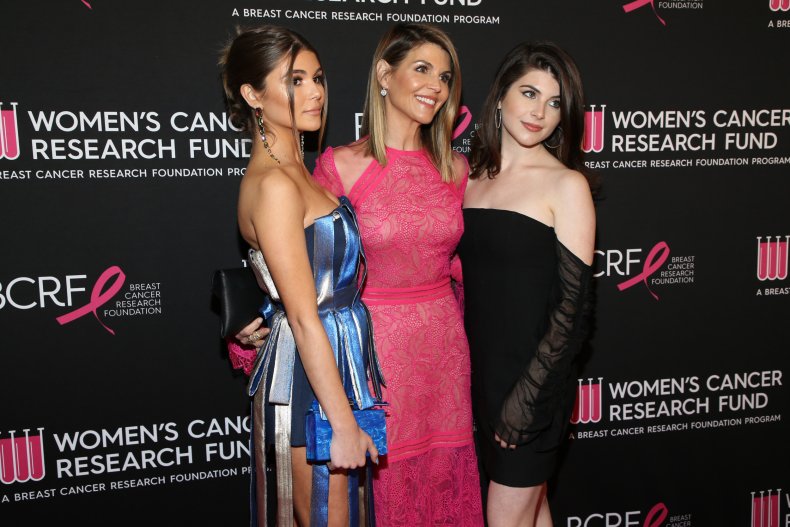 Loughlin, along with her husband Mossimo Giannulli, was accused of paying to have their two daughters recruited to the University of Southern California as rowers, despite not participating in crew. In exchange for their daughters' admission, they allegedly wrote multiple checks to the Key Worldwide Foundation (KWF), a nonprofit operated by William "Rick" Singer, the "ringleader" of the operation.
Originally charged with conspiracy to commit mail fraud and honest services mail fraud, In April, Loughlin and Giannulli were among 16 people named in a second indictment. The indictment added the charge of money laundering conspiracy, stemming from the payments made to KWF. Making the payments to KWF was intended to cover up the bribes, according to the indictment.
Both mail fraud and honest services mail fraud and money laundering conspiracy are punishable by up to 20 years in prison.
In the wake of the scandal, the University of Southern California announced that students, who were already enrolled and allegedly involved in "Operation Varsity Blues," would be prohibited from withdrawing from the university. Until students agreed to participate in a review of their case, they were also barred from registering for classes.
Loughlin and Giannulli are expected back in court in Boston on August 27.