Lori Loughlin's Daughters Quit USC over Admissions Scam? College Responds to 'Viciously Bullied' Rumors
It has been an eventful week for Full House actress Lori Loughlin and her two daughters Olivia and Isabella Giannulli. Following their mother surrendering to the FBI Wednesday and being dropped by Hallmark Thursday, TMZ reported the Giannulli sisters would not be returning to the University of Southern California.
The family of the 19 and 20-year-old reportedly said if they return to the Southern California campus, they would be "viciously bullied." TMZ reported that Olivia, known on social media as Olivia Jade, "is a mess, despondent and feeling like it's the end of the world."
Both Olivia and Isabella will also reportedly "lay low" and have no plans to apply to other schools.
"We have confirmed that both Olivia Giannulli and Isabella Giannulli still are enrolled. USC is conducting a case-by-case review for current students and graduates that may be connected to the scheme alleged by the government and will make informed decisions as those reviews are completed," USC said in a statement to Newsweek.
The 19-year-old first announced she was "officially a college student" in September via Instagram post sponsored by Amazon Prime. Olivia made headlines six months before her mother was indicted for making "stupid and ignorant" comments regarding her reasoning for going to college.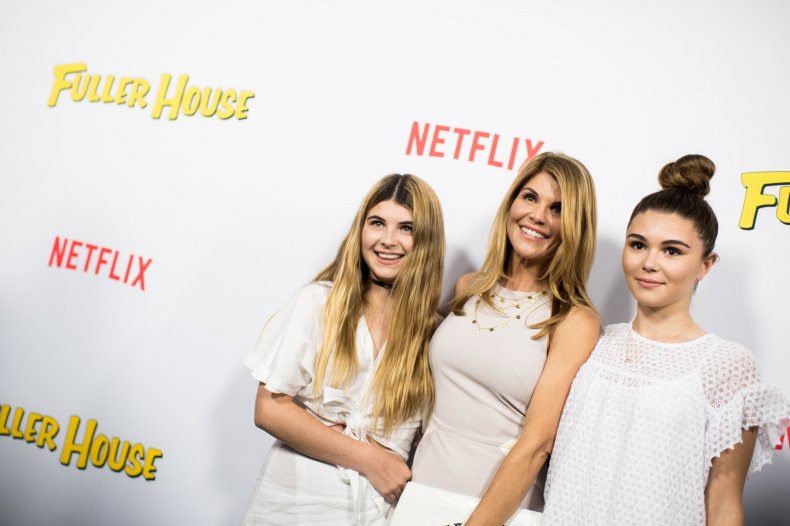 In a YouTube video published in August 2018, the social media influencer told her nearly 2 million subscribers that she wanted to attend college for the full experience of "gamedays" and "partying."
"I don't know how much of school I'm gonna attend," the 19-year-old said in the video, regarding her work schedule. "But I'm gonna go in and talk to my deans and everyone, and hope that I can try and balance it all. But I do want the experience of like gamedays, partying…. I don't really care about school, as you guys all know."
Giannulli then published an apology just two days later following numerous comments calling her "privileged" and a "spoiled brat."
"I said something super ignorant and stupid, basically. And it totally came across that I'm ungrateful for college — I'm going to a really nice school. And it just kind of made it seem like I don't care, I just want to brush it off," the 19-year-old said in the video. "I'm just gonna be successful at YouTube and not have to worry about school."
She added: "I'm really disappointed in myself."
As previously reported, Loughlin was charged with conspiracy to commit mail fraud and honest services fraud by allegedly paying the Key Worldwide Foundation $500,00 dollars to secure her daughters' admission to USC.
It has not been officially announced the possible jail time the 52-year-old actress could face. According to CNN legal analyst Page Pate, Loughlin could look at "37-46 months if convicted at trial" and between "27-33 months [if she enters a] guilty plea."