Lori Vallow Daybell Smiling in Court Day After Neflix Docuseries Debut
Lori Vallow Daybell, the woman who is the subject of the new Netflix true crime docuseries, Sins of Our Mother, was reportedly smiling in court again on Thursday as she faces multiple counts of first-degree murder for the deaths of her two children and her husband's ex-wife.
In a hearing just one day after the Netflix series premiered, Vallow Daybell appeared in court looking fresh, with East Idaho News reporting her to be wearing a pink blouse, tall black heels, and a smile on her face.
She was seen exactly one month ago smiling and laughing in court proceedings as her defense lawyers filed motions in her favor, one of which was discussed again on Thursday.
A motion was filed last month to ban cameras in the courtroom during her trial, which is set to begin in January 2023. Vallow Daybell's attorneys, Jim Archibald and John Thomas, said that if the public is allowed to watch the trial, Vallow Daybell will have to "prove her innocence instead of the state having to prove her guilty."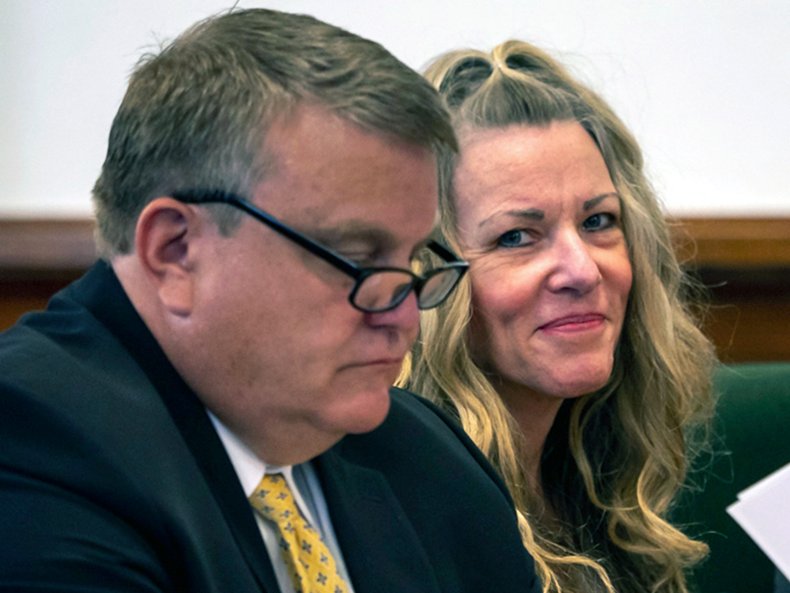 Her attorneys argued that "incessant media exposure" is impeding upon her right to a fair trial, citing the cameras that had been present in the August 16 hearing. Steve Wright, the attorney for at least 32 media agencies who opposed the motion, said that there was nothing unauthorized in last month's proceeding.
"It is regrettable that counsel feels misled that they didn't notice the microphones, but they were approved first and foremost, along with the cameras," Wright said, according to East Idaho News. "There is a significant difference in telling this court that this courtroom should be open, but only to people who physically want to come and sit in the courtroom, because if its broadcast to other people, her rights are now jeopardized."
The judge did not immediately rule for or against the motion, but a written decision will follow. Other motions filed on Thursday discussed Vallow Daybell's right to wear "street clothes" in court, rather than an orange jumpsuit, which was granted.
Newsweek reached out to a representative for Vallow Daybell for comment.
The motions come a day after Sins of Our Mother, a three-part documentary, which details Vallow Daybell and her husband, and the tragic events that led to their arrests, aired on the streaming platform.
Vallow Daybell, who was only Vallow at the time, was a devout follower of the Church of Jesus Christ of Latter-Day Saints (LDS) when she met LDS follower and "doomsday" author Chad Daybell in 2018. He has written more than 25 books about the end of the world and near-death experience accounts.
By May 2021, the couple was charged with conspiracy to commit murder and first-degree murder relating to the deaths of Vallow Daybell's two youngest children, her 7-year-old son Joshua "JJ" Vallow, and her 16-year-old daughter Tylee Ryan.
Both children disappeared in September 2019, and their bodies were found buried in Chad Daybell's yard in June 2020.
Chad Daybell is also accused of murdering his ex-wife, Tammy Daybell, just weeks before he married Lori Vallow in October 2019. Vallow Daybell is also charged with conspiracy to commit murder after allegedly plotting to kill her estranged husband Charles Vallow, who was shot and killed by her now-deceased brother, Alex Cox. Her brother died of natural causes on December 12, 2019.