Los Angeles Chargers vs. Arizona Cardinals Preview: TV Channel, Time, Where To Livestream Preseason NFL Game
Fans of the Arizona Cardinals will get their first real look at the team's rookie quarterback Josh Rosen on Saturday in a face-off with the Los Angeles Chargers. It'll be each team's first preseason matchup.
Still, it's quite possible that when Week 1 rolls around, the Cardinals will trot out veteran Sam Bradford as the starter. He has described developing chemistry with future Hall of Fame wideout Larry Fitzgerald.
"It just seems like if you get the ball around him where he can get his hands on it, he's going to make the play," Bradford said, via the Cardinals' team website. "You do have to train yourself sometimes. He looks covered, but we see it on film and it's like, 'Hey, just give Larry a chance.' More times than not, he's going to come down with it. It's just developing that trust—putting it out there and allowing him to go get it."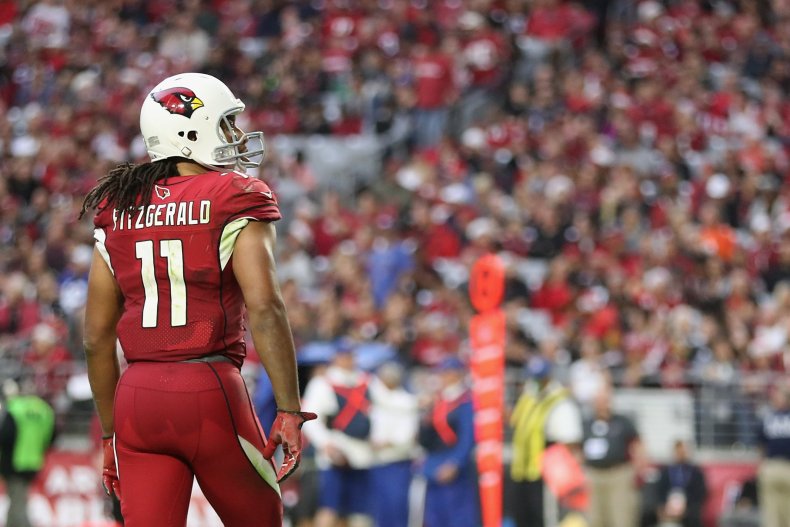 Rosen, who was drafted No. 10 in the NFL draft, has developed a reputation for being cerebral—there was even a weird, mini-scandal when his college coach said he asked "why?" a lot.
"I ask a lot of questions and the whole 'why' thing … It's the dumbest thing I've ever heard," Rosen told KMVP-FM. If I was a teacher or I was a coach … I would either, one, think (a student or player) had everything down cold, or two, be very concerned that he's like disinterested. I would want my student or my player—if I was a coach or teacher—to ask questions and figure out what we're doing."
The Chargers—while full of young talent like pass-rusher Joey Bosa, cornerback Casey Hayward and running back Melvin Gordon—will once again be led by Philip Rivers, their 36-year-old, seven-time Pro Bowler. Hayward, a Pro Bowler himself, said Rivers has been on point in practice.
"I've been here, this is going on my third year—and I'm not sure how he was before I was here but he's sharp," he said, according to the Chargers' website. "He's been so sharp this camp. He hasn't been missing. He's been throwing all dimes. There's been some plays where I've been getting the ball caught on me some—and like, I'm in great position and he throws the receiver open and it's been crazy."
Here's the info for the game so you can see the action for yourself.
Start time: 10 p.m. ET
TV channel: The game will not be televised nationally. Locally it'll be on Channel 12 KPNX for Arizona and KABC-TV (ABC 7) for Los Angeles.
Live stream: NFL Game Pass fuboTV (more about fuboTV).
Los Angeles Chargers vs. Arizona Cardinals Preview: TV Channel, Time, Where To Livestream Preseason NFL Game | Sports