Los Angeles County Reports More New COVID Cases Than All but Two States
Los Angeles County recorded more cases of the novel coronavirus on Tuesday than all but two U.S. states.
According to data from the county's department of health, there were at least 11,194 new COVID-19 cases reported on Tuesday. The total was more than 48 U.S. states reported on the same day, with only Texas, at 18,926 cases, and California, at 32,326, with more.
LA County also reported 86 deaths related to the novel virus. The county now has more than 543,000 cases and at least 8,431 COVID-19 deaths since the start of the pandemic.
Texas and California lead the U.S. in COVID numbers as both states are reporting over 1.5 million cases each. Texas reached the milestone on Tuesday and has seen over 24,000 deaths since the pandemic began.
California currently has over 1.6 million cases and over 21,000 deaths, according to the state's department of health.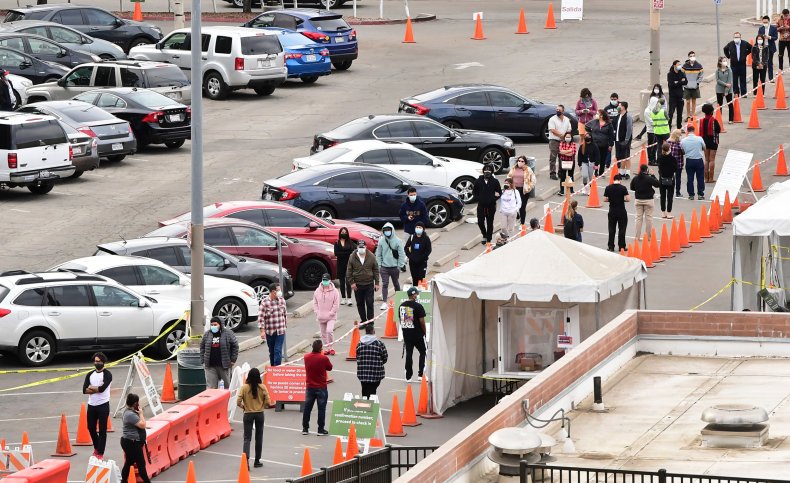 The number of new COVID-19 cases in Los Angles County and California as a whole prompted health officials and Governor Gavin Newsom to activate the state's Coroners' Mutual Aid and Mass Fatality Management Planning Program on Tuesday.
"So we have activated, and I pledge to you that the conversations I'm having with my wife, my family, that I'm going to make them public to you. I was having these conversations about some of the work we're doing on mutual aid for morgues and working with coroners just a couple days ago, and some hesitated to want to share that publicly," Newsom said. "But I think I have an obligation to share with you publicly what we are doing on this issue."
Newsom continued, "We have orders, and 60 53-foot refrigerated storage units are currently standing by now in counties and in hospitals. We just had to order 5,000 additional body bags they just purchased for this state, and we just distributed them down to San Diego, Los Angeles, Inyo Counties."
Responding to the number of COVID-19 cases across California, Newsom said it "should be sobering."
"I don't want people to scare folks. But this is a deadly disease, and we need to be mindful of where we are in this current journey together to the vaccine. We are not at the finish line yet," the California governor said.
In addition to rising cases in California and Texas, several other states such as Florida, New York, Ohio and Pennsylvania have also seen a surge in cases, all of which reported more than 8,000 new cases yesterday, according to data from the COVID Tracking Project.
Newsweek reached out to the Los Angeles County Health Department for comment but did not receive a response in time for publication.