The Los Angeles County Sheriff challenged hometown Lakers star LeBron James to double the $100,000 reward being offered by the department for information leading to the arrest of a suspect in the shooting of two deputies in Compton Saturday.
L.A. County Sheriff Alex Villanueva appeared on the KABC Radio program Tuesday in an effort to highlight law enforcement's ongoing manhunt for the "cowardly" suspect seen ambushing two deputies around 7 p.m. Saturday. Both deputies, a 31-year female and a 24-year-old male, were treated at St. Francis Medical Center in Lynwood that evening. The Los Angeles Sheriff's Office announced Sunday it was offering a $100,000 reward for information which leads to an arrest and conviction, who remains at large.
But Tuesday, Villanueva appealed to James, who is leading the Los Angeles Lakers into the NBA's Western Conference Finals against the Denver Nuggets this Friday. James has been an outspoken advocate for Black Lives Matter causes. Last month after the shooting of Jacob Blake by police officers in Kenosha, Wisconsin, the NBA star remarked that Black Americans are "terrified" of police brutality of unarmed people.
"This challenge is to LeBron James. I want you to match that and double that reward," Villanueva told KABC Radio's John Phillips Show. "I know you care about law enforcement. You expressed a very interesting statement about your perspective on race relations and on officer-involved shootings and the impact that it has on the African-American community."
"And I appreciated that," the L.A. sheriff continued. "But likewise, we need to appreciate that respect for life goes across all professions."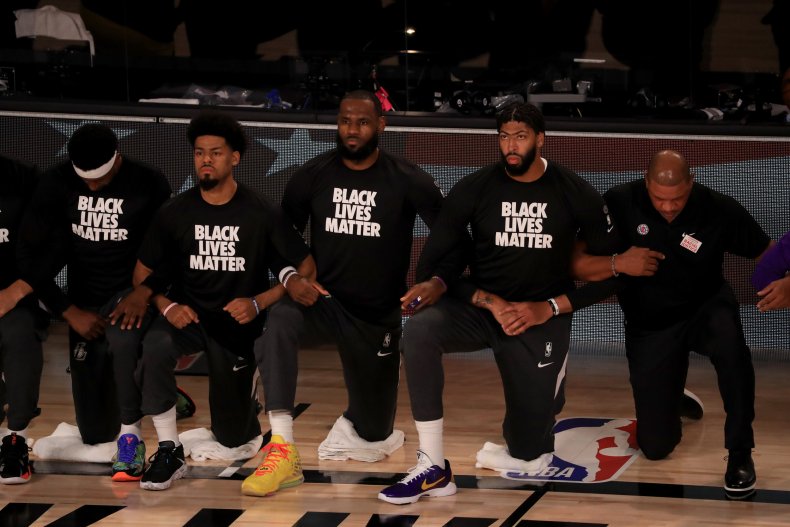 James has drawn criticism from conservatives, supporters of President Donald Trump and other critics of the Black Lives Matter movement who say equal time is not being given to support police across the country. Several NBA stars and supporters of the anti-police brutality movement have reiterated that BLM is opposed to violence against unarmed Black people—and not opposed to officers as a whole. Black Lives Matter protests were reignited in late May after the death of George Floyd during an arrest by Minneapolis police officers.
"And y'all wonder why we say what we say about the Police!! Someone please tell me WTF is this???!!! Exactly another black man being targeted," James wrote last month after video surfaced of Blake's Wisconsin shooting. "This s--- [sic] is so wrong and so sad!! Feel so sorry for him, his family and OUR PEOPLE!! We want JUSTICE."
A GoFundMe page which has now amassed about $300,000 was set up over the weekend to contribute reward money which may lead to information about the suspect in the Compton shooting. Despite reports to the contrary Monday, no suspects have been identified or apprehended connected to the shooting, the sheriff's department said. Private individual pledges of $50,000 and $25,000 to be added to the reward money have also been received by the county.
The Los Angeles Lakers will begin the Western Conference Finals after defeating the Houston Rockets four games to one Saturday.
Newsweek reached out to the sheriff's office as well as representatives for James Tuesday afternoon seeking additional remarks, but did not receive replies before publication.