Los Angeles County's Mask Mandate Now in Effect With Over 1,800 New COVID Cases Reported
Los Angeles County, the nation's most populous county, reinstated an indoor mask mandate late Saturday night as over 1,800 new COVID-19 cases were reported in one day and hospitalizations continue to rise in the area.
The new mandate went into effect at 11:59 p.m. and requires everyone to wear masks in indoor public spaces, regardless of vaccination status. According to the county's public health department, the mandate is a result of increased transmission of the fast-spreading Delta variant.
"Due to increased transmission from the Delta variant and the intermingling of unmasked individuals where vaccination status is unknown, masks will be required indoors regardless of vaccination status starting TONIGHT at 11:59pm," the public health department tweeted Saturday.
On Saturday alone, the county reported 1,827 new cases of COVID-19 and 11 additional deaths. That number marks a four-fold increase from the number of cases reported just two weeks earlier on July 4, and an eight-fold increase from cases reported on June 15, according to the county's health department. The daily positivity rate now stands at 3.7 percent, up from just 0.5 percent one month earlier.
According to KABC, the number of people hospitalized in Los Angeles County due to COVID jumped from 462 on Friday to 507 on Saturday, while the number of those patients in intensive care remained at 103.
By Sunday, Los Angeles County has reported over 1.2 million positive cases of COVID-19 and a total of 24,579 deaths since the pandemic began.
The county's health department said Saturday that roughly 4 million people in Los Angeles have not yet been vaccinated. As of July 11, more than 10.7 million doses of the shot had been administered, with 61 percent of residents aged 16 and up fully vaccinated.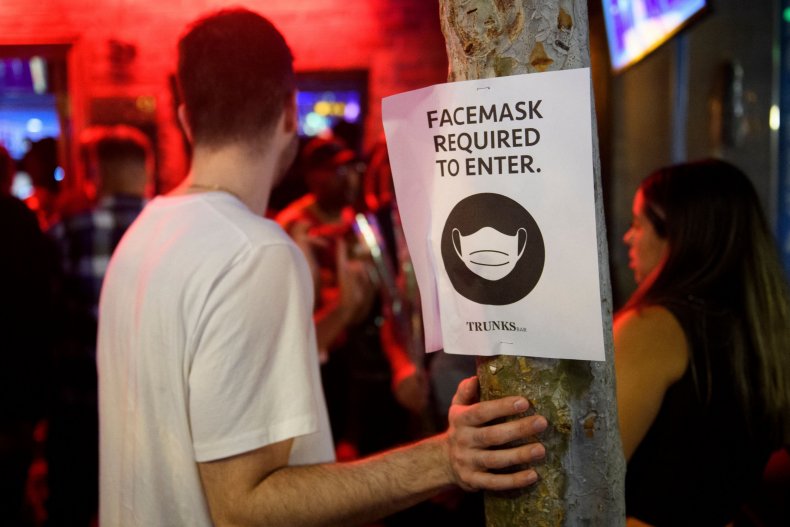 According to a statement from the department, masks will now be required in all indoor public places, venues, gatherings, and businesses such as offices, retail, restaurants, and theaters.
"While we continue efforts to increase vaccination coverage and build confidence in the vaccines, the simplest and most effective public health measure to add back is to require that everyone wear a mask in all indoor public places and businesses," Los Angeles County Public Health Director Barbara Ferrer said in a statement.
"For those of us already vaccinated, we have been required for the last couple of months to continue to wear masks in many other public places including on all public transit, at all healthcare settings, schools and day care facilities. This was done in recognition that the vaccines, while extraordinarily effective, are not perfect and that we continue to have an obligation to reduce risk as much as possible. Please help us get back to slowing the spread by wearing your mask indoors," the statement added.
However, the new mask mandate has sparked some criticisms from those who believe requiring vaccinated people to wear masks indoors is unnecessary.
Los Angeles County Supervisor Kathryn Barger, a Republican, said that deviating from state and federal masking guidelines could ultimately cause confusion and distrust among the population.
"By deviating from the state, we create confusion and disagreement at the local level, which hinders public trust and takes away from our primary messaging which should be to encourage individuals to get vaccinated with urgency given the spread of the Delta variant," Barger said, according to KABC.
Los Angeles County Sheriff Alex Villanueva said Friday that the new mandate "is not backed by science," and that his office will not enforce the new rule.
"Forcing the vaccinated and those who already contracted COVID-19 to wear masks indoors is not backed by science and contradicts the U.S. Centers for Disease Control and Prevention (CDC) guidelines," he said.
Others were more supportive of the mandate and emphasized that the masking requirement should not be viewed as another lockdown, but rather a preventative measure while cases continue to soar.
"I want to emphasize that this indoor mask requirement does not stop us from enjoying all the great activities we have available through the county's re-opening," Hilda Solis, a Democratic county supervisor, said Saturday. "We can still go out and engage in indoor shopping, supporting our local restaurants through indoor dining, catching a great movie, and so much more."
Newsweek contacted the Los Angeles County Public Health Department for additional comment, but did not hear back in time for publication