Los Angeles Is Expected to Reopen Beaches May 15
Los Angeles County plans to open up its beaches on May 15, officials announced Friday.
The coronavirus epidemic caused the beaches of Los Angeles County to be closed since March 27, but Dr. Barbara Ferrer, Director of the County Department of Public Health, announced on Friday that L.A. county beaches could reopen by May 15 if county residents wear facial coverings and stay six feet apart from each other when the county's hiking trails reopen this weekend.
"We're going to pay attention to how you all do this weekend," Ferrer said at her daily coronavirus press briefing when asked about reopening beaches.
"If things go well, next week we'd like to come back with some additional lifting of restrictions. We're looking forward to hopefully getting there by next week," she said.
In Los Angeles County—where the coronavirus has hit hardest in the state, with 29,427 confirmed cases and 1,418 deaths as of May 8—the beaches have remained closed and empty. Wary of causing an outbreak elsewhere, local officials have asked citizens to not drive to other counties' beaches to enjoy sunbathing and beach time.
"There is a direct correlation between what you do this weekend and how long this will take and how many lives we will lose," Los Angeles Mayor Eric Garcetti told residents on April 24.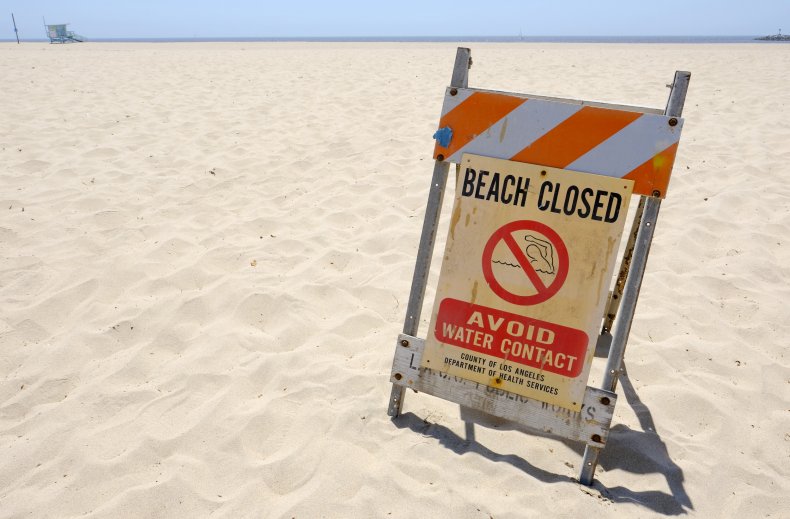 In a statement issued on Tuesday, Governor Gavin Newsom said the state had made progress in its fight against the coronavirus through stabilized hospitalization and intensive care unit admissions; increases in testing, health care surge capacity and contact tracing capability; and expansion of the use of personal protective equipment by medical and other essential workers.
"Millions of Californians answered the call to stay home and thanks to them, we are in a position to begin moving into our next stage of modifying our stay at home order," Newsom said. "But make no mistake—this virus isn't gone. It's still dangerous and poses a significant public health risk."
Newsom ordered the temporary closing of beaches on April 29 after beachgoers ignored social distancing rules by not wearing masks, sunbathing in large groups and getting closer together than six feet to other visitors.
Following Newsom's shutdown, the beaches proved a battleground between him and residents who felt too constrained by his stay-at-home and social distancing measures.
On May 1, protesters arrived at Huntington Beach to demand its reopening. Concurrently, the city of Newport Beach announced a legal action against Newsom.
The lawsuit said guidelines from the U.S. Centers for Disease Control and Prevention allow people to visit public parks or beaches as long as they remain distant from one another. The lawsuit also alleged that Newsom's closure of state beaches violated citizens' rights to travel and their First Amendment rights to peacefully assemble.
The reopening of beaches is likely to end the lawsuit, rendering its claims a moot point.
Newsweek reached out to Newsom's office for comment. This story will be updated with any response.