L.A. Explosion Videos Show LAPD Bomb Squad Truck Completely Blown Apart
Shocking footage, captured in multiple videos, showed the moment an LAPD Bomb Squad truck was blasted apart as a controlled removal went awry.
The explosion rocked South Los Angeles on Wednesday evening and left several people injured, including at least nine officers, as police were trying to safely store fireworks taken from a home, according to ABC 7.
Nearby homes and cars were damaged in the massive blast and all the people caught up in it were transported to a nearby hospital where they were treated for minor injuries, the station reported.
Police said 5,000 pounds of illegal fireworks were seized from a home in the area of 27th Street and San Pedro.
As police attempted to safely store them the Bomb Squad trailer, which was positioned in the middle of the street, was torn apart in the sudden explosion.
There was a flash of light, before a large amount of smoke was released and rose into the air over the neighborhood.
The aftermath showed the trailer had been completely wrecked, having been ripped apart from the inside during the blast.
Another clip showed a nearby car had been thrown onto its side, as trees and other vehicles shuddered during the explosion.
Debris could also be seen flying across the street before a huge bang echoed out around the area.
Hundreds of thousands of people had watched the videos across a number of accounts as of Thursday morning.
Police and firefighters were later seen examining the trailer in order to establish what had happened.
In a statement issued late on Wednesday, the LAPD said it didn't know what had caused the explosion and that police are now carrying out an investigation.
The LAPD said on Twitter: "Our Bomb Squad officers were in the process of seizing over 5,000 pounds of illegal fireworks in the area of 27th Street and San Pedro. Some of the fireworks were being stored in our Bomb Squad trailer as a precautionary measure. Unknown at this time what caused an explosion."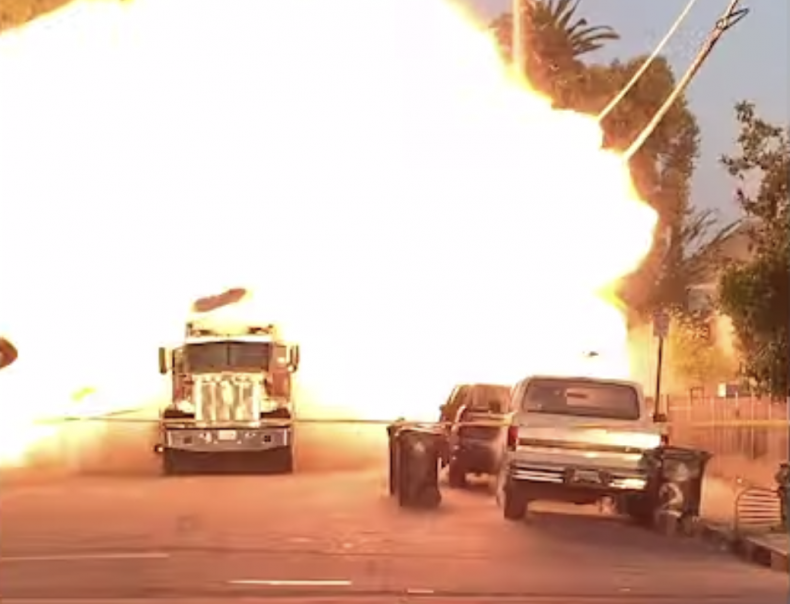 In a second tweet, the force continued: "There are PIOs (Public Information Officers) at scene and this is an ongoing situation in which the area will be impacted for hours due to evacuations, rendering the location safe and investigation. Updates will be provided as they become available."
According to ABC 7, Arturo Cejas, 27, was arrested on charges of possessing a destructive device.
Newsweek contacted the LAPD for comment.
Update 7/01/21 5:10 a.m. ET: This article has been updated to include video footage of the blast.