From Los Angeles To Ferguson: 25 Years After Rodney King Riots, 'There's a South Central in Every City and Every State'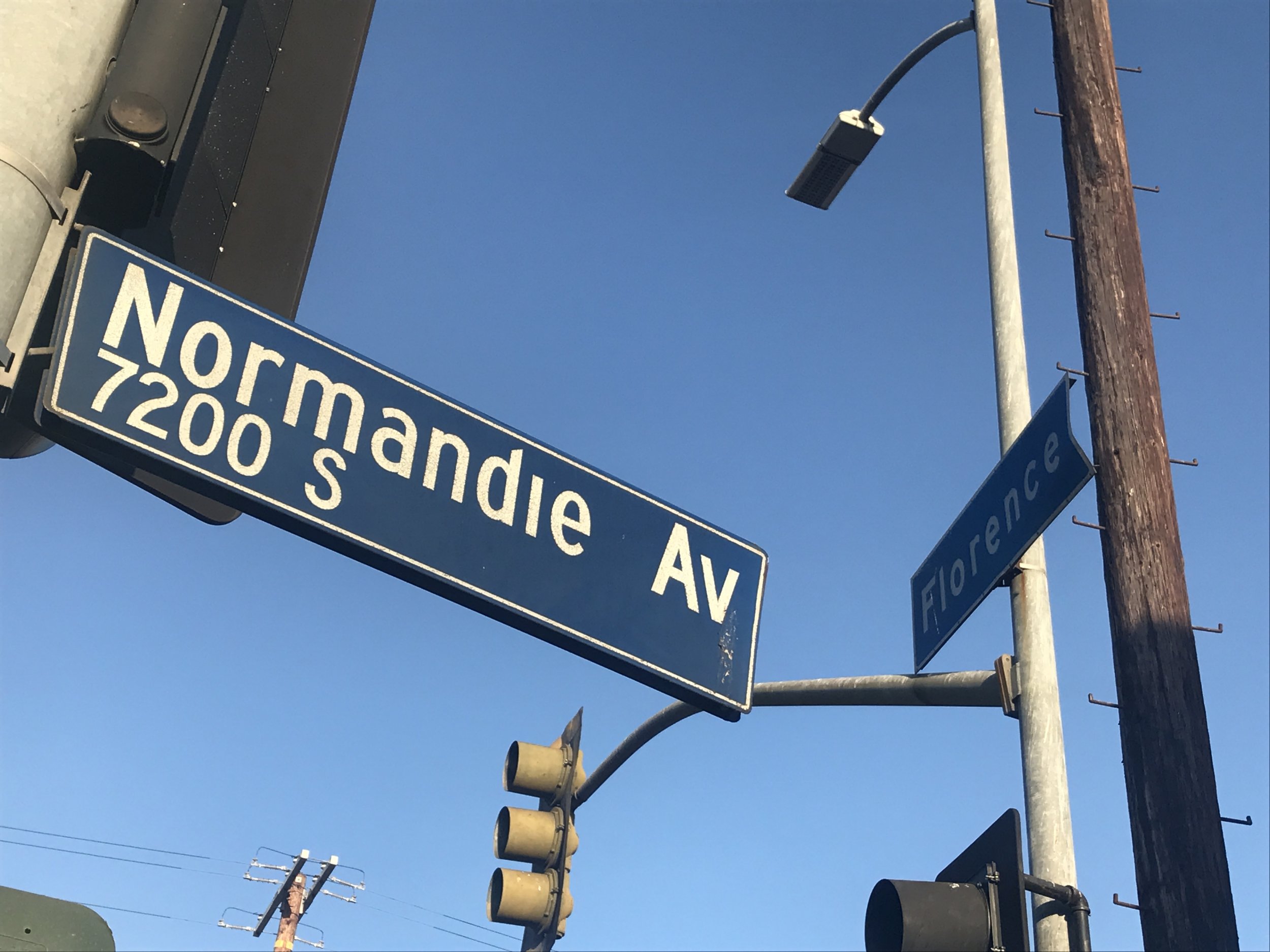 The side streets between Normandie and Vermont Avenues are meticulously pleasant, nearly suburban. Children ride bikes down clean sidewalks, past tidy gardens of desert succulents. A toddler kicks a soccer ball into a fence. Old folks watch from the porches of small, well-kept homes. You can easily forget you're in South Central Los Angeles, approaching the site where America once crackled with suicidal madness.
The Rodney King Riots—as they are frequently called, though some dislike that name—began at the intersection of Florence and Normandie 25 years ago, on April 29, 1992, after the cops who'd assailed King a year before were cleared of all wrongdoing by a mostly white suburban jury. Millions across the nation watched helicopter footage of white trucker Reginald Denny being pulled out of his cab and flung to the ground in the middle of that intersection, assaulted with a brick, his prostrate body stomped on. Lying there, arms splayed, face covered in blood, he looked like some ancient crucifixion victim taken down from the cross.
There was little chance of salvation for Denny and the rest of South Central, because the Los Angeles Police Department had retreated like an occupying force sensing its imminent defeat. South Central burned for days, and the rioting spread north into Koreatown, west to Inglewood, black smoke replacing gray smog.
Today, the most dangerous thing about the intersection is the ceaseless flow of traffic, a problem far more common in Los Angeles today than police brutality or race-based violence, though neither of those ills has been entirely eradicated. Things do change—somehow, someway—and this intersection is proof. It is a crushingly ordinary junction, where that sin commonly and unfairly ascribed to Southern California—forgetting—for once makes perfect sense.
With tomorrow's anniversary of that five-day paroxysm of fire and rage, which killed 63 and ruined over $1 billion worth of stuff, we are forced to remember once again. In large part, we will be remember our disagreements about what happened that spring a quarter century ago. Mistakes were made, yes? But were lessons learned? I use the passive voice only because it's hard to know the subject of either question.
"What we saw last night and the night before in Los Angeles is not about civil rights," said President George H.W. Bush two nights after the riots began, as the National Guard moved to take control of the city. "It's been the brutality of a mob, pure and simple." Some agree with this assessment, but many others do not. It is this disagreement about what happened at Florence and Normandie, why it happened, what to call it even (riot, uprising, civil unrest ) that makes the violence that marked the King verdict relevant today. For while buildings no longer burn, deep underground there are smoldering resentments.
Rodney King made an impassioned but ineffectual plea for peace, on the same day that President Bush spoke from the Oval Office. King had been beaten by LAPD officers following a car chase on Foothill Boulevard on March 3, 1991, with 56 baton blows they inflicted to his crouching body. The four officers were tried in Simi Valley, a white suburb of Los Angeles that was a kind of cop land, not to mention home to the Ronald Reagan Presidential Library. A jury that had only two non-whites acquitted the officers on all charges, although there couldn't have been less ambiguity about their use of grossly excessive force. Some had warned of violence if such a verdict came down. They were quickly proven correct.
"We're all stuck here for a while," King said on May 1, as the National Guard took over for local law enforcement, leaning into a microphone and speaking through tears. "Let's try to work it out. Let's try to beat it. Let's try to beat it. Let's try to work it out."
I watched a video of his speech at the California African American Museum, where a small but very good new exhibition, No Justice, No Peace: LA 1992, is one of several attempts by Angelenos and, in fact, all Americans, to make sense of an episode whose ugliness belongs to us all—and haunts us to this day. Los Angeles is unquestionably a stronger city than it was in 1992, but are we a stronger nation, or merely a nation whose vocabulary of despair has been somewhat altered? Crack in the inner city has been replaced by fentanyl in the trailer park. Violent crime is down in most major cities, yet animosity between cops and blacks is as high as it has ever been. A recent poll of Angelenos finds that many are expecting another riot, sort of the way they expect another earthquake.
We are trying to work it out, as King pleads in that video. But we are also stuck.
"No justice, no peace," was the rallying cry of those who protested the King verdict, the thousands moral outrage over that verdict has been eclipsed by the looters and arsonists who saw in the unrest an opportunity to sow chaos. The phrase, though, belongs to an earlier injustice, as the historian Brenda E. Stevenson reminds in her excellent 2013 book, The Latasha Harlins Killing: Justice, Gender, and the Origins of the LA Riots.
Two weeks after the King beating, a 15-year-old black teenager, Latasha Harlins, was shot dead by a Korean shopkeeper, Soon Ja Du, after being mistakenly accused of stealing a $1.79 bottle of orange juice. Found guilty of involuntary manslaughter, Du was given five years of probation by white judge Joyce A. Karlin, the daughter of a Hollywood executive who harbored political ambitions. "Rodney King was not the symbol of injustice that catalyzed the protest," Stevenson says of 04/29/92. "Latasha Harlins was."
The last time I heard shouts of "no justice, no peace" was in Ferguson, Missouri, after the black teenager Michael Brown was shot and killed by a white police officer. There was violence in Ferguson, too, but by the second or third day of protests, a weirdly jubilant mood prevailed, with the scene almost resembling a fiery homecoming parade. The nation was focused on Ferguson and the plight of its beleaguered black residents. It must have seemed that some victory indeed was at hand.
"Thank you all for giving a fuck," one protester in Ferguson told me in the midst of the protests. But a prominent St. Louis rabbi involved in political activism, Susan A. Talve, had a pessimistic assessment: "This is gonna keep happening. People who are turning away are really mistaken."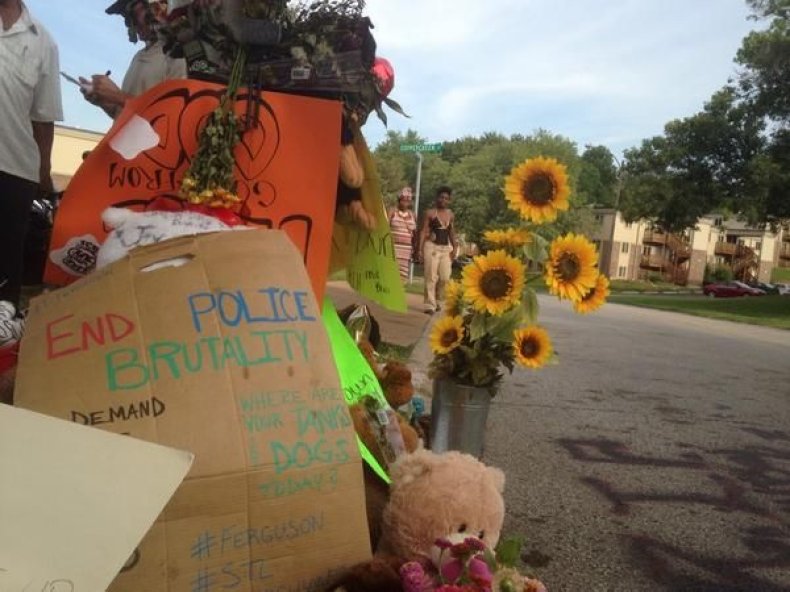 Talve was right. As the high-profile killings of young black men continued—New York, Baltimore, Minneapolis—so did the protests against police brutality organized by the Black Lives Matter movement. For the most part, these were peaceful, but there were also shades of South Central, where principled anger turned into destructive chaos, even as the city's black mayor, Tom Bradley, wrongly said the situation was "simmering down."
Much of the anger was directed at Daryl F. Gates, the chief of police who seemed to revel in his racial insensitivity. Gates was the diligent pupil—and onetime driver—of William H. Parker, who had turned the LAPD into a paramilitary force. This was the LAPD of Dragnet, an "omnipresent city agency entitled to stand above and outside the normal political checks and balances of city government," as Joe Domanick writes in Blue, an exceptionally readable and fair history of the department. On matters of race, the department took its cues from Parker, who compared rioters in Watts in 1965 to "monkeys in a zoo" and immigrants from Central America as "not far removed from the wild tribes of Mexico."
Gates was a "terrible chief," Domanick told me, his swaggering incompetence compounded by the mayor's utter inability to fire him (the rules that afforded the police chief such immunity have been since been amended). The rise of the warrior cop mentality so poisonously entrenched in American policing today may well begin with the introduction of the special weapons attack team by Gates in 1966, after the violence in Watts. Gates became chief in 1978; the gangs and drug cartels that ruled parts of Los Angeles during the '80s practically invited a newfound reliance on show-of-force tactics. He could thus easily double-down on Parker's approach.
"We talked about community policing, but I'm not sure we did not much of it," remembers Earl Paysinger, who retired as the highest-ranking African-American officer in the LAPD and is today an administrator at the University of Southern California, whose pristine campus of red-brick buildings is four miles from where Florence and Normandie meet. He calls the department of his youth as exceedingly white and "extremely militaristic."
At the same time, Paysinger has no doubts about what to call the events of April 29, 1992. "It was a riot," he says, a sudden hardness entering his voice. "Have you seen the pictures?" While others have tried to explain away the blood and fire, the broken glass, Paysinger makes no such attempts, calling it "an opportunistic situation where many people degraded to the lowest dominators of their human selves."
That isn't how John Ridley depicts the aftermath of the King verdict in Let It Fall: Los Angeles 1982-1992, a graceful and moving account of the many nights that led to the night of April 29. He begins in 1982, with the death of a young African-American man, James Mincey Jr., from a carotid chokehold applied by an LAPD officer during a traffic stop. Mincey was the 12th black man to die in that way in Los Angeles in the previous seven years. Yet the statistic did not trouble Gates in the least. "We may be finding that in some blacks when it is applied the veins and arteries do not open as fast as they do in normal people," he explained. Asked to apologize, he pointedly refused.
Let It Fall also touches on Operation Hammer, Gates's 1987 response to the rise in gang violence. A year into the initiative, 88 officers flocked to 39th Street and Dalton Avenue, where they destroyed two apartment buildings, leaving 22 Angelenos out on the street. No great stash of Colombian pure was found, no bricks of pungent Mexican weed. "Dalton was a precursor" to the post-King verdict violence, explained Jerome Skolnick, a scholar of policing to the Los Angeles Times in 2001, for an article titled "The Raid That Still Haunts L.A."
"It should have sent a signal that parts of the department were out of control," Skolnick continued.
"Rodney King didn't start this," Ridley agrees, speaking before a presentation of his new documentary in New York (it will air on ABC on Friday night). "Rodney King didn't throw the first brick." Ridley insists, in both his film and in conversation, on calling the events of 1992 an uprising, though he also understands why others called them a riot. He is uninterested in any such "battle of semantics," preferring to search for an "emotional honesty." He finds it repeatedly in Let It Fall, in story of a gay LAPD officer coming out to her partner as they drive into the storm rising at Florence and Normandie; a grieving Korean-American mother whose son, like many of his peers, took up arms in defense of Koreatown and was shot and killed there; black South Central residents who risked their own lives to protect whites or Asian-Americans who may have otherwise been killed by rioters.
His most fascinating interviews are near the end of the film, with three of the four men who assaulted Denny. One of them in particular, Kiki Watson, remains utterly unrepentant about his role in the attack. "There's a South Central in every city and every state. There's a Florence and Normandie in every city and every state," he says angrily into the camera. While it is impossible to like Watson, it is just as hard to disagree with him.
The irony is that the King-related violence, followed five years later by the Ramparts corruption scandal, led to federal oversight of the LAPD in 2000. Seventeen years later, the legacy of Parker and Gates has been removed like mud off the bottom of a shoe.
Nationally, meanwhile, policing seems to be entrenched in the very kind of warrior policing model that wreaked such havoc in Los Angeles 25 years ago. While the Obama administration placed 12 departments under consent decrees similar to the one in Los Angeles, Trump's attorney general, Jeff Sessions, has indicated that no such oversight is needed.
"Let's go back to the same old bullshit" is how Domanick characterizes the current thinking. "It's like the '70s again."
Phillip Tingirides also disagrees with the Trump/Sessions model of policing. Unlike that duo, he actually knows about violent crime: Today the deputy chief of the South Bureau of the LAPD, Tingirides joined the department in 1980, when there were 1,028 killings in Los Angeles (last year, there were 294). "We're not the military," he says. "We're not in a war."
Even as Los Angeles commemorates April 29, it is also doing its best to shed the vestiges of that time. Some of the forgetting is a function of demography: Los Angeles is not nearly as black as it used to be, and South Central has become a largely Hispanic neighborhood. Many of those who may have remembered what went down at Florence and Normandie simply don't live there anymore.
Josh Sides, a professor at California State University at Northridge who wrote L.A. City Limits: African American Los Angeles from the Great Depression to the Present, estimates that South Central is now about 75 percent Latino. Though he cautions against the misconception that 04/29/92 drove blacks out of South Central, he acknowledges that "the riots definitely accelerated that."
Many blacks Angelenos went north, to the desert towns of Lancaster and Palmdale, or east to Riverside County, "seeking affordability and seeking safety." Sometimes, though, the search for a better life didn't yield anything but the life they already knew. Gangs formed in Palmdale and Lancaster, in mirror image of South Central. Meanwhile, the police in Antelope Valley, where those two communities are located, have been investigated by the Justice Department for engaging in discriminatory policing.
Back in South Central, fears of the police have been replaced at least partly by fears of immigration officials. Latinos in the age of Trump has become something of a cause célèbre, a vulnerable population deserving of sympathy and protection; the Los Angeles Times, for example, has run profoundly moving stories about the plight of undocumented immigrants. And though there have always been whites aware of racial injustice towards blacks, the Reagan-era gospel of "personal responsibility" explained away the plight of places like South Central by describing personal pathologies that no amount of compassion, or assistance, could ameliorate. We have discovered too late that black lives matter.
"We are still an evolving social experiment," says Mike Feuer, the Los Angeles city attorney. In 1992, he was a young lawyer whose organization, Bet Tzedek Legal Services, offered help to the residents of a smoldering South Central. "The world consistently looks to Los Angeles to what will happen next," Feuer says, meaning that this desert oasis has the capacity to overcome its own beautiful incoherence. So the work goes on, as Teddy Kennedy once said. The cause endures.
An as the city marks an anniversary it would rather forget, the onetime headquarters of the LAPD, Parker Center, is coming down. Some preservationists wanted it saved, arguing that Welton Becket's 1955 box-on-stilts is a worthy example of high modernism. "It's one of the most ugly pieces of architecture you've ever seen," says Domanick, noting in particular its sloping floors and robust rodent population. It is also a symbol of a police department that applied enormous pressure on neighborhoods like Watts and South Central, then watched the predictable combustion.
The LAPD hasn't been inside the Parker Center since 2009, and yet it looms over downtown, casting shadows both literal and not. If buildings are symbols, then so are building demolitions. This one should go. Some battles are worth losing.