Los Angeles Firefighter May Have Been 'Violently Kidnapped' In Baja California, Mayor Pleads for Release
Los Angeles Mayor Eric Garcetti shared new details about the city's collaborative investigation into firefighter Frank Aguilar's disappearance on Wednesday.
Aguilar, a veteran firefighter employed by the Los Angeles Fire Department (LAFD), went missing during a trip to Rosarito, Mexico, two weeks ago. Addressing the ongoing inquiry into Aguilar's whereabouts, Garcetti said the public official "may have been the victim of a violent kidnapping" during a news conference Wednesday evening. The mayor pledged Los Angeles' commitment to Aguilar's case and urged anyone involved in the possible abduction to "let him go."
"Los Angeles Fire Department firefighter Frank Aguilar, we learned from Mexican authorities, may have been the victim of a violent kidnapping in Baja California," Garcetti relayed during the recent briefing. "I want to say very clearly to anybody who would kidnap a member of our Fire Department that this is a member not just of our city government family, but of our community here in Los Angeles."
Garcetti said the City of Los Angeles is coordinating with Mexican government personnel, the U.S. State Department and a local consul general in Mexico to provide law enforcement assigned to the investigation with "whatever support it needs" to further its search for Aguilar.
"We will work tirelessly to make sure that Frank is returned safely," Garcetti continued, referring to Aguilar as "somebody who has put his life on the line" through his work with LAFD. "And if this message gets to anybody who would dare kidnap an Angeleno who serves the people of Los Angeles: let him go and make sure that he is able to safely return to our city and to his family," the mayor finished.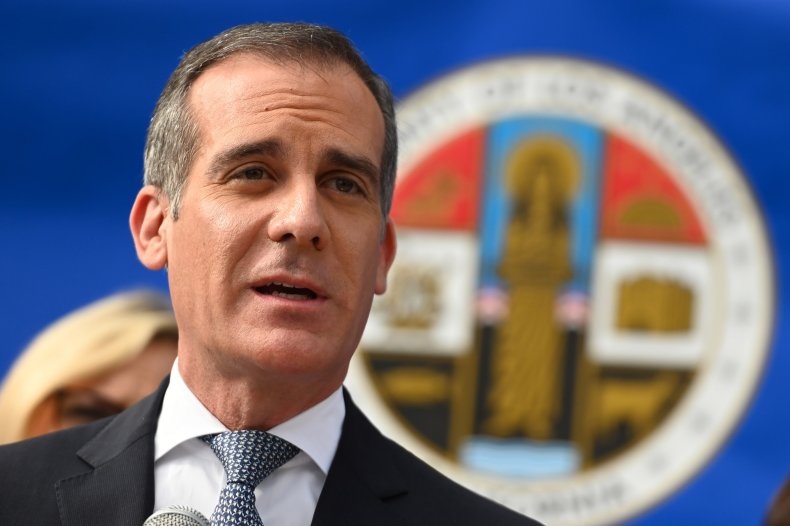 Officials launched their multi-agency pursuit following Aguilar's sudden disappearance at the end of August. His daughters, Bella and Amaris Aguilar, told KTLA they last heard from their father on August 20 in comments to the local news station several days later. The firefighter's family said he arrived in Rosarito that same day to check on a property usually rented to tourists through Airbnb. Authorities in Mexico found the property looted, with two vehicles missing, during their subsequent inquiry, KTLA reported.
"We're receiving the worst information, and we don't know how to respond," said Bella, speaking to KTLA at a vigil held for Aguilar on August 24. "We don't know what to do, since it's in another country. It's nerve-racking. Our heart is breaking every day."
Newsweek reached out to Garcetti's office and the State Department for additional comments but did not receive replies in time for publication.