The Los Angeles Lakers faced significant criticism online after a loss to the Phoenix Suns on Tuesday night that makes them ineligible for the NBA play-in tournament.
While there are three games for the Lakers remaining in the regular season, even if they win all of those, they won't be able to move from their 11th table position to replace the San Antonio Spurs in the 10th spot.
The 2022 Los Angeles Lakers have proved disappointing for both fans and analysts, who had high hopes for the combined talents of Lebron James, Anthony Davis, Russell Westbrook, Dwight Howard and Carmelo Anthony.
"This Lakers team not making the playoffs is one of the Biggest Disappointments in NBA History," former player and analyst Kendrick Perkins wrote on Twitter.
"It's one thing to underachieve in the Playoffs but to not make it at all is ridiculous. Carry on."
"The biggest failure in NBA history," the Lakers Lead sports media page wrote in a tweet.
"The Los Angeles Lakers have been eliminated from playoff contention. Well me and [Lebron James] have one thing in common this season, watching the NBA playoffs at home. On the brighter side, yeah he probably has a bigger tv," Sports journalist Aisha Nassanga joked in a tweet.
Sports writer Andrew Hammond also made jokes at the Lakers expense while posting a gif of a man excitedly eating popcorn.
"Me all season: Guys, this Lakers team is terrible, we know this. Let's stop treating their games like the roasting portion of a funeral," he wrote in his tweet.
"Me tonight: Alright, let's watch the final days of the 2021-22 Los Angeles Lakers."
One of the main criticisms levied at the team was their inability to stay healthy and compete during the regular season. Comments were mostly targeted at star center Anthony Davis, who recently hit back against his critics.
"This is what I've learned about injuries: Last year when I wasn't playing, people were saying 'AD's giving up on his team. It's the playoffs. AD has to play," Davis told the Los Angeles Times in an interview.
"And when I went out there to play, got hurt again, they said, 'Who was his trainer? Who let him play?"
"So, what the f*** do you want me to do? When I play, it's a problem. It's a problem when I don't play.
"At the end of the day, I've got to do what's best for me and how my body feels."
Westbrook has also responded to his critics who have taken to calling him "Westbrick" for his poor shooting percentages this season.
In early March, Westbrook addressed the misuse of his name and the impact it is having on his family during a post-game interview.
"It's very unfortunate just for me personally because this is just a game. It's not the end all be all. When it comes to basketball, I don't mind the criticism of missing and making shots, but the moment it becomes where my name is getting shamed, it becomes an issue," he said.
He added: "For example, 'Westbrick,' to me is now shaming. It's shaming my name, my legacy for my kids. It's a name that means, not just to me, but to my wife, to my mom, my dad, the ones that kind of paved the way for me."
With the Lakers now out of the play-in tournament, either the Minnesota Timberwolves or Los Angeles Clippers will be playing the San Antonio Spurs or New Orleans Pelicans, for the final spots in the playoffs.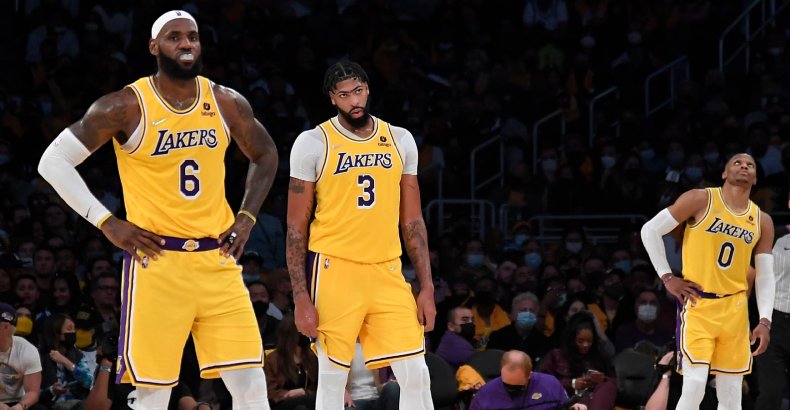 Uncommon Knowledge
Newsweek is committed to challenging conventional wisdom and finding connections in the search for common ground.
Newsweek is committed to challenging conventional wisdom and finding connections in the search for common ground.
About the writer
Gerrard Kaonga is a Newsweek U.S. News Reporter and is based in London, U.K. His focus is reporting on U.S. news, politics, world news, local news and viral videos. Gerrard joined Newsweek in 2021 and had previously worked at Express Online. He is a graduate of Brunel University. Languages: English.
You can get in touch with Gerrard by emailing g.kaonga@newsweek.com.