Los Angeles Lakers Primed to Save Over $500,000 in Taxes Due to LeBron James Suspension
Los Angeles Lakers superstar LeBron James was suspended for one game Monday, and while James will be hit in the wallet, the tax results of his suspension may end up working in his team's favor.
James, 36, was suspended one game without pay by the National Basketball Association (NBA) after getting into a bloody altercation with center Isaiah Stewart during the Lakers' Sunday matchup against the Detroit Pistons. The NBA said that James' suspension was for "recklessly hitting Stewart in the face and initiating an on-court altercation."
This marks James' first suspension in his 19-year NBA career, and ESPN insider Bobby Marks estimated that he would lose $284,004 as a result. However, the Lakers will go on to receive half of that money, $142,002, as a tax credit.
Marks projected that this credit will ultimately save the team $532,508.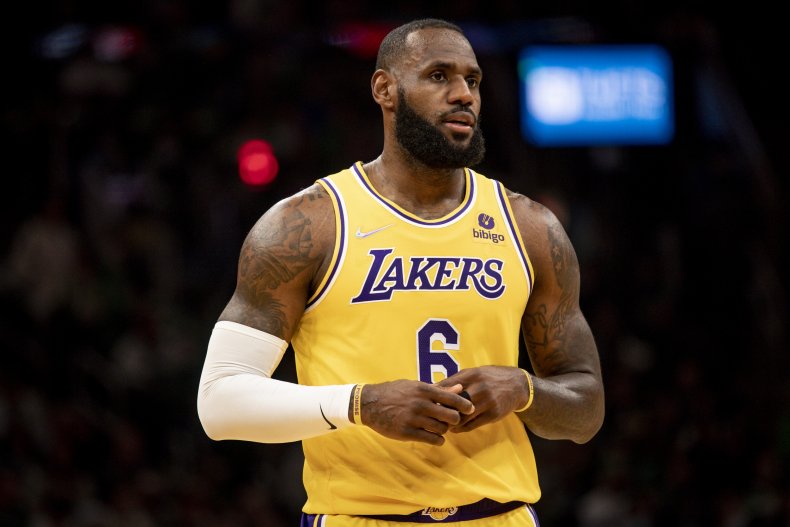 That figure arrives as a result of the NBA's luxury tax rule. This complex tax system serves as a penalty for teams whose total payroll goes over the salary cap.
Unlike the majority of other sports leagues, the NBA has a soft salary cap. This means that teams are allowed to exceed the cap, but must pay on a sliding scale for each dollar they go over.
The tax increase per dollar goes up the further a team goes over the cap. The Lakers have a payroll of almost $157 million, high above the NBA's current salary cap of $112 million.
This explains how the Lakers are able to save $532,508 despite only receiving $142,002 in tax credit from a single game.
Los Angeles has been careful with the luxury tax in the past, and reportedly chose to not resign shooting guard Alex Caruso in order to avoid paying the fines. Caruso eventually chose to sign with the Chicago Bulls.
The Lakers have a disappointing 9-9 record and sit in eighth place in the Western Conference. The team aims for a deeper playoff run than last season. Coming into 2020-'21 with high expectations, the Lakers had a subpar season and ultimately lost in the first round of the playoffs to the Phoenix Suns.
James joined the Lakers in 2018 and pledged to turn things around with a team that had been struggling significantly over the previous several years. The Lakers front office hoped that signing James would turn them into contenders again. This came to fruition in 2020, when he led the Lakers to their first NBA championship in 10 years.
Newsweek has contacted the Lakers for comment.