'Let's Go... Monkey Man!' Viral Video Shows Woman Deliver 'Justice' in Response to Racist Tirade at LA Sushi Restaurant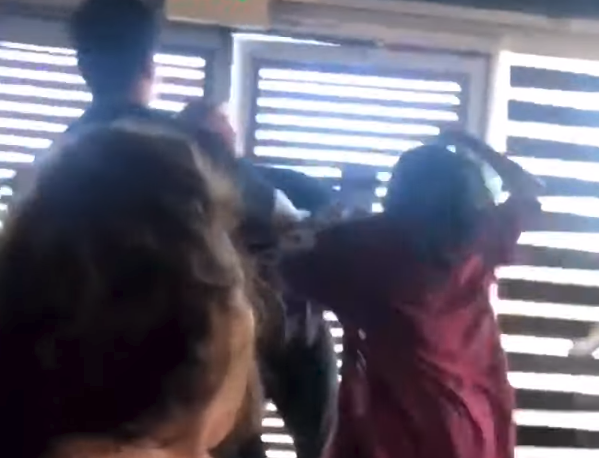 Tensions spiked inside a Los Angeles sushi restaurant last Sunday when a man hurled racist abuse at customers—and was then repeatedly punched in the head.
Footage of the incident showed a white man shouting "Let's go, f***ing monkey man" at a black patron multiple times. The video was uploaded to the internet by eyewitness Ivan Velasco on Monday and went viral, having been shared tens of thousands of times on social media.
In the clip, the man could be seen charging back into the restaurant as customers shouted at him to leave the premises. A woman who had previously been standing close to the door is then seen landing at least five punches to his head—resulting in applause from spectators.
ABC7 reported the altercation took place at Aburi Sushi in Long Beach. The story gained attention on Reddit after being shared to a section of the website called "Instant Karma."
Velasco tweeted Monday that he had been at the restaurant for a Mother's Deal meal. He wrote: "It was going great until a crazy racist white man started trouble and ended calling a black man 'Monkey Man.' Thankfully a nearby woman delivers justice. It's 2019 and racism still exists, disgusting." He uploaded a second video showing events just before the brawl erupted.
Please note the Twitter video posted below contains profanity and racist language.
In his own recollection, Velasco said he had been seated just 10 minutes before the man entered the restaurant. Velasco said he waited around for half an hour and there was a visible wait list. But when the man arrived, he demanded to be seated and became abusive when refused.
"The man wasn't taking no for an answer. He stomps over to the only open spot at the bar. The hostess said the bar wasn't clean yet, as the patrons before had just left," Velasco wrote.
"He then continues to complain about them not being seated and... during this time, he's being extremely rude, disrespectful and using profane language toward the wait staff. At one point calling the hostess a 'dumb b***h' for requesting him again to wait."
According to the witness, at that point two black patrons then shouted at the man to leave. But in response, he shouted back "monkey man" while making chimpanzee-like gestures.
Officers from the Long Beach police were called to the scene by restaurant staff, ABC7 reported. The man, whose identity has not been released, was cited for battery. The woman who punched him also received a citation, CBS Los Angeles reported. Velasco said the restaurant covered payment for her meal.
'Let's Go... Monkey Man!' Viral Video Shows Woman Deliver 'Justice' in Response to Racist Tirade at LA Sushi Restaurant | U.S.