Man Climbing Out of Manhole Killed by Passing Truck
A man has died after the manhole he was trying to climb out of in the middle of a Los Angeles road was hit by a vehicle.
Police are now asking for the public's help in identifying the driver involved in the hit and run on Parthenia Street at around 10:25 a.m. on July 10.
Video released by the Los Angeles Police Department shows a 2008-2012 white Chevrolet Silverado pick-up truck traveling westbound on Parthenia Street.
The truck then hits the manhole lid as a male was attempting to open it from the other side. As the vehicle drove over the cover, it was pushed down on top of the pedestrian, who fell back down the manhole.
The driver of the truck then continued driving west. It is unclear whether he was aware a man was coming out of the manhole when he struck it.
The Los Angeles Fire Department responded to the scene, but the man in his 20s succumbed to his injuries.
The LAPD has not released the identity of the victim pending next of kin being informed.
"The public is reminded that manholes are used for city services to access various maintenance tunnels that are located underground," the LAPD said in a statement.
"Manhole covers should not be disturbed or moved due to their weight and could cause serious injury or death."
The footage shared by police shows that there was at least one witness on Parthenia Street at the time of the collision.
A reward of up to $50,000 is available to anyone who provides information that leads to an arrest and conviction of the driver involved as part of Los Angeles' Hit-and-Run Reward Program Fund.
The fund was created after the City Council amended the Los Angeles Administrative Code in April 2015.
The LAPD has been contacted for an update on the investigation.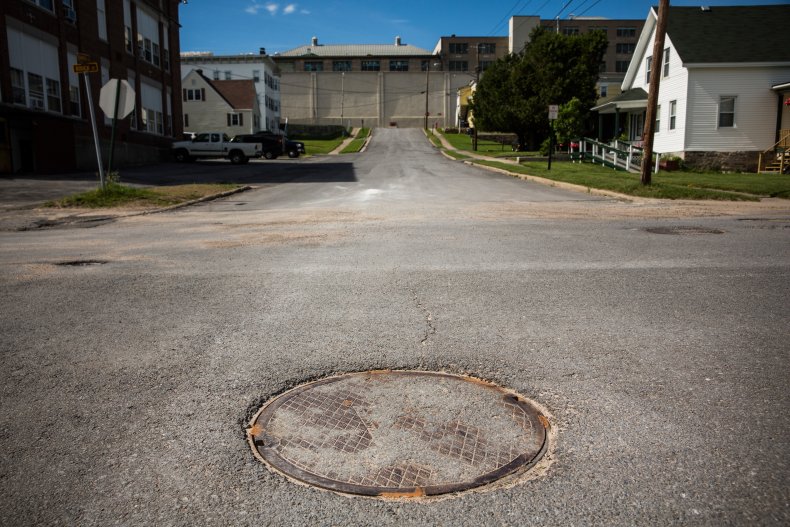 Police are asking anyone who may have witnessed or have information regarding this collision to contact Valley Traffic Division Officer Takishita at (818)-644-8116 or
Detective Buenaventura at (818) 644-8035. During non-business hours, or on weekends, calls should be directed to 1-877-LAPD-24-7 (877-527-3247). Anyone wishing to remain anonymous should call the LA Regional Crime Stoppers at 1-800-222-TIPS (800-222-8477) or go directly to www.lacrimestoppers.org. Tipsters may also visit www.lapdonline.org and click on "Anonymous Web Tips" under the "Get Involved-Crime Stoppers" menu to submit an online tip.
People may also download the "P3 Tips" mobile application and select the LA Regional Crime Stoppers as their local program.