Los Angeles Mask Mandates Run Into Issue of Policing 70,000 at Super Bowl
While Los Angeles County's mask mandate that requires masks be worn at "mega events" like sporting events with over 5,000 people will likely still be in place February 13 when the city hosts Super Bowl 56, local elected officials acknowledged at a Wednesday press conference that enforcing the mandate for the over 70,000 people in SoFi Stadium will be a challenge.
The press conference urging fans planning to attend the Super Bowl to abide by the COVID safety policies came just days after Los Angeles Mayor Eric Garcetti and California Gov. Gavin Newsom were among several politicians photographed while not wearing masks at Sunday's NFC Championship game at SoFi Stadium between the Los Angeles Rams and San Francisco 49ers.
Garcetti spoke Wednesday about the importance of following the safety protocols along with Inglewood Mayor James Butts, the city in which the stadium is located, Los Angeles Public Health Director Barbara Ferrer and Russ Simons, a senior facilities advisor for the stadium, among other officials according to The Associated Press.
Garcetti also defended the photos of himself and Newsom posing while not wearing masks by saying he took the mask off, "held his breath" while taking the photos and immediately put the mask back on, according to The Los Angeles Times.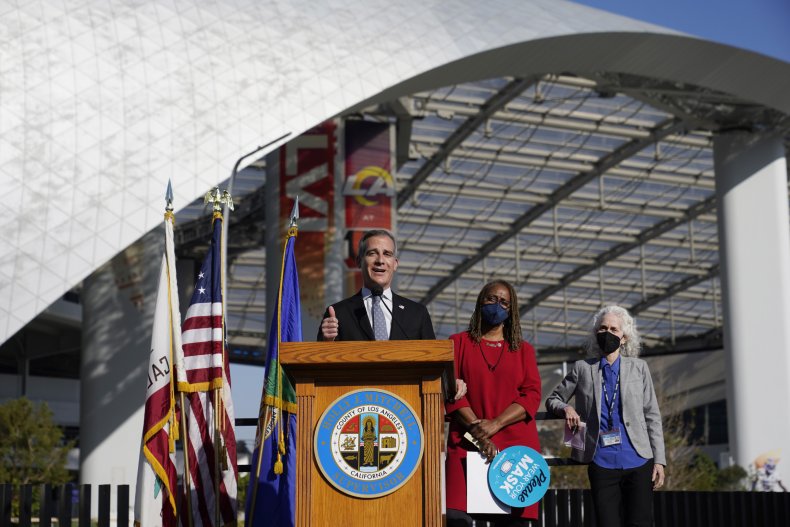 The AP also reported that after the pictures circulated online, Los Angeles County Supervisor Kathryn Barger said she believes the universal mask mandates and other COVID policies should be reevaluated because they don't have much effect when they are not strictly followed.
Ferrer said Wednesday the order may be amended or removed before the Super Bowl, although she said it's unlikely that cases and transmission rates will drop enough to justify removing the order, the AP reported.
Super Bowl attendees will also have to show proof of vaccination or a recent negative test to enter the arena, and will be provided with a KN95 mask and be reminded by signs and stadium employees that wearing the mask is necessary at all times if they are not eating or drinking, The Times reported.
"All of this is about our personal responsibility to do the right thing and what we're asked," Simons said at the press conference, according to The Times. "And it's not a game of gotcha, 'Oh, I got away, I got to go from here to there without my mask.' It's about personal responsibility and the commitment to keeping everybody safe."
Protocols at large events are all subject to local mandates. For instance, masks were encouraged, but not required at the College Football National Championship game that took place in Indianapolis last month, and while attendees were encouraged to be vaccinated or test negative before arriving at the game it was also not a requirement, the Indianapolis Business Journal reported.